'Assassination of Gianni Versace' Episode 7 Fact vs. Fiction: What 'American Crime Story' Got Right
"Ascent," episode seven of The Assassination of Gianni Versace, returns to the story of the renowned Italian fashion designer Gianni Versace (actor Édgar Ramírez) and his sister, Donatella (Penélope Cruz). It also goes deeper into serial killer Andrew Cunanan's past, including his move into male prostitutuon. The episode was written by Tom Rob Smith and directed by Gwyneth Horder-Payton.
Here's what the episode got right, and where it took creative license.
Gianni and Donatella's relationship
"Ascent" opens on a 1992 scene in Milan, Italy, where the Versace siblings are building their empire. Gianni becomes angry when he realizes Donatella is not asserting herself as a designer, and he urges her to speak up more. At one point, he shouts at her, throwing her sketches on the table. She cries, insisting she tries to give him what he wants. "It is not enough," Gianni replies.
The real siblings did have passionate arguments. According to Deborah Ball's 2010 book House of Versace, Gianni and Donatella were devoted to each other, but with money and fame came insecurity, resentment and jealousy. Witnesses described their fights as "epic."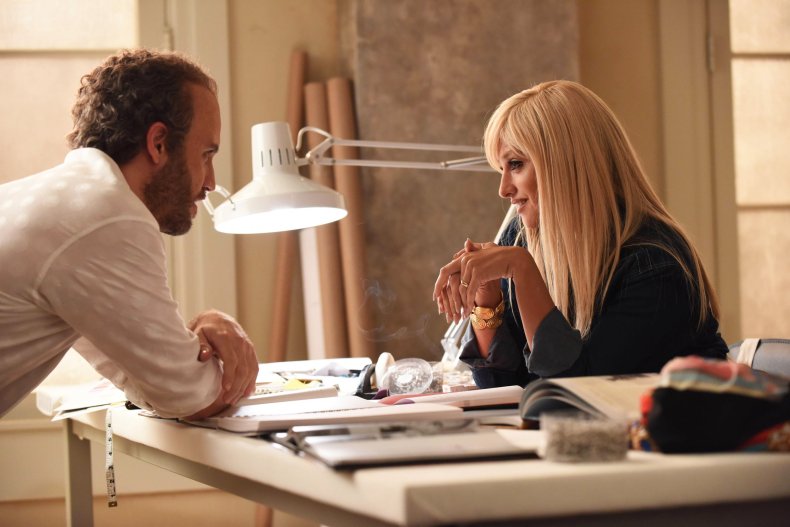 In the episode, Gianni suggests that he will die from the HIV virus before long, and he tells his sister that he is grooming her to take over the label. (Another murky fact-vs-fiction point of contention addressed in episode two.) But since the actual cause of Gianni's illness is unknown, there is no way to prove this. However, according to Ball, Gianni did put his sister in charge of photo shoots, fashion shows, press and, most importantly, gave her final approval over Versace designs around this time.
Andrew Cunanan's relationship with his mother
This episode reveals the not-so-glamorous home life of Cunanan, as played by Darren Criss. Many of the details are accurate. A 1997 New York Times profile confirms that Cunanan worked at a San Diego pharmacy, Thrifty Drug Store, in the early 1990s. In the episode, the store's owner alludes to Cunanan's father abandoning his family—more details on that in next week's episode.
Later, Criss screams at his mother, Mary Ann Cunanan (Joanna Adler), that he only wants her to buy Häagen-Dazs and slams a generic brand of ice cream on the floor. That story is pulled, with a few tweaks, from a 2009 anonymous blog post on the San Diego Reader, written by someone who claims to be the daughter of Cunanan's next-door-neighbor. "After a spaghetti dinner, the two women were chatting over coffee at the kitchen table when my mom heard the freezer door pop open," wrote the blogger. "A flying object hit the wall near Mary Ann's head. Andrew had hurled a block of Thrifty-brand ice cream across the room, leaving a dent. 'I only want Häagen-Dazs!' he shouted. Both women were stunned."
Whether or not Cunanan then launched into a Häagen-Dazs history lesson—as Criss does—is unknown, but his mother did once say, in a rare 1997 Palm Beach Post interview, that her son was "way above me intellectually" and "up until he was 14, he was my mentor."
Cunanan's lack of success with men
As the episode suggests, Cunanan was not as attractive as the actor playing him. The real bartender of Flicks—the gay San Diego bar featured in episode five, where Cunanan meets Jeff Trail—recalled to the New York Times that Cunanan would often complain about his inability to pick up men because of his appearance. This detail is backed up by the testimonies of his friends to journalist Maureen Orth; the show is based on her 1997 book Vulgar Favors.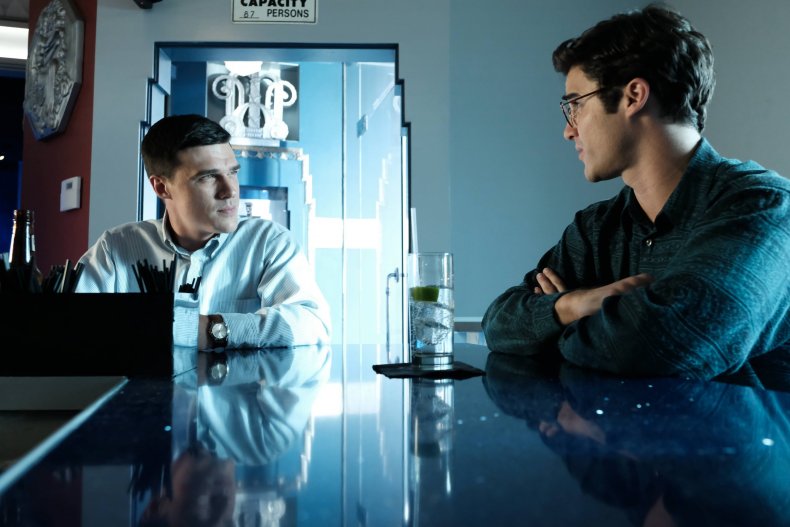 Cunanan's life as an escort
"Ascent" shows Cunanan's introduction to the male escort world. First we see him try and fail to get hired by an escort agency: The agent turns him away on the grounds that "gay clients don't want Asians." (Cunanan was half Italian-American, half Filipino.) However, according to Orth, the real Cunanan did get hired by a gay escort service in California. A friend said Cunanan wrote in a letter that he was tired of California escorting because "there were too many other young guys there trying to do what he was trying to do."
But it's true, as Criss tells the escort agency, that Cunanan "was the dinner table conversation." Both Orth and The New York Times noted his gift for charming older men with his knowledge of art, literature and politics—often meticulously researched ahead of time.
Donatella's Gala debut
The dress made of leather and belts that Penelope Cruz wears to Vogue's 100th Anniversary Gala is an exact replica of the one Donatella wore to that event in 1996. American Crime Story costume designers Lou Eyrich and Allison Leach spoke to Vanity Fair about recreating the look. "It is such an iconic dress, and it was scripted that it definitely needed to be that dress to tell the story of her coming into her own stardom," said Leach. "Just from a construction standpoint and materials, it was such beautiful leather dress that had to fit perfectly."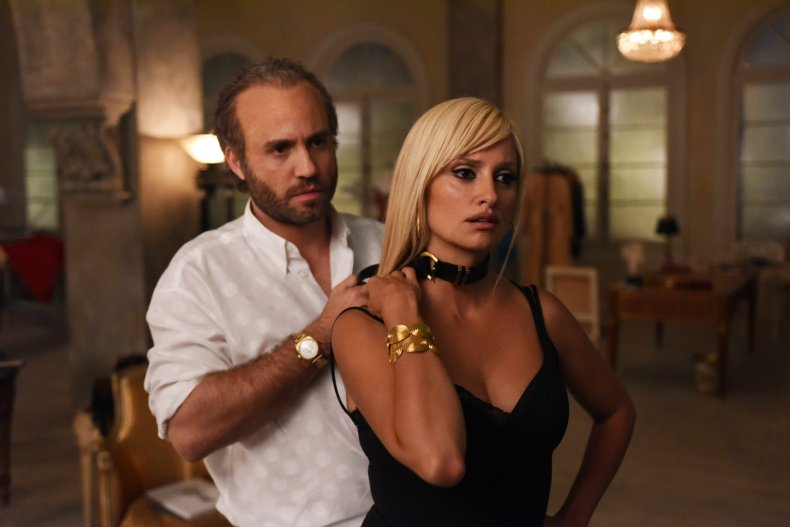 As Leach notes, the significance of this dress for Donatella is played up for dramatic effect in the episode. There's no proof that Gianni had to talk his sister into wearing it (rather than a model), or that it was even the first dress the siblings designed together. Those suggestions are based in reality, however: Ball mentions in her book that Gianni considered his sister a muse in the early years, that he liked to use her as a model, and that Donatella was insecure about her body.
The bad press the dress received (which Cruz's Donatella gleefully reads aloud in the episode) is also real. Dazed, a British style magazine, recalls a "waft of indignation" among fashion writers at the Versace "Bondage" collection. (It was only later that the collection was critically hailed.)
It's true, too, that Donatella wanted to tone down Versace brand dresses, as we see Cruz tentatively suggest later in the episode. After Gianni's death, his signature bold style was muted, as observed by Newsweek in 2009.
Norman Blachford and Lincoln Aston
As addressed in episode six's fact vs. fiction breakdown, Norman Blachford was a San Diego businessman who supported Cunanan with money, room and board in 1996. In this episode, we see Cunanan meet Blachford (Michael Nouri), along with his friends David Gallo and Lincoln Aston. The detail of Cunanan circling the three men's names in the newspaper before the planned meeting is based on fact. Friends told The Washington Post that Cunanan would spy on men, gathering intelligence about their interests.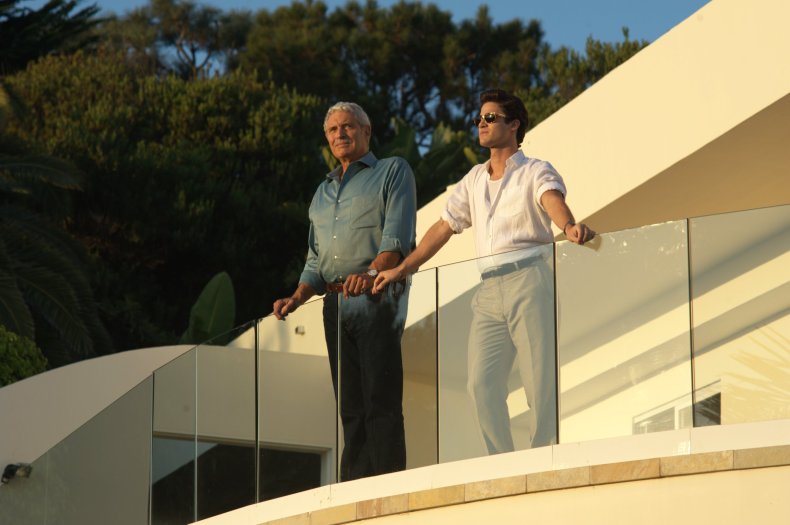 According to the episode, Cunanan's first conquest was Lincoln Aston (played by actor Todd Waring), a wealthy architect and Texas oil investor. This seems to be true: The San Diego Reader reports that the real Aston was often seen with Cunanan in 1995. Then, in May of that year, Aston was murdered by a 35-year-old man Aston had picked up in a gay bar. The killer, Kevin Bond, confessed to beating the older man to death with a stone knick-knack. He was convicted of second-degree murder and sentenced to 15 years in prison.
When Cunanan began his killing spree two years later, some wondered whether he was connected to the Aston murder. In the episode, Cunanan witnesses Bond (actor Adam Brooks) beating him to death. The scene depicts Bond interpreting Aston's moving to take a glass from his hand as a physical advance and, in a homophobic rage, beats Aston to death in "self-defense." This, while speculation, does line up with court testimony provided by a friend who witnessed the real Aston picking up the real Bond at the bar. He said Bond felt Aston was being aggressive.
Did the real Cunanan witness the murder? In the episode, he hides in the hallway, unnoticed, while Aston is beaten to death. There is a sliver of evidence to support this: Michael Williams, a friend of Jeff Trail, Cunanan's first official victim, told the Reader: "Jeff told me that Andrew told him that he—Andrew—was the one who found [Aston's] body." Williams is the only one who has made this claim.
It is true that after Aston's death, Cunanan convinced Blachford to move from Phoenix to La Jolla, California, where he would design him a home. It is not clear whether Blachford and Aston were as close as American Crime Story suggests, but both were members of the same social club, Gamma Mu, according to the Daily News.
Meeting David Madson
After much build-up, episode seven finally shows American Crime Story viewers how Cunanan met his second victim, David Madson. In the episode, the two meet at a restaurant, spend a romantic night in a hotel together. This, the show suggests, is where Cunanan's infatuation with Madson was born.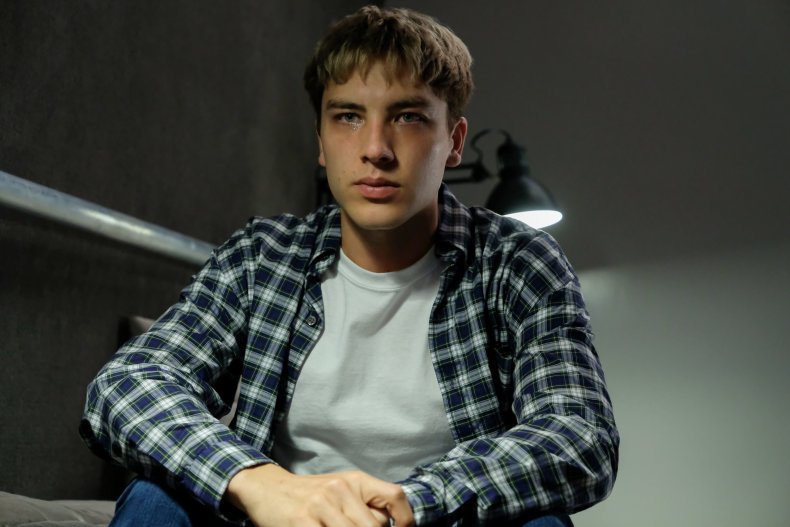 The story of Cunanan spotting Madson, a then-stranger, alone at a San Francisco bar and sending him a drink is true, according to Orth. She wrote that the two then had a "nonsexual sleepover" in Cunanan's luxurious hotel room at the Mandarin Oriental, and began dating long distance. (Madson lived in Minneapolis.) However, there is no evidence that this night of indulgence got Cunanan in trouble with Aston, as happens in the episode.
Cunanan's abuse of his mother
"Ascent" ends with Cunanan shoving his mother, hard enough to fracture her shoulder. In the episode, he tells her he is going to travel the world with Versace (in reality, he is moving in with Blachford in La Jolla). She begs him to take her with him, he refuses, she starts to pack her bags, and he shoves her to the ground.
The details are murky but the story of domestic violence is true: Cunanan did once shove his mother hard enough to injure her shoulder. According to Orth, the two were arguing over his new lifestyle in the gay community. A neighbor of Cunanan told Orth, "He did bruise her arm and dislocated it. She was wearing a sling." The neighbor suggested that the incident was related to Cunanan's drug use.
Gianni Versace's illness
Cruz's final scene in the episode features her somberly informing the Versace team that her brother is suffering from a rare form of inner ear cancer. That is the same story the Versaces told the press in 1995, and the story they stick with to this day. Was it a cover-up for Versace's true illness, HIV, as many assumed? The episode hedges its bets, implying, in a previous scene, that Versace is losing his hearing. However, there was the scene earlier in the episode, when he alludes to HIV as he trains Donatella to take over the company. (There are studies suggesting that HIV is linked to increased risk of hearing loss.)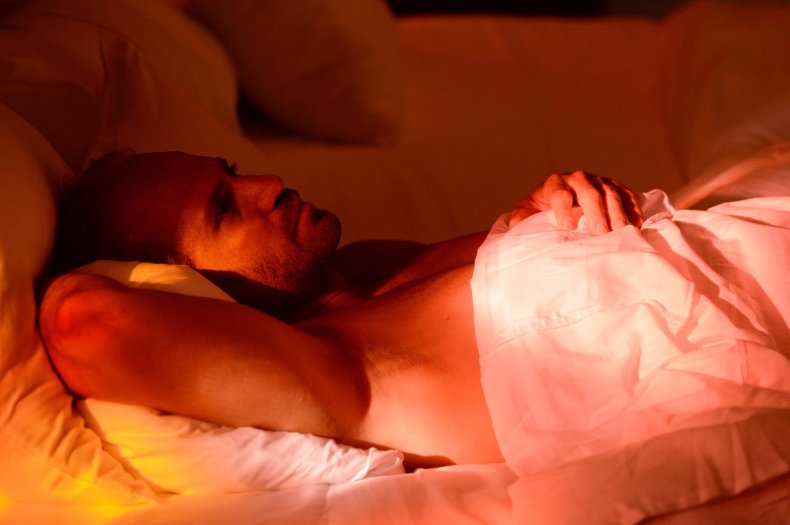 Whatever the real cause of Gianni's decline, Donatella did take over day-to-day operations at Versace while her brother recovered, as Cruz tells the staff in the episode. And, according to a previous Newsweek report, when her brother returned she did not want to give up her power—a detail American Crime Story leaves out.
The Assassination of Gianni Versace airs Wednesdays at 10 p.m. ET on FX.