'Impeachment: ACS' Recap: Separating Fact and Fiction in Episode 1
Impeachment: American Crime Story is airing now on FX, and aims to tell the full story of the affair between Monica Lewinsky (played by Beanie Feldstein) and Bill Clinton (Clive Owen) and the sequence of scandals around it.
The show is based on the book A Vast Conspiracy by Jeffrey Toobin. While the show gets some of its wildest moments from this account of the impeachment, some details are changed.
Here's what's true and what isn't in the FX show.
How much of Impeachment: American Crime Story Episode 1 is true?
Walt Whitman's Leaves of Grass: In the opening scene of Impeachment, Lewinsky takes a copy of this poetry collection out of a box. In real life, this was a gift Clinton gave her on February 28, 1997 as a belated Christmas present.
Per Toobin's book, this was also the occasion in which Clinton left the semen on the blue dress that became such an important part of the scandal.
Lewinsky and Linda Tripp's Pentagon City Mall meeting: In order to interview her before a Newsweek story named her, Clinton investigator Ken Starr rushed to get testimony from Lewinsky.
They did this by working with Tripp, who organized a lunch with Lewinsky at the Pentagon City Mall where they sometimes had lunch.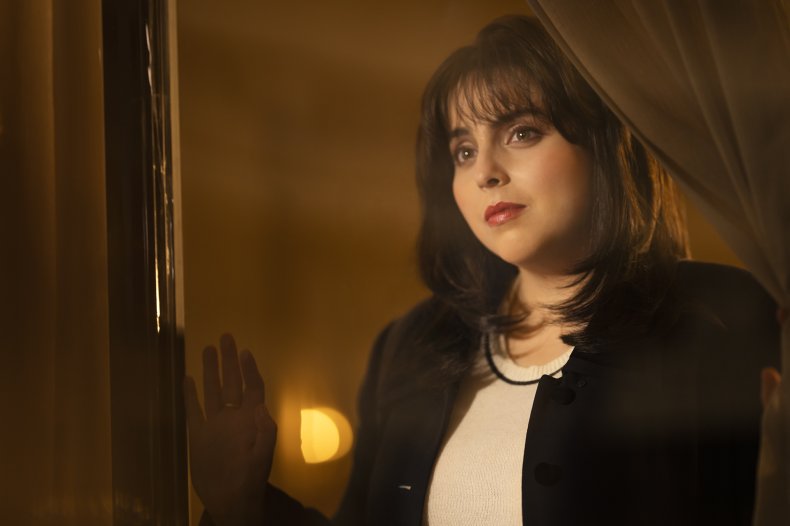 As seen in the show, Tripp met Lewinsky before the latter was surprised by FBI agents who took her to a room to give her testimony about her affair with Clinton.
The script of American Crime Story Season 3 has Lewinsky say the real words that Toobin says she said about Linda Tripp watching her testify: "Make her stay and watch. I want that treacherous b**** to see what she has done to me."
As in the series, prosecutor Mike Emmick (Colin Hanks) led the questioning. The book the show is based on also gives us an extra detail: Fellow prosecutor Bruce Udolf had asked the FBI agents who were to apprehend Lewinsky to bring a female agent with them, but they did not.
Ultra Slim-Fast: After the cold open, we see Linda Trip have the '90s dieting drink for breakfast. This is a reference to the fact that dieting is one of the main topics of conversation (apart from the president) that helped bridge the 24-year age gap between Tripp and Lewinsky.
Vince Foster: For a full account of Foster and his role in the scandal, read our separate guide to him. What you need to know here was that he was deputy White House counsel before his suicide on July 20, 1993. Impeachment puts us in that era by showing Ruth Bader Ginsburg answering questions in front of Congress before she was confirmed to the Supreme Court. In real life, this process took place between June 22 and August 3, 1993.
At that time, Tripp was his executive assistant, and in Episode 1 we see her serve him a hamburger. This is a reference to Tripp's frequent claim that she served him his last burger and was the last person to see him alive.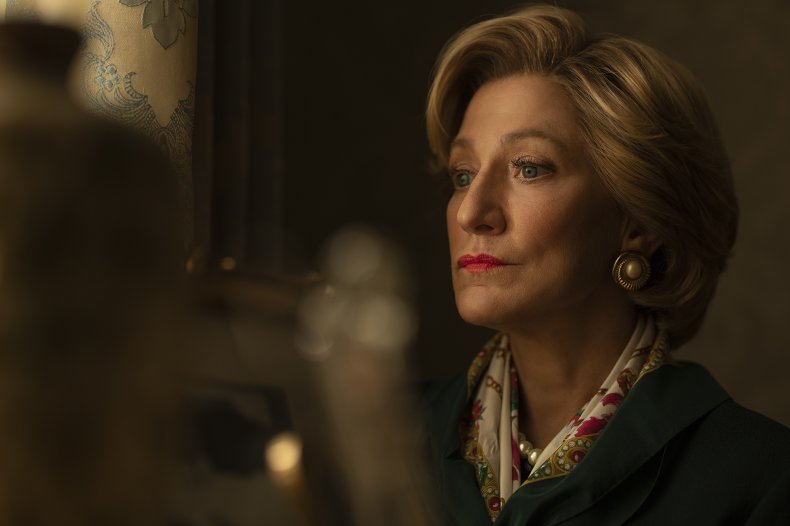 Hillary Clinton and Linda Tripp: While Clinton and Tripp may well have been in a bathroom together at some point, this moment does not seem to be based on a real event. Rather, it seems like a way to introduce viewers to Falco as Hillary for the first time.
As the show mentions, there were rumors at the time that Hillary and Foster were having an affair, though there is no real evidence for this.
Kathleen Willey: Willey (Elizabeth Reaser), who we see discussing Hillary with Linda, was a White House volunteer aide whose husband Edward E. Willey Jr. was a Democratic Party donor. In 1998, she alleged that Clinton sexually assaulted her – a claim the Independent Counsel declined to prosecute due to lack of evidence.
"Bernie Nussbaum told me to take this": Another moment around her is also lightly dramatized. Though questions about Foster's death and his involvement in Whitewater have been the stuff of conspiracy theory for decades, this scene where strange men come in after Foster's death and take the Whitewater files is also fictionalised.
Bernard Nussbaum was the counsel to the president at the time of these events.
Ann Coulter: For more on Ann Coulter's role in the Clinton scandal, read our story about the right-wing activist's involvement in the events of American Crime Story.
Presidential M&Ms: Those M&Ms that Trip picks up for Foster in the cafeteria are based on the real ones that were given out to guests of the White House, in a tradition that began when M&Ms became the official presidential candy under Ronald Reagan.
Fort Marcy Park: Foster was found here on July 20, 1993, dead of a self-inflicted gunshot wound.
"His Cheatin' Heart": We see Paula Jones (Annaleigh Ashford) with a copy of The American Spectator, a conservative magazine from December 1993. Its lead story "His Cheatin' Heart" began the so-called "troopergate" scandal, that saw troopers from Clinton's time as governor of Arkansas claim that they had helped arrange extra-marital affairs for the president. Clinton was never charged with any wrongdoing in relation to the Troopergate allegations, which were not part of the Starr investigation.
Paula and Stephen Jones: Some of the true stories that Impeachment uses when telling the story of Paula and her husband Stephen (Taran Killam):
After she was referenced in the Spectator article, Jones filed a sexual harassment lawsuit against Clinton, alleging that he had tried to instigate oral sex with her by asking her to "kiss it." In numerous testimonies, she claims she replies that she is "not that kind of girl." The course was settled out of court.
In the show, Paula Jones says she wants a role on Designing Women for her husband Stephen. The link between Clinton and that TV show was through long-time Clinton friends "Harry Thomason and Linda Bloodworth-Thomason, who created the show.
As an actor, Stephen Jones did play Elvis in the 1989 Jim Jarmusch independent movie Mystery Train, as can be seen about one minute 40 seconds into this trailer:
Lucianne Goldberg: A literary agent and Conservative activist who Tripp approached about writing a book about the allegations she had heard from Willey. Her most famous client was celebrity Kitty Kelley, sued over her unauthorized biography.
In a link between the OJ Simpson and current seasons of American Crime Story, she was also the agent for police officer Mark Fuhrman.
The CPAC press conference: On February 11, 1994, Paula and Stephen took to a stage at the Conservative Political Action Conference to make public Paula's allegations against Clinton. Here's which details of that scene are based are what really happened:
"Who Killed Vince Foster" – in the show, we see t-shirts saying that as well as "impeach the b****" alongside images of Hillary Clinton in a cage. In Toobin's book, he mentions there being "Who Killed Vince Foster" bumper stickers at CPAC, as well as "doctored photographs of a naked Hillary Clinton."
"A blow by blow account" – yes, Jones' lawyer really did make this unfortunate double entendre while refusing to confirm what kind of sex Jones claimed she had with President Clinton.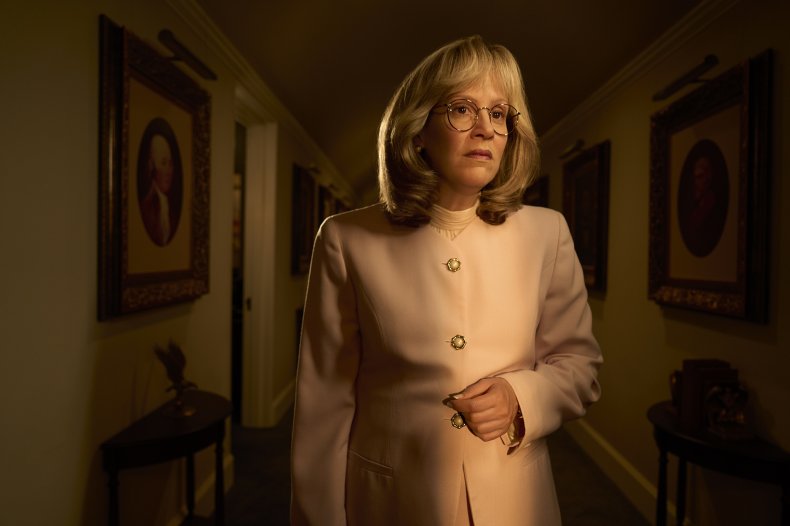 Linda Tripp moving to the Pentagon: The series posits that it is her job move from the White House to the Pentagon that started Tripp's vitriol against the president.
In spring 1994, Tripp was forced to look for a new job after her then-supervisor Bernie Nussbaum resigned. A detail that the show missed is that her new boss asked for a list of potential appointees from the White House, of the sort that usually featured a number of names. When he received a reply, however, it only had one name on it: Linda Tripp.
"It takes a dramatic turn": This is what Paula Jones says in Episode 1's most lurid scene, when she is asked to describe Clinton's penis and then to draw it. Though the "dramatic turn" line is a slightly metafictional invention of the screenplay, Jones really did have to draw the president's genitals.
In reality, this was during her court testimony. In her affidavit, Jones had described the penis by saying its shaft was "bent or crooked," and was then asked to draw the member in court on November 12, 1997.
Linda Tripp's desk mate: The show lets us in on Tripp's frosty relationship with the woman she had to share a desk with in the Pentagon after her requests for a private office were declined. Per A Vast Conspiracy, this woman's real name is Susan Wallace. The pair really had "screaming fights" and had to be separated. Tripp was also eventually assigned to a new job within the building.
Linda loses book deal: Episode 1 of ACS hints that the reason that Tripp starting divulging details that Lewinsky was telling her was because Goldberg had said that she did not have enough dirt for a book.
In a Washington Post piece in January 1998, conservative book publisher Alfred Regnery discussed receiving a book proposal from Goldberg, but said that Tripp "didn't really know very much. There wasn't enough there to pursue it."
The big Clinton poster: One of Tripp's first clues in the show that something might have gone on between Lewinsky and Clinton is when Lewinsky points out loving a giant photo of Clinton hanging in the Pentagon.
This is another true story. As Tripp would later testify, "I had the jumbos [large posters] and she begged me for one of the jumbos."
"Big Mac" and "Gus": These are real nicknames that Tripp and Lewinsky had. "Big Mac" was a name that a boy had once called her that began her body image issues. Though Tripp says she does not know where "Gus" came from in the show, the Washington Post revealed that it was a nickname that her schoolmates had given her because she was "5 feet 10 and solidly built." Gus was a reference to notably large NBA player Gus Johnson.
Election day: Monica Lewinsky has Election Day marked in her diary in the show. Per the book the show is based on, this is because Clinton had told Lewinsky she could have a job back in the Pentagon if he won re-election in 1996.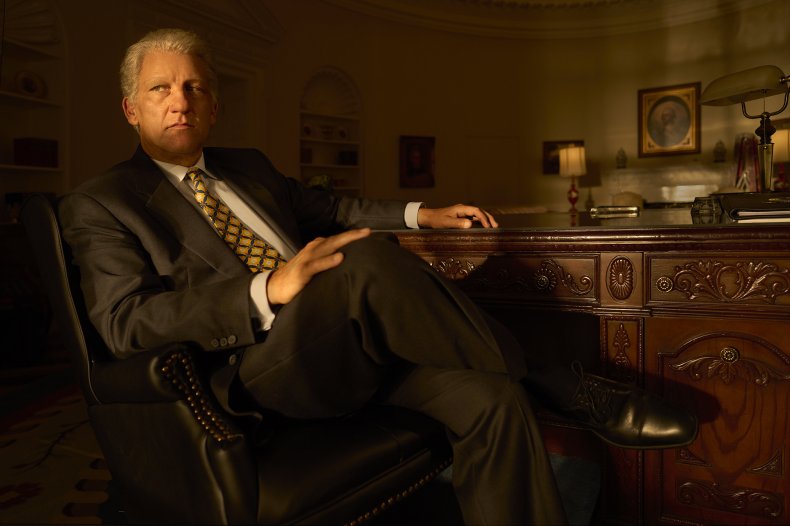 "Hey Handsome" this is how Lewinsky refers to Clinton in her phone call with him at the end of the episode. Per testimony from Tripp, her two nicknames for him were either "Handsome" or "The Big Creep" depending on her mood at the time.
Lewinsky's testimony would also claim that the pair had phone sex a number of times. A recording of a conversation between Tripp and Goldberg sees the former recount Lewinsky telling her "he's [Clinton] heavy into phone sex." One of Lewinsky's gifts to the President was also Vox, author Nicholson Baker's book about phone sex.
Impeachment: American Crime Story airs Tuesdays at 10 p.m. ET / 9 p.m. CT on FX.
If you have thoughts of suicide, confidential help is available for free at the National Suicide Prevention Lifeline. Call 1-800-273-8255. The line is available 24 hours, every day.