The title for the second season of Ryan Murphy's true crime anthology series, The Assassination of Gianni Versace: American Crime Story, is misleading. Yes, it concerns the murder of the famous Italian designer, but it is about the man who killed him, the serial killer Andrew Cunanan. Versace was the last of his five victims, before Cunanan killed himself.
Murphy's first American Crime Story, which premiered in February 2016, was a critically acclaimed no-brainer for American audiences: The People v. O.J. Simpson focused on America's most infamous modern crime. Gianni Versace's murder, which happened in 1997, was shocking at the time and is now mostly forgotten. The luxury label Versace has been run by his sister, Donatella, for so long, a generation of fashionistas think it was she, rather than her older brother, who started it. And Cunanan? Even in a country fixated on serial killers, his name rarely comes up.
But it certainly makes sense for Murphy and his producing partner Brad Falchuk to take on this tale. The duo's résumé of shows—Nip/Tuck, American Horror Story, Feud—are stories of excess, envy, greed and revenge; Versace lived a fabulously extravagant lifestyle in Miami, and his luxurious clothing and ad campaigns were created to titillate. Murphy's casting hallmarks are well represented too; there are offbeat choices (Ricky Martin plays Versace's boyfriend), A-list movie stars slumming it on TV (Penélope Cruz plays Donatella) and a plum part for a regular—in this case, Darren Criss as Cunanan.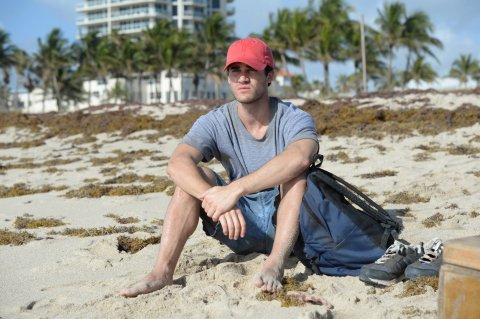 On Glee, Murphy's hit musical comedy, Criss played happy, confident high school student Blaine Anderson, the openly gay leader of the Dalton Academy Warblers. Cunanan is a tonal about-face. But because of some superficial similarities between Criss and his character—both half-Filipino and California-raised—Criss told Murphy, "I defy you to find somebody else."
Murphy didn't need persuading. He'd seen Criss on Broadway, in the musical Hedwig and the Angry Inch, playing a tortured, genderqueer German rocker—a notoriously taxing role. "I just felt there was an untapped, dramatically darker side of him," says Murphy. "He was hungry and anxious to push forward. When Glee ended, that was graduation day for [American Crime Story]. I always thought he was the only one for Cunanan."
The serial killer will certainly put a creepier spin on the 30-year-old performer's career, which began with A Very Potter Musical, a 2009 parody of J.K. Rowling's universe. Criss co-wrote and starred in it with University of Michigan theater friends, and it quickly went viral. "I don't think I'm being delusional when I say that was the genesis of my career," says Criss. "It brings a huge smile to my face when people approach me about that."
Glee took a viral fan base and quadrupled it. The TV show's fastest-selling single was Criss's version of Katy Perry's "Teenage Dream," and he was nominated for a 2015 Emmy for writing the song "This Time" for the show's finale. Last March, he debuted his indie rock band, Computer Games, with brother Chuck, and in December, he released a solo EP, Homework, which debuted at No. 1 on Billboard's Heatseekers Chart.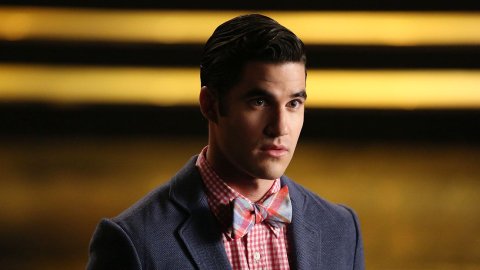 Criss expects to get more serious attention for Cunanan than for covering Perry, even if he sees no distinction in the effort made. "There's a notion, which I'm allergic to, that the darker the role—the more a departure a role is from somebody—the more weight it has," says the actor, who took the part of Cunanan because it allowed him to "tackle someone with a huge emotional range. It was my job to understand Andrew, as hard as that may seem, [without] glorifying someone who was monstrous."
Versace gets the titular murder out of the way in the first eight minutes of Episode 1. The rest of the nine-episode series pieces together Cunanan's story, in reverse chronology, with glimpses of Versace (Édgar Ramírez) and his family, before and after his death. Series writer Tom Rob Smith based the show on the 1999 book Vulgar Favors, by investigative journalist Maureen Orth, who conducted hundreds of interviews with people who knew Cunanan.
Good looks and intelligence got Cunanan in doors—particularly those of older, wealthy gay men in San Francisco. A pathological liar, he spun tales about his past that eventually began to fray, as did his behavior; an affable charmer one minute, he could be calculating and menacing the next. By the time he made his way to Miami, and Versace, he was one of the FBI's most wanted fugitives and clearly unhinged.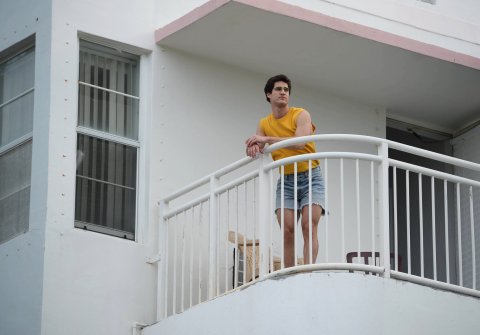 Criss, who was only 10 at the time of the murder, had never heard of his character before Murphy offered the part. "I knew that [Versace] was murdered," he says. "That was about it." According to Murphy, Criss had numerous conversations with Orth, but, says Murphy, "I don't know if you can ever prepare for this sort of role, besides learn everything you can about the real guy."
Research revealed that Cunanan was from a broken home, that there was mental illness in the family, and that his father encouraged an inflated sense of entitlement. But where many people would have sought help, says Criss, "Andrew chose the path of destruction."
Many scenes are necessarily fictional, since there are no existing interviews with Cunanan, says Criss. But what he came to understand was that Cunanan, like an actor, was always performing. "I gave lots of different takes for every scene, because Andrew was giving the world so many different versions of himself," says Criss. "I would do a scene at an 11, then do another take at four. I still don't know which ones they ended up using."
Criss "thought about Cunanan's victims every day"—William Reese, Jeffrey Trail, David Madson, Lee Miglin and, of course, Versace, all killed within the span of three months. "My greatest fear was that suddenly [members of Trail's family] hear there's going to be a series about Uncle Jeff's murder. How bizarre and twisted that must be," says the actor, who considered contacting the victims' families but decided that wasn't a good idea. "I realized we had to finish the work and let it speak for itself."
He encourages people who knew the victims to reach out to him once they've seen the series, "not for research or for vanity, but just to let them know that I've been thinking about them." (The Versaces have condemned the series, saying, in a statement, that "it should only be considered as a work of fiction.")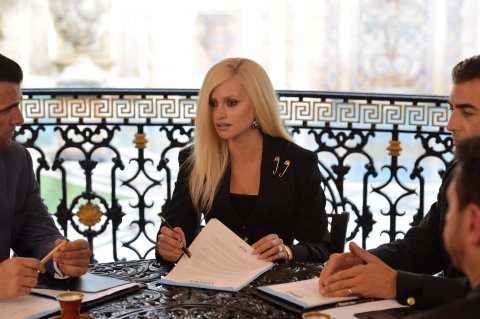 As a gay man in the '90s, Cunanan was living in a country still struggling to accept the queer lifestyle. Orth's descriptions of Cunanan's wild sex life caught flack; a 1999 New York Times review said the author was "guaranteed to flout political correctness and court charges of homophobia." Murphy, who is openly gay, avoids any stereotyping and makes homosexual discrimination a main theme of the series via Cunanan's closeted victims. (Both Murphy and Criss have nothing but kind words for Orth, who spent time on set.)
"Your heart aches for those who have lived these lives of suppressed identity," says Criss. He found his character's murder of Lee Miglin (played by Mike Farrell) particularly painful. Cunanan outed the Chicago real estate tycoon, leaving him to bleed out in sexual bondage gear, surrounded by gay porn. "Andrew wreaked havoc on this closeted, sweet, good man," says Criss. "It didn't help that Mike Farrell is a very dear, sweet man. I just went, 'I'm so sorry!'"
The intention behind the show, says the 52-year-old Murphy, was to expose the entrenched homophobia he grew up with. "I'm continually amazed at the pain and difficulty of being an out or in-the-closet gay person in the '80s and '90s," he says.
Unlike the other victims, Versace was openly gay. "Andrew not only envied the wealth and success of Gianni, but also that he was a famous, out man who had love in his life," says Criss. "For Andrew, whose homosexuality keeps leading him to dark places, to see somebody so victorious at it had to be infuriating."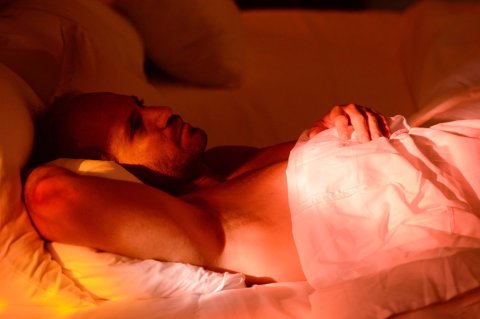 The actor, who describes himself as a "straight, cisgendered white dude," has now played three queer characters. Without having experienced the emotional toll of coming out, he has great empathy for those who go through it. An advocate for the Trevor Project, a nonprofit dedicated to preventing suicide among LGBT youth, Criss says he wants "to give as much positive representation as I can to those characters offscreen."
And for Murphy, it is less the murders committed by Cunanan than this country's narrative of queer oppression that makes The Assassination of Gianni Versace an important American Crime Story. "It was a crime, and it continues to be a crime," he says. "Is it getting better? A little bit. Can we do a lot better? I think we can."