He grew up in Yucatan, Mexico, far removed from a life of wealth or privilege. But his story isn't one you'll be reading about in most media or academic circles because it defies the prevailing progressive narrative about the country he adopted. And the country, America, that adopted him.
"Mexico taught me how to work hard, but in Mexico, even though you work really hard, you don't see results," said Osiris Hoil, owner of a chain of restaurants headquartered Washington, D.C., called District Taco. "In the United States, when you work hard, you see results." It's a sentiment that's drawn immigrants to America for centuries and keeps drawing them.
"I pretty much grew up on a farm where I had to do lots of things on my own," Hoil explained. "When I was 11, I was selling newspapers, popsicles, flowers on my bicycle, and helping my dad farm."
Hoil learned to cook from his mom, who would wake him, ask him what he wanted to eat and then enlist his help making the meal. "She's extremely picky, but that's why her food was so delicious," he explained. "I'd pick tomatoes, habanero, anything that she needed, and she'd feel them and be like, 'No, this is not ripe.' And I'm like, 'What do you mean? It looks good.' Her standards were so high. And since then, my standards are high."
Not seeing opportunity in his home country, Hoil got a visa at the age of 18 and landed in Colorado. His first job was as entry level as entry level gets: dishwasher. It was at that same restaurant that Hoil met the woman of his dreams. "I was making minimum wage when I met Jennifer. She was the waitress," Hoil laughed. "I didn't speak any English, so I had to learn it to ask her out."
Hoil signed up for English classes but couldn't stay awake through the lessons. He ended up learning the language speaking to drunk patrons at the bar because, as he explained, "they speak much slower!" Three years later, he'd learned enough English to ask Jennifer on a date. She married Hoil, and the couple moved in 2006 to Arlington, Virginia, a suburb of Washington, D.C., to be closer to her family.
Hoil decided to pursue a career that would lift his wages, so he started a construction job. "I didn't have much experience, but the construction company saw my potential," he explained. "They sent me to school so I could learn how to read blueprints." He was soon supervising projects. "I did projects where I actually was finishing before schedule, on budget, working my butt off. The bonuses were coming. Things were great," Hoil added.
By 2007, Hoil was doing well enough to buy a house, and a baby soon followed. But the next year, the economy collapsed, and the construction business collapsed with it. Hoil was out of a job.
"I still remember that moment. I was sweeping the project because everybody was leaving, and I liked to keep my projects clean," Hoil recalled. "And the owner of the company came and gave me the news. It was very emotional. I started crying. I'd never been fired before."
All Hoil could think about was one thing. "How am I going to go to my wife and tell her I lost my job? I have a house, a kid. She's pregnant. What am I going to say?" he recalled.
When he shared the bad news, Jennifer hugged him and said a few words he'll always remember: "'Don't worry. We'll be OK,' she told me. 'Man, that was so powerful.'"
For six months, Hoil looked unsuccessfully for construction work. "I was getting depressed," Hoil said. "I'm babysitting my son during the week, and on the weekends, I'd invite my friends over so we could have some beers and make carne asada and salsa."
Some friends urged Hoil to bottle the salsa, and one friend, Mark Wallace, urged him to do something that would change the trajectory of his life.
"I was drinking beer and eating with Mark, and he said, 'Hey, Osiris, all the times I go to Austin, Texas, there's always food trucks, and they sell this amazing Mexican food,'" Hoil recalls. "And he turns around, and he's like, 'Osiris, do you want to do it?'"
Wallace then did something Hoil will never forget: He staked his pal the nearly $30,000 to start the business. "I was like, 'Wait, you want to give me the money? What person gives you that much money?'" Hoil recalled saying to his friend. "I went home and talked to my wife about it, and I didn't have anything else going on, so I went back to Mark, and I said, 'Let's do it.'"
That's exactly what Hoil and Wallace did. "We bought the stand, and District Taco was born in 2009." As with most business successes, the road to profitability was no duck walk. But Hoil was not afraid to hustle. And he was willing to learn from his mistakes. "The first week, we made breakfast tacos in the morning, and it wasn't working," Hoil remembered. "In Mexico, we eat tacos with eggs. I grew up with it, but people around here prefer a bagel, donut or something else for breakfast."
Hoil focused on making things customers loved and wanted. To make his carne asada, he went to Home Depot and welded a small grill to his stand so he could grill in front of his customers. He had a table where he and his team blended salsas. "It was a party out there on the street," Hoil beamed.
The food was great, but so was the location: a bustling street corner in Rosslyn, Virginia. Soon, long lines formed. "We were six people working, and we served about 200 people a day," Hoil said. "Soon, the press started writing about my story, from being laid off to having a taco stand. It was a wake-up call that it can be done."
Hoil and his pal Wallace—now his business partner—took the plunge and opened their first restaurant in Arlington, Virginia, in 2010. They did their best to keep costs down. "We bought a lot of equipment from Craigslist," Hoil explained. "We pretty much built the restaurants by ourselves."
Some critics warned Hoil and Wallace that the path from food stand to restaurant was difficult, but they had real focus. And great food. Their business theory was simple. Get the model for the first store right, and replicate it throughout the area.
A year after opening their first restaurant, they were ready for number two. Hoil hired contractors to build the new store, but not just any contractors: He hired the firm he once worked for. "I used to be their employee, and now I'm their client," he said.
With 12 stores and plans to expand, Hoil employs 450 people. He's grateful for the things he didn't have when he started. "All of my life has always been about what other people had that we didn't have," he said. "And I'm really thankful that I didn't have it all in the beginning."
Hoil's brother, Eric, moved to Arlington and works as the company's quality control person. His mom, Nelly, visits three times a year and routinely tells her sons they should use more lard and salt in their recipes. Hoil knows his health-conscious customers wouldn't like it. Mom, it turns out, isn't always right.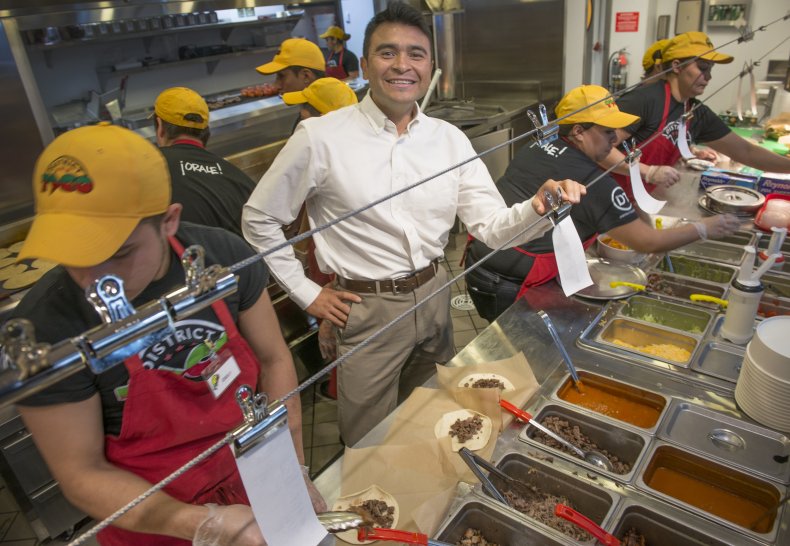 Hoil, who owns a beautiful home in Virginia and has three kids, attributes his early success to the favorable business climate in Rosslyn. At the time, D.C. food carts required a lot more in terms of permits and licensing, and city rules mandated carts stay in fixed positions. Virginia's rules were much more permissive.
Hoil is proud of the people he employs and the opportunities his company has provided for growth. One employee at his first store had five young children when she started as a food runner. Now, she's the general manager. "I take a lot of chances on a lot of people," Hoil explained.
As the company expands nationally, Hoil said, it will continue to bear the name District Taco. It's the capital of the nation he loves, he'll tell anyone who will listen. A nation that officially became his home in 2012, when Hoil took the Oath of Allegiance and became a U.S. citizen.
Hoil credits much of his success to the work ethic his family instilled, and the excellence his mother embodied. But he saves the greatest praise for his achievements to America itself.
"In Mexico, you cannot choose what kind of life you want to live," he explained. "I came to the United States with a tourist visa, and I decided to stay in 2000."
Hoil stayed and chose his own life. And his adopted home chose him.
It's a story that's played itself out in America for centuries. It's also a rebuttal to the claim that America is filled with white racists rooting against people of color and immigrants, as well as the cynical notion that the American Dream is dead or available only to a few.
Those are ugly lies about our great country. Just ask Osiris Hoil. He'll set the record straight.
Lee Habeeb is vice president of content for Salem Radio Network and host of Our American Stories. He lives in Oxford, Mississippi, with his wife, Valerie, and his daughter, Reagan.
The views expressed in this article are the author's own.