American Ebola Patient Arrives in Omaha for Treatment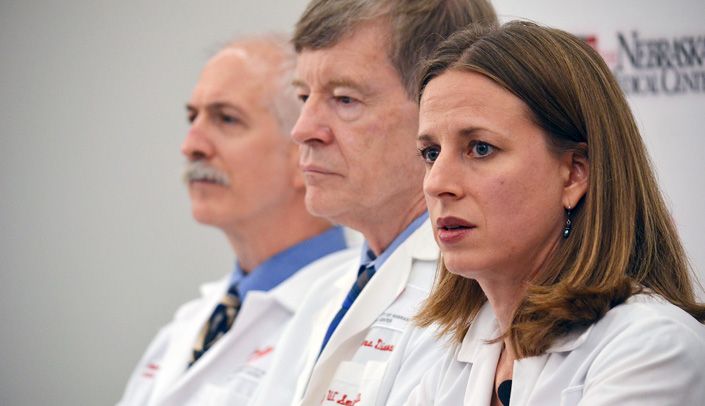 On Friday, an American doctor infected with the ebola virus arrived at University of Nebraska Medical Center in Omaha for treatment.
Richard Sarca contracted ebola while working with the missionary group, SIM USA, to deliver children in Liberia. He went to West Africa to replace his colleague, Kent Brantly who was diagnosed with the virus back in August.
Sarca will be treated at Nebraska Medical Center's Biocontainment Patient Care Unit. The unit is the second U.S. hospital unit used to treat ebola patients. Last month, Brantly, along with SIM USA missionary Nancy Writebol, were both treated at Emory University Hospital in Georgia, where they recovered.
Tweeting during the event, the hospital commented on the decision to care for ebola patients in a second hospital: "This is going to be a big outbreak in Africa. There are going to be patients that show up. Makes sense to improve infrastructure."
In West Africa, medical infrastructure—access to hospitals, supplies and trained healthcare workers—remains a serious hurdle to containing the outbreak, which is now spreading throughout the region. The World Health Organization reports that there have been almost 1,841 suspected, probable and confirmed ebola deaths as of August 31. And, according to the United Nations, in the last week alone, nearly 400 more patients have died.
According to a press conference given today by Nebraska Medical Center, the hospital has worked with Emory doctors to use isolation equipment more efficiently and ensure the virus is contained in its Biocontainment Patient Care Unit. The unit was established a decade ago, and has conducted drills four times a year.
On Instagram, the hospital stated that its doctors would treat Sarca with "aggressive supportive care, fluids and electrolytes" and would also explore experimental treatment options.
A hospital representative confirmed to Newsweek that several different experimental treatments were being looked into, but noted that ultimately the decision to try an untested drug or procedure would be up to Sarca's family. One possible treatment mentioned by doctor Mark Rupp at the conference was injecting Sacra with serum from an ebola survivor, as it is thought that patients who recover from the disease develop an immunity.
The medical center did not respond to Newsweek's question of what specific experimental drugs might be used. Sacra's colleagues, Brantly and Writebol, both recovered after being given the unproven treatment ZMapp. This may not be an option for Sacra, however, as ZMapp's manufacturer, Mapp Biopharmaceutical posted a notice on its site explaining that, as of August 12, its supplies of ZMapp have been exhausted.
Mapp did not respond to Newsweek's request for comment on whether or not ZMapp was an option for Sacra.