Should Federal Government Pay for Health Care? Young Americans Think So, Poll Finds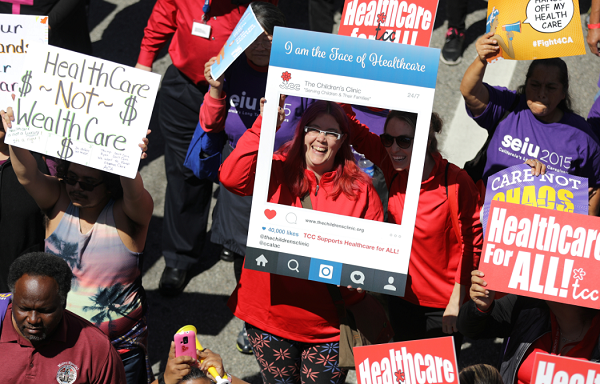 If young Americans had it their way, the federal government would spend a whole lot more to ensure that people across the U.S. had health care coverage.
A recent GenForward poll found most young adults in the country were satisfied with former President Barack Obama's Affordable Care Act—plus or minus a few provisions—and they believed whatever President Donald Trump and the GOP has in store for health care going forward, it should require the federal government to shell out more money to guarantee all Americans have more than just "access" to coverage, as Republican lawmakers suggested in their recent unsuccessful health care legislation.
The poll, which surveyed 1,833 18-to-30-year-old adults before Trump's health care bill was rejected, found 67 percent of young adults said it was the federal government's duty provide all U.S. residents with health coverage, and 63 percent of young Americans wanted the government to increase spending to help citizens afford health insurance, even though they acknowledged such measures would cost the U.S. more money.
Although a recent Real Clear Politics poll found only 49 percent of the general population approved of Obamacare as of March 28, millennials are still much more supportive of the health law. Sixty-three percent of GenForward respondents approved of the Affordable Care Act while only about 25 percent of young people ages 18 to 30 wanted to see Obamacare repealed, including 16 percent of young people who wanted it repealed and replaced and 10 percent who wanted only to see the bill repealed.
Millennials still wanted to hold on to some provisions allotted by Obamacare, including one that allows children to remain on their parent's insurance until they turned 26. Seventy-five percent of young adults supported that provision, and 63 percent were in favor of prohibiting insurance providers from denying coverage to people with preexisting conditions. Young adults were also strongly in favor of expanding the Medicaid program, of which 73 percent supported.
However, there were some aspects of Obamacare that millennials could do without, particularly provisions that required all Americans to have health insurance or pay a fine, which only 28 percent of young adults supported.
White House officials and congressional leaders met Monday to discuss plans to revive their repeal- and-replace efforts. House of Representatives Speaker Paul Ryan said Tuesday that the refocused health care bill was only in its "conceptual stage right now."