An American Who Broke Out of Bali's Most Notorious Jail Was Just Sentenced to Five Years
An American who escaped from the infamous Kerobokan prison in Bali and was recaptured shortly after received a five-year sentence on Monday.
The prosecutor asked for 10 years and a one billion rupiah fine ($80,000 dollars) for 32-year-old Christian Beasley, who was caught with 5.7 grams of hashish at a post office in August. If the fine is not paid, he will have to serve a further six months.
Beasley was one of two American prisoners who escaped from the Kerobokan jail in December by cutting the bars of the prison's ceiling and using a ladder to climb the 20-feet high wall. While the other fugitive, 57-year-old Paul Anthony Hoffman, was captured shortly afterwards, authorities carried out a five-day manhunt before they arrested Beasley on the neighboring island of Lombok.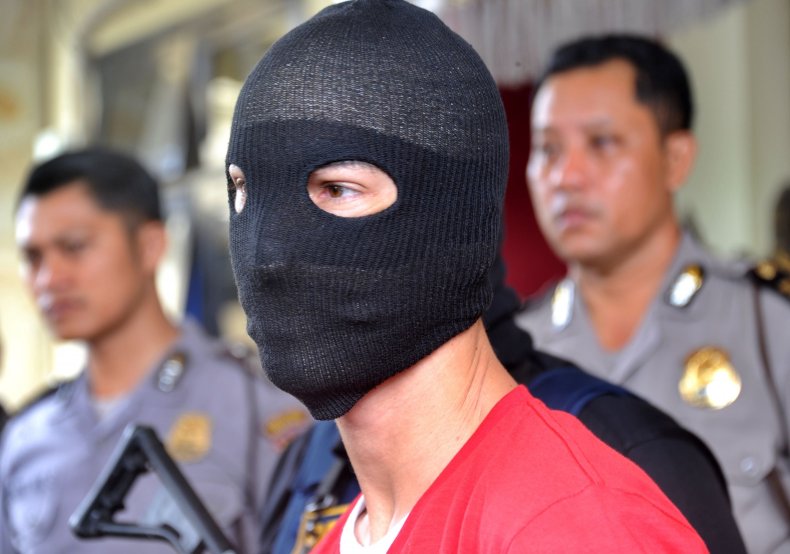 Beasley was then held in a police cell in Kuta before being transferred back to Kerobokan, the prison closest to the court, where his trial resumed in early January. While in Kerobokan, Beasley said he suffered physical and mental abuse at the hands of other cellmates and prison guards.
Beasley's mother, Rosalind, detailed the abuse her son suffered in several phone conversations with Newsweek, substantiating the claims with photographic evidence showing bruises on her son's face and burn marks on his legs, some of which were also published on a GoFundMe page set up to raise money for his legal defense.
"Prisoners made him do what he called a chicken walk, where you're squatting and walking and he said they were kicking him and punching him while doing it. He said it was hard for him to breathe," Rosalind said.
Her son said he was also threatened by guards. "They had a knife and [were] threatening to cut his ear off and laughing and making him beg not to do it. It's a cruel thing to do, obviously they had no intention to follow through but he didn't know it," she said.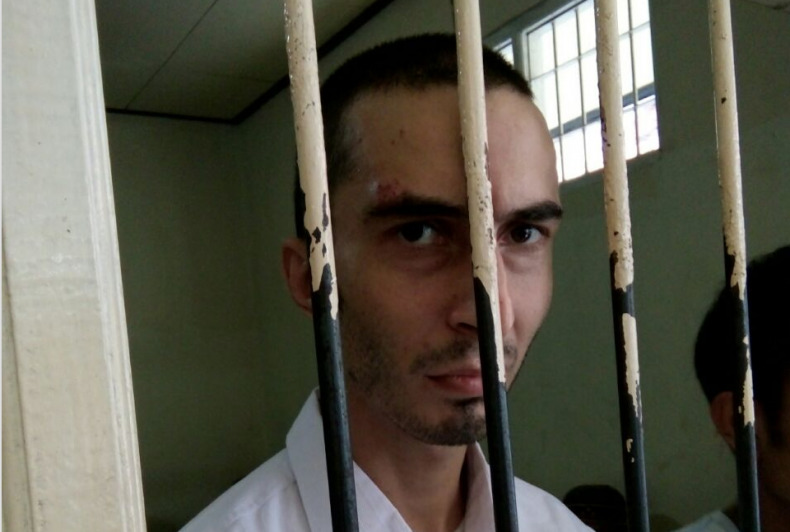 A spokesperson for the Directorate General of Correction did not respond to Newsweek's request for comment and Rosalind said a doctor at Kerobokan refused to testify about her son's condition during the trial after hearing about an investigation into conditions at the jail.
Christian requested a transfer, but to no avail. In handing out the sentence, the judge did not indicate whether he will be serving his prison time elsewhere. "She believed that she did not have any authority over that matter," Rosalind said. "[He] fears having to spend months or years longer in the 'punishment' cell at Kerobokan."
Life in Kerobokan
Kerobokan prison, which was built in 1979 to house 320 inmates, is notoriously overcrowded and understaffed. Drug use is also rampant, former prisoners told Newsweek.
"During my time in the prison, drug abuse was rampant and it still is today. Chronic use of drugs often leads to [...] mental health issues including paranoia, depression, anxiety, aggression and other problems," Wira "Danu" Prasetyoko, a former inmate who was in and out of Kerobokan between 1996 and 2013 on charges including robbery and narcotics-related offences, said.
He followed some of the drug rehabilitation programs spearheaded in the prison by members of the infamous Bali Nine drug trafficking gang (two of whom, Andrew Chan and Myuran Sukumaran, were sentenced to death for drug smuggling and shot by firing squad in 2015). Danu now works as a rehabilitation specialist at the drug and alcohol rehabilitation clinic, The Lighthouse Bali, which he co-owns with his American wife, Alice Prasetyoko.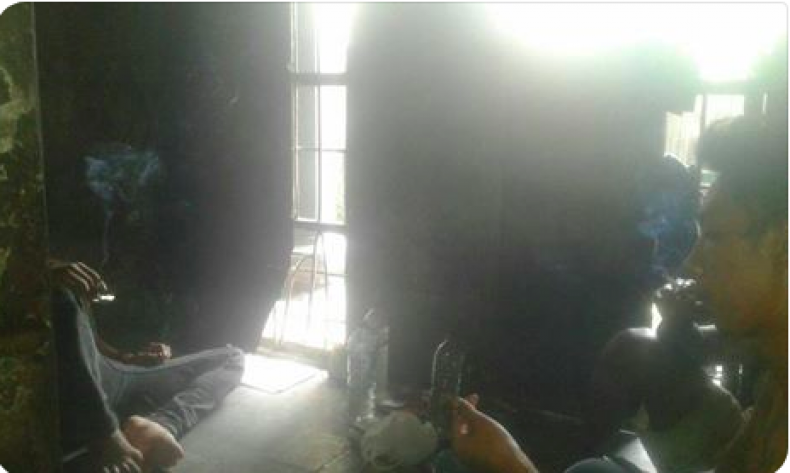 Paul Conibeer, an Australian citizen who spent 10 months in Kerobokan between 2012 and 2013 because he was unable to pay his hotel bill after being pickpocketed, said: "There's lots of mental illness there. A lot of people have been in there for a long time and the whole jail is on drugs. All the time."
Conibeer, who later wrote a book, I Survived Kerobokan, about his experience, spent his first 58 days confined to a cell in a police station in Kuta, where he slept on the floor with a water bottle as a pillow. He said the guards asked him for bribes and, when he finally told them he was not going to pay them the amount of money they demanded, he was brought to Kerobokan.
At first, the open prison—where prisoners were free to walk around and participate in different activities during the day—seemed a huge improvement compared to the small cell, but Conibeer later came to think of it as an "evil and undermining" place. He still recalled the advice a man gave him on his first day in Kerobokan: "Whatever you do, don't do drugs and do not get yourself into debt, because that's when you get into trouble."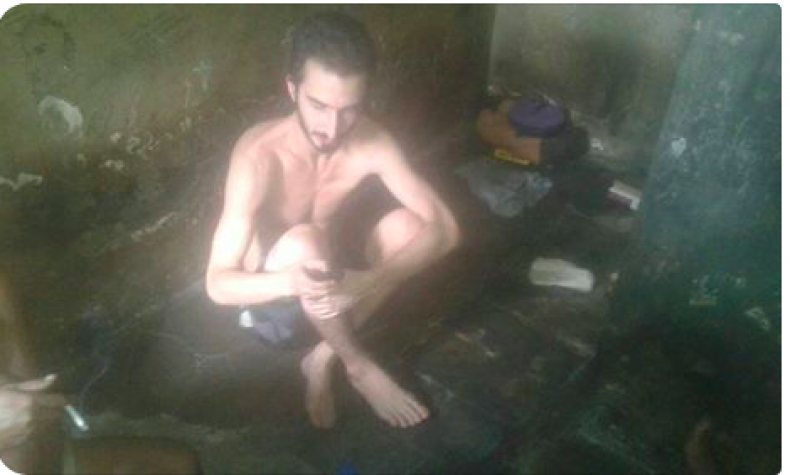 Conibeer said he had never taken drugs but saw "people spiralling out of control" due to drug consumption in prison. "There were lots of suicides, murders, bashings—the gangs ran the prison, you had to keep yourself clean," he said.
Not everyone's experience of the place was as bleak. David Fox, a British war correspondent and former Reuters bureau chief in Jakarta, faced a 12-year sentence for being caught with 9.83 grams of hashish in October 2016. He said other prisoners treated him with sympathy.
Fox, who used marijuana to help him deal with post-traumatic stress disorder experienced after years reporting from conflict zones, said he decided to stay clean and not get involved with drugs while in prison. "The only reason why people get into fights is because of money and because of drugs," Fox told Newsweek.
Another way to attract problems, Fox conceded, was a failed jailbreak. "An escape attempt makes the guards look foolish and brings reprisal from other prisoners," he said.
Fox got out of Kerobokan after his sentence was reduced to seven months. "The more experienced and influential lawyer you can afford, the better your outcome. You get what you pay for," he said.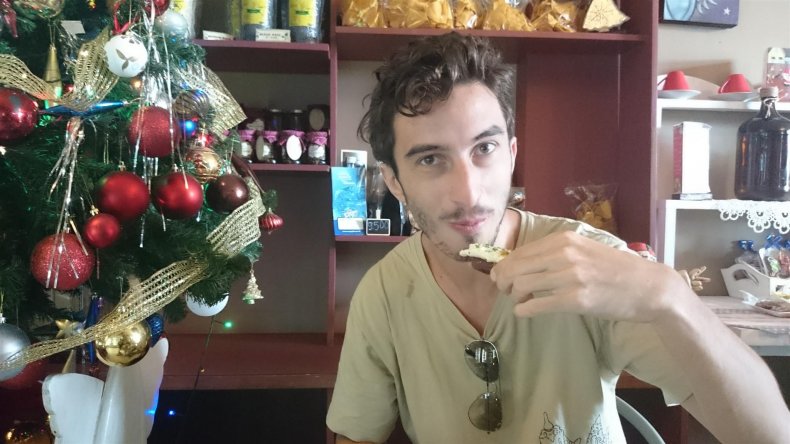 There is a chance Christian's sentence will be reduced on appeal, Rosalind said.
"We are trying to figure out what course to take from here. An appeal would keep the matter in the courts. And it would offer the possibility, if the sentence could be reduced to one year or less on appeal, of allowing Christian to transfer to another prison," she said.
Rosalind, who described her son as "a man who had trouble sleeping and used marijuana for medical purposes," continues to fear for his safety.
"Perhaps scrutiny and public awareness will keep him safe," she said "I like the idea of having people know he's there, his life matters and I don't want anything bad to happen to him. That's my driving principle."