'American Horror Stories' Season 2 Cast: Who Stars in 'Aura'?
Each week American Horror Stories introduces viewers to a new terrifying tale.
The second episode of the American Horror Story spin-off's second season was released on Thursday.
Titled "Aura," the episode sees a young woman become terrorized by visitations after purchasing a video doorbell named Aura.
Directed by Max Winkler and written by Manny Coto, who also wrote the season's premiere episode Dollhouse, the episode has a stellar cast. Here is everything you need to know about the actors that appear in the episode.
American Horror Stories Season 2 Cast: Who Stars in "Aura"?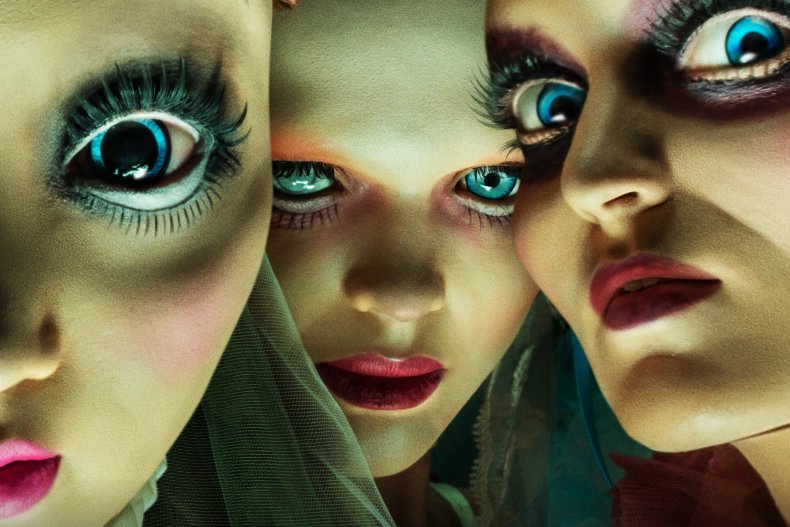 American Horror Stories stars several actors that have previously appeared on the flagship show, and Aura is one of the episodes that features an alum in Season 2.
In fact, Aura has two AHS alum in it. Gabourey Sidibe and Max Greenfield play couple Jaslyn and Bryce who move into a new home.
Jaslyn is the aforementioned woman who starts having visitations through her Aura doorbell, and she is terrified over the repeat incidents because, as a child, a home invader snuck into her room before harming her parents.
The home invader, who was wearing a creepy bunny mask, indicated to her to be quiet, and she reacted by covering her head with her duvet while the attacker went to her parents.
Aura sends alerts to Jaslyn's phone whenever there is motion at the door, and to begin with she is visited by an old man demanding to be let in.
She later realizes the man is a janitor that worked at her high school, Mr. Hendricks, who became obsessed with her after she complimented him as a joke with her friends.
Since the visitor doesn't show up on their neighbor Hwan's video doorbell, Bryce believes it isn't real and the visits are actually the result of a prankster hacking into their system.
But, in actual fact, it is real, because it turns out that the Aura is able to connect with the spirit realm, allowing the ghosts of Jaslyn and Bryce's past to haunt them.
Whether it is for good or ill, though, depends entirely on the ghost that is haunting the couple, and so follows a terrifically terrifying tale.
Here is the cast for American Horror Stories episode "Aura":
Gabourey Sidibe plays Jaslyn
Max Greenfield plays Bryce
Vince Yap plays Hwan
Joel Swetow plays Mr Dayle Hendricks
Lily Rohern plays Mary Jeane Burkett, a ghost from Bryce's past.
Freddie Basnight plays a police officer
Nancy Linehan Charles plays Mrs Hendricks, Dayle's sister
Sam Bixby plays a YouTuber sharing Aura's ghost theory
American Horror Stories Season 2 airs Thursdays on Hulu.