'American Horror Story 1984': Night Stalker, Charles Keating and Larry Flynt References, Explained
American Horror Story is back, and as fall sets in, the new season of the hit FX anthology series is doing its best to cling onto summer with its latest instalment, American Horror Story: 1984.
Set in—you guessed it—1984, Season 9 is all about a killer who terrorizes a summer camp. The new season stars AHS regulars Emma Roberts, Billie Lourd and Cody Fern, as well as newcomers Gus Kenworthy and DeRon Horton, as a group of aerobics fanatics who escape busy central Los Angeles for the summer to work as counselors at Camp Redwood.
The first episode of AHS: 1984 pays homage to all things 1980s with a wink and a nudge, not least the 1984 Summer Olympics held in Los Angeles—which Kenworthy's Chet is disqualified from after testing positive for drugs.
There are also some nods to real-life serial killer the Night Stalker, as well as Charles Keating ("Who's Charles Keating?" Chet asks—perhaps echoing the sentiments of viewers), and Larry Flynt.
Need to brush up on your '80s nostalgia? Here's who they are and what they're known for.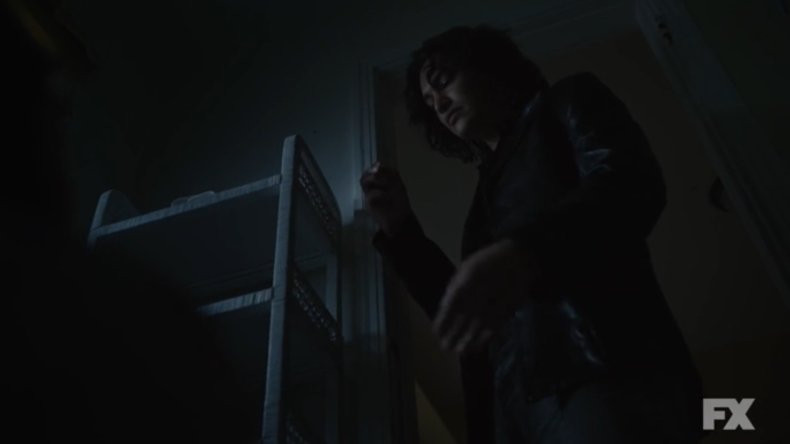 Who was the Night Stalker, Richard Ramirez?
While AHS: 1984 has its own fictional serial killer, Mr. Jingles, running loose around Camp Redwood, we also see the Night Stalker, real name Richard Ramirez, make a brief appearance in the opening episode of Season 9.
Ramirez—played by Zach Villa—attacks Roberts' Brooke late at night in her apartment and tells her: "You're going to die by the hands of the Night Stalker."
However, when a neighbor overhears the ruckus in the apartment, Ramirez flees, but not before warning Brooke: "I will find you. Satan will show me the way."
Later in the episode, Brooke spots Ramirez lurking around the summer camp.
The Night Stalker, a.k.a. Richard Ramirez, was a prolific serial killer and rapist in the Los Angeles and San Francisco areas between 1984 and 1985, which is precisely the time period our show is set.
Ramirez, a Satanist, was dubbed the Night Stalker because he broke into his victims' homes at night. Ramirez made his victims "swear on Satan" as he terrorized them, which is exactly what AHS' Ramirez tells Brooke to do.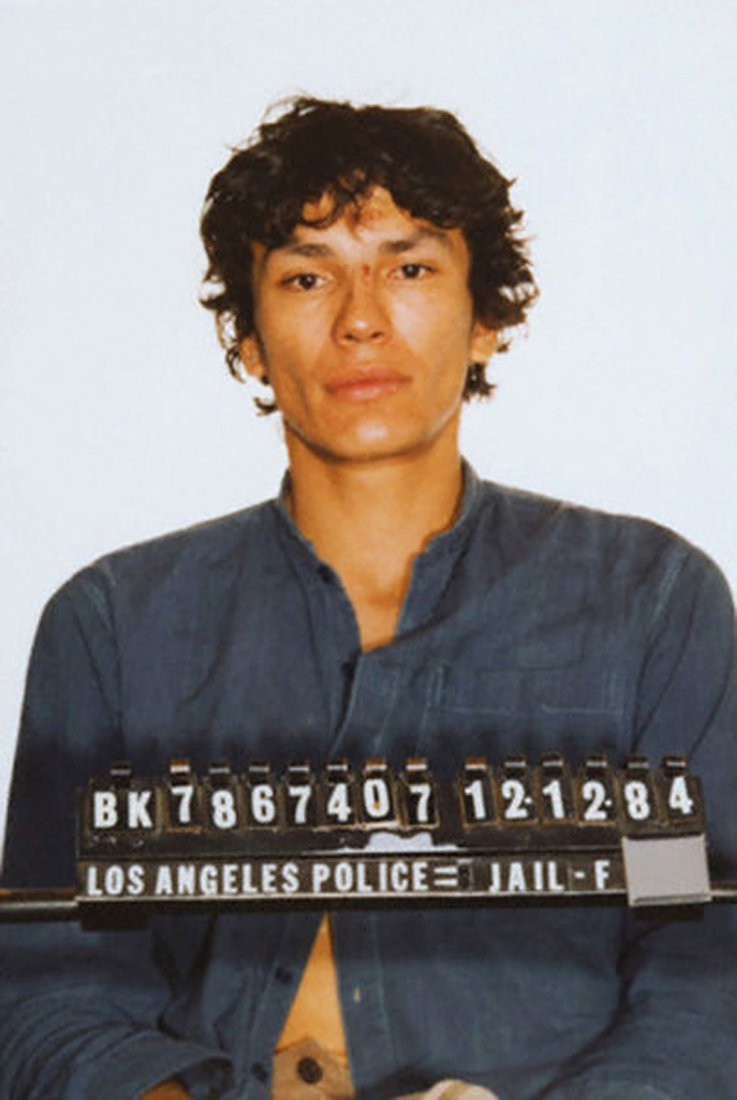 Serial killer Richard Ramirez aka "The Night Stalker" in his mug shot or booking photo on December 12, 1984 in Los Angeles, California.
Michael Ochs Archives/Getty
Ramirez was eventually caught in July 1985 and convicted of 13 counts of murder, five attempted murders, 11 sexual assaults and 14 burglaries in September 1989. He was sentenced to death by gas chamber in November that year.
Ramirez appealed his death sentence for many years and eventually died, while on death row, in June 2013, aged 53. He died from complications related to B-cell lymphoma.
AHS: 1984 is actually Ramirez's second appearance in AHS. The Night Stalker appeared in an episode of American Horror Story: Hotel in which he attended a soiree of sorts for serial killers, hosted by Evan Peters' James Patrick March and also attended by Aileen Wuornos, John Wayne Gacy, Jeffrey Dahmer and the Zodiac Killer.
Who was Charles Keating?
Charles Keating and Larry Flynt are both mentioned by god-fearing camp owner Margaret Booth (played by Leslie Grossman), prompting Chet (Kenworthy) to ask: "Who is Charles Keating?"
Well, aside from being a good friend of Margaret's—in the series at least—Keating was infamous for his part in the savings and loan crisis in the late 1980s; millions of Americans lost their life savings after investing in savings and loans companies, over 1,000 of which went bust.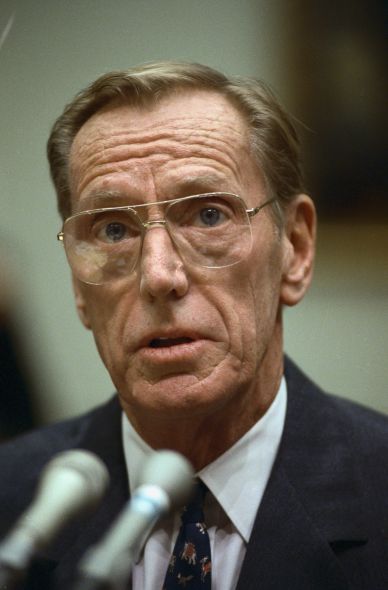 Before that, however, Keating was known for his anti-pornography activism and sat on the President's Commission on Obscenity and Pornography, set up by President Lyndon B. Johnson in 1969 to examine the distribution and effects of porn.
Keating gained reputation in the U.S. as "Mr. Clean" as he campaigned against "smut" and said pornography was eroding public decency. He also spoke out about homosexuality, calling it a "seduction of the innocent."
In AHS 1984, Margaret says Keating was a "dear friend," and she was "right by his side in Cincinnati during that Larry Flynt trial." This is a reference to Larry Flynt, the pornography tycoon who founded Hustler magazine and was put on trial in Ohio on obscenity charges in 1976. He was convicted but the ruling was later overturned.
Keating, who was from Cincinnati, had long campaigned against pornography in Ohio and was successful in upholding anti-pornography sentiment in the state, including against Flynt and his publication.
Keating died in March 2014, aged 90. After his death, Flynt told the Phoenix New Times: "I never say anything bad about anybody who's passed on, but no one deserved it more than him. All those years in the '70s when he was having me prosecuted for having published obscenity, he was stealing money from those little ol' people in Lincoln Savings and Loan. He's the scum of the earth."