'American Horror Story: 1984' Episode 4 Recap: Margaret's Evil Past Revealed
FX has now release Episode 4 of American Horror Story: 1984, titled "True Killers," which changed everything we thought we knew about what was going on in Camp Redwood as more was revealed about what happened in Mr. Jingles' original massacre.
AHS' latest episode also revealed that characters we had thought were good like 'Nurse Rita' (played by Angelica Ross) and Margaret Booth (Leslie Grossman) had dark motives.
What happened in American Horror Story: 1984 Episode 4?
Get your unlimited Newsweek trial >
After last week's episode of American Horror Story: 1984 revealed that Montana (Billie Lourd) and the Night Stalker Richard Ramirez (Zach Villa) were actually working together to kill Brooke (Emma Roberts), the beginning of "True Killers" flashed back to when they met in Montana's aerobics class.
After they bonded over a love of Billy Idol, Montana revealed that she wanted Brooke dead because Brooke had an affair with her brother, who was killed by her fiance when he found out.
Meanwhile, back in 1984 Xavier (Cody Fern) and Trevor (Matthew Morrison) are trying to treat Chet (Gus Kenworthy), who last week got impaled in a pit of spikes. After he seems to be dead, they resuscitate him with an epi-pen (don't try this at home), which somehow reminds Xavier that the porn director who got stabbed through the eye earlier in the season had driven there in a Cadillac that will allow them to escape.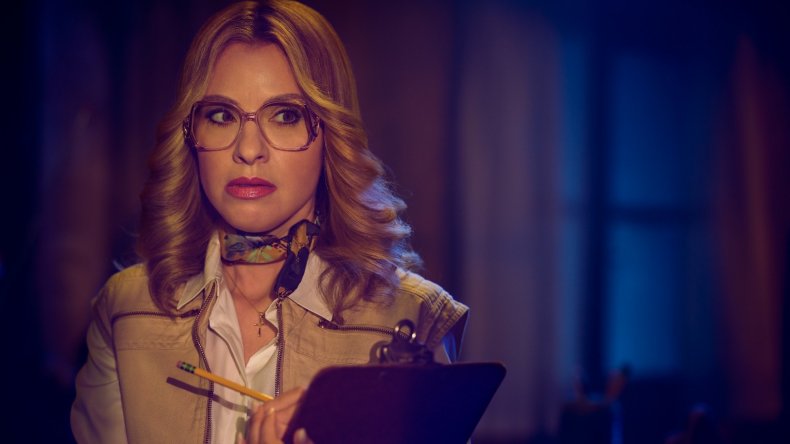 Get your unlimited Newsweek trial >
As Xavier looks for the car, he bumps into Margaret Booth, and we learn this year's campers are on the way to Camp Redwood, despite there being two killers on the loose. One of these, Mr. Jingles (John Carroll Lynch) pays a visit to camp chef Bertie (Tara Karsian), who manages to stop him killing her (for now) by making him his favourite sandwich. Xavier had been hiding under the table, but Jingles drags him out, knocks him out and traps him in the camp oven.
Brooke also gets herself caught in one of Donna Chambers, aka Nurse Rita's traps, which she has set up as part of her latest twisted psychological experiment to see if Jingles will take the bait. Xavier, meanwhile, gets released from the oven by a very beat-up looking Bertie, but not without suffering some major burns. Bertie is so battered in fact, that she begs Xavier to kill her, giving us our first death of American Horror Story 1984 Episode 3.
In another flashback, we go back to Jingles' original time in Camp Redwood, where he is seen bonding with Margaret, who like Montana with Ramirez seems to have asked him to kill her enemies for her. Looks like both of AHS' serial killers this year have more complicated motives than we thought.
However, there is no time to think about these motives as Jingles and the Night Stalker meet for the first time on the hunt for Brooke, leading to American Horror Story's version of Freddie vs. Jason as the two fight to be the person to end Brooke's life.
Meanwhile, Montana and Donna are also fighting. Both of the girls survive, while Ramirez dies after being impaled on a tree. Or at least he seems to, until he is seen snapping back to life moments later. Could this be something to do with the hitchhiker unable to die from earlier in the seasons? Either way, something strange is afoot at the camp.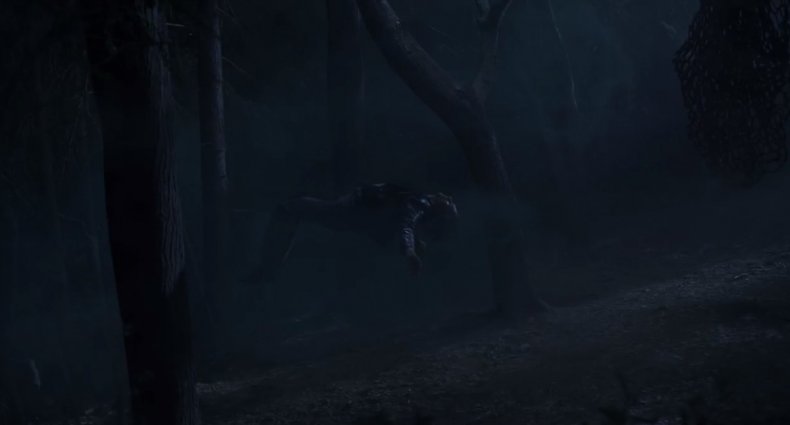 In the next scene, AHS has another trick up its sleeve as it reveals that Jingles actually did not commit the first slaughter at Camp Redwood. Margaret did, and she then framed Jingles, who only got driven to kill after some brutal rounds of shock therapy led him to believe he had done the crime. After he lunges towards her to kill her, she shoots him. Then, when Trevor came to see if she was OK, she stabs him as well, thanking 'The Lord' for giving her the strength to kill again.
Looks like American Horror Story: 1984 now has one killer working for God, while Ramirez channels Satan, suggesting we have an epic supernatural battle ahead of us, hinted at as we see a dead Night Stalker lifted into the air and resurrected. Though Jingles also looked dead, he is seen alive again in the next scene after he bumps into Xavier, who then finds the Cadillac on fire, cutting off their latest route to escape.
By the end of AHS 1984 Episode 4, things are a lot more complicated than they were at the beginning of the season. What seemed like a straightforward slasher film pastiche has been complicated by double-crossings, betrayals, and characters who keep getting resurrected by unknown forces. What this all means is anyone's guess, but next week's episode is sure to provide some of the answers.
American Horror Story 1984 airs Wednesdays at 10 p.m. ET / 9 p.m. CT on FX
'American Horror Story: 1984' Episode 4 Recap: Margaret's Evil Past Revealed | Newsgeek