This 'American Horror Story' Character was Inspired by a 'Real Housewives' Star
American Horror Story: Apocalypse is only two episodes in, but the franchise's devotees continue to crave more of this Murder House and Coven crossover season. Star Leslie Grossman revealed her character Coco St. Pierre Vanderbilt was inspired by a Real Housewives of New York City star.
Created by Ryan Murphy and Brad Falchuk, the FX anthology horror-thriller series entered Season 8 in September. Season 8 commences with the world's end, but that's only beginning. The apocalypse is the starting point for the show's universe.
Apocalypse recruits fan favorites like Sarah Paulson, Evan Peters, Emma Roberts, Kathy Bates, Connie Britton and Dylan McDermott. Grossman, who first appeared as a recurring character on American Horror Story: Cult, is back for a more prominent role in Season 8.
Upon returning, Grossman explained how she used aspects of The Real Housewives—a show she deemed "important" to her—when portraying Coco, the daughter of a billionaire who aspires to be a social media influencer. She partially based Coco on socialite-turn-reality personality Tinsley Mortimer.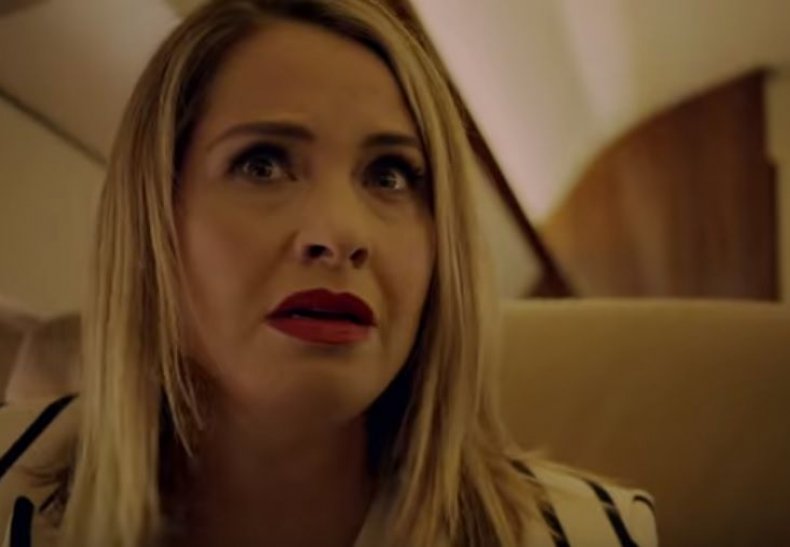 "I like Tinsley. And, here's a little scoop I can give you: There are shades of Tinsley in my character this season," Grossman, 46, told Nylon in an interview published Wednesday. "There were moments where I thought of Tinsley when I was doing things."
Grossman continued by elaborating on her admiration for Mortimer, adding: "I think Tinsley is misunderstood. I think she is incredibly sweet and I felt terribly for her about what happened at that reunion."
Grossman is primarily known for appearing in more comedic parts. She starred in television shows such as What I Like About You and 10 Things I Hate About You in addition to films like Can't Hardly Wait and Spring Breakdown.
Grossman's worked with Murphy before, including on Nip/Tuck and on Popular—a late '90s show that put her on the map. She still didn't anticipate nabbing a role on Murphy's highly acclaimed anthology series.
"I'm usually a comedic, funny lady, but I think that he's really figured out a way to put me in that's really clever and works well," Grossman told The Hollywood Reporter on Wednesday. "When he first brought it up to me last year about Cult, I was just totally blown away. It's not the show that I ever thought he was going to want to put me into. So I'm having the best time."
American Horror Story: Apocalypse airs Wednesdays at 10 p.m. ET on FX.