'American Horror Story': Season 7 'Cult' Premiere Will Freak Out Trump and Clinton Supporters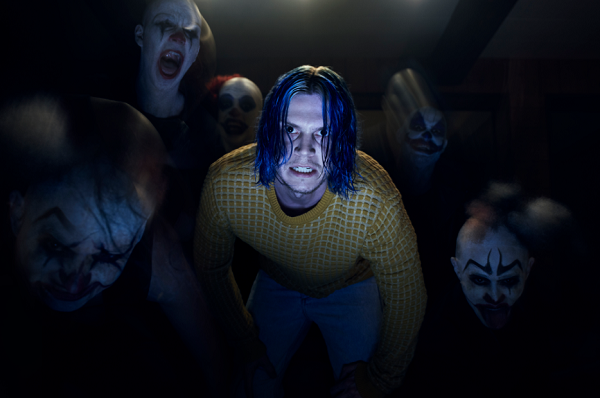 Since President Donald Trump won the election in November, the divide between Republican and Democratic voters seems to have only grown. Whether it's what to do about North Korea, the end of DACA or how to handle Russian hacking, left- and right-wing citizens can't seem to agree on much. But there's at least one aspect of American culture that may receive some bipartisan reaction—the new season of FX's hit series American Horror Story: Cult.
Based on a post-election society, the cultish and creepy new season will be littered with references regarding Trump and his presidential nemesis, Democratic candidate Hillary Clinton and the strong reactions voters had to the 2016 election. And while the trailer for the new season seems to hint at hysteria at Clinton's defeat leading to a clown-induced purge of some sort, show creator Ryan Murphy recently revealed that AHS season 7 plotlines will most likely have people of all political parties completely freaked out.
Writers for the show started penning the plot not long after the election in December, during a time when plenty of directors, producers, writers and actors were openly discussing Trump's temperament and the effect his leadership would have on the country. But during a recent press event, Murphy urged that the new season of AHS wasn't a "pro-Hillary, anti-Trump conversation," according to a Monday report by The Hollywood Reporter.
"It was really about trying to understand: Why are people voting for X or Y candidate? What are they feeling? Why are they feeling belittled or disenfranchised or upset with the patriarchal system?" Murphy said.
"Our feeling is that everybody lost their shit after the election—Republican, Democrat—and everybody's still losing their shit, and nobody's really figured out from either side where to put those feelings," he said. "There is no real discussion. Everybody's still at each other's throats, you're either on one side or you're on the other. The season really is not about Trump, it's not about Clinton. It's about somebody who has the wherewithal to put their finger up in the wind and see that that's what's happening and is using that to rise up and form power, and using people's vulnerabilities about how they're afraid and don't know where to turn, and they feel like the world is on fire."
Although characters will have strong and opposing views of Trump and Clinton, Murphy said, the overall plot is essentially based on "the cult of personality that can rise in a divisive society."
AHS will feature a number of very of different cult leaders—all played by cast alum Evan Peters—including Charles Manson, David Koresh, Jim Jones and Andy Warhol as well as the Trump supporter/racist homophobe character Kai, who will play a pivotal role in the uprising of a small town cult seemingly using creepy clowns as a means to rid society of their enemies.
American Horror Story: Cult premieres on FX on Tuesday.