'American Horror Story: Cult' Season 7, Episode 2 Spoilers—More Clowns on 'Don't Be Afraid of the Dark'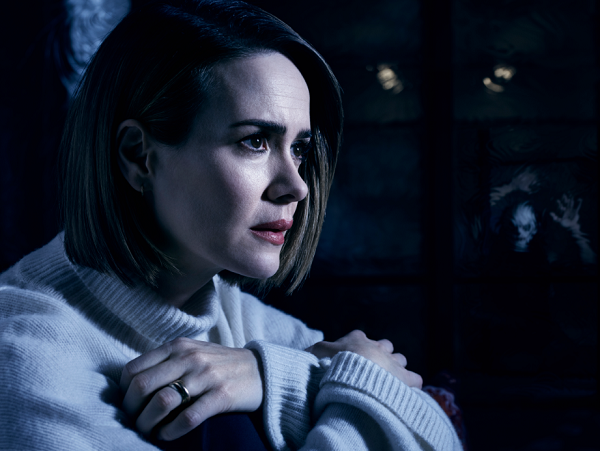 Kai's fearmongering on American Horror Story: Cult will only continue to advance as the season progresses, but on Episode 2, titled "Don't Be Afraid of the Dark," his scare tactics will lead him right to Ally's doorstep.
In the Season 7 premiere, fans were introduced to Kai (Evan Peters), a seemingly deranged outcast who celebrates President Donald Trump's election victory by literally dry humping the TV screen and later gives an oddly poetic yet fascist speech promoting fear as the pathway to freedom. While Kai embraces fear, Ally (Sarah Paulson), a paranoid and phobia-stricken Trump-hater, is nearly controlled by it.
The only interaction fans saw between the Cheetos-faced Trump supporter Kai and Ally on the Season 7 premiere was following Ally's argument with her wife, Ivy (Alison Pill), during which it was revealed that Ally decided to vote for Jill Stein over Democratic nominee Hillary Clinton. Ivy insinuates that Ally's many phobias (she's afraid of just about everything from clowns to colors and tiny holes) have likely been spurred by guilt over her vote, just as Kai walks into the two of them on the street and spills coffee over the women.
However, the next time he encounters Ally, the blue-haired radical will literally attempt to get inside of her home—or at least that's what appears to be happening in the Episode 2 trailer.
"It's so hot out here. Can I come in for a glass of water?" Kai asks as he stands in front of Ally's door wearing a suit and bow tie in the episode trailer.
An alarmed and frightened Ally denies his request, but her response is met with aggression as Kai is seen yanking on the steel bars separating the pair.
Meanwhile, Kai's creepy sister Winter continues to play on Ally's fears while gaining more control of the restauranteur's son, Ozzy. As more clowns appear inside of Ally's home, Ozzy is seen in the trailer sitting across from his new nanny Winter and locking pinkies with her, similar to the pinky-locking moment Winter shares with her brother Kai on American Horror Story Season 7's first episode, which seemed to trigger her brainwashed state.
"You're going to give me your fear Oz. It's gonna make us both stronger," she tells him, while later suggesting to Ozzy's paranoia-induced mother that if she "doesn't know what's real anymore," then she should "just ask."
It's unclear whether the terrifying clowns following Ally and popping up in the hallways of her house are just hallucinations made up in Ally's head, but their regular appearances in Episode 2—most notably in her son's bedroom—certainly leads to a feeling that they are most certainly real.
American Horror Story: Cult airs every Tuesday on FX.