'American Horror Story: Death Valley' Recap: Aliens Run Amok and a New Cast Is Introduced
The wait is over: American Horror Story fans can finally enjoy the second half of the horror show's 10th season, "Double Feature."
Following on from "Red Tide," the second half is titled "Death Valley" and introduces a whole new cast and storyline, and this time the focus is on aliens.
Episode 1, "Take Me to Your Leader," starts as one might expect; with an alien abduction.
Set in 1954, the episode opens with Maria (Rebecca Dayan) preparing dinner for her family when a mysterious tornado hits and an alien possesses her son, before going on to take control of her.
Maria's husband comes home to find her levitating off the ground and for only the whites of her eyes to be showing, sadly it's the last thing he sees.
The alien invasion comes to the attention of President Dwight D. Eisenhower (Neal McDonough) shortly thereafter and he is brought to the site of a crash, where they discover a destroyed UFO, a dead alien, and Amelia Earhart (Lily Rabe).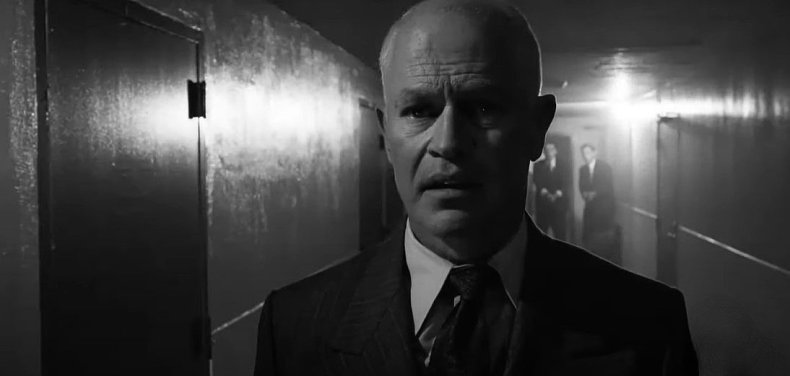 Earhart is taken in by the President and his men and sent to a top secret facility where she explains how she was taken in 1937 while flying her plane. She says "they insisted" they take blood samples and probe her.
The President is convinced she's really Earhart and is concerned when he learns she's two months pregnant, but things only get worse from there as a pathology examination of the alien body results in the deaths of both pathologists.
Eisenhower and his men investigate the horror only to discover Maria floating down the hallway, and she warns the President that it is him "who will listen to us."
The episode then fast-forwards to the present day, where friends Kendall (Kaia Gerber), Cal (Nico Greetham), Troy (Isaac Cole Powell) and Jamie (Rachel Hilson) reunite after their first year at college.
While Cal and Troy have discovered their romantic feelings for one another and Jamie has learned her partner gives her allergies, Kendall has become obsessed with disconnecting from technology and she challenges her friends to do the same when they go on their camping trip in the desert.
Unfortunately this proves to be a grave mistake on their part.
At first the quartet are having a great time in the desert, but one day they come across a field of cows that have been cut in half and are somehow still alive.
Desperate to get away, as anyone would be by that site, they race to return home in the dead of night but are stopped by aliens who attack them with what appears to be tentacles.
Kendall, Jamie, Cal and Troy manage to survive the encounter, but the episode ends with them realizing the attack had one unexpected outcome: all four of them are pregnant. Yes, even the two men.
American Horror Story Season 10 continues on FX on October 6, and the episode will be on Hulu the next day.