After Las Vegas Massacre, 'American Horror Story' Heavily Edits Season 7 Finale Shooting Scene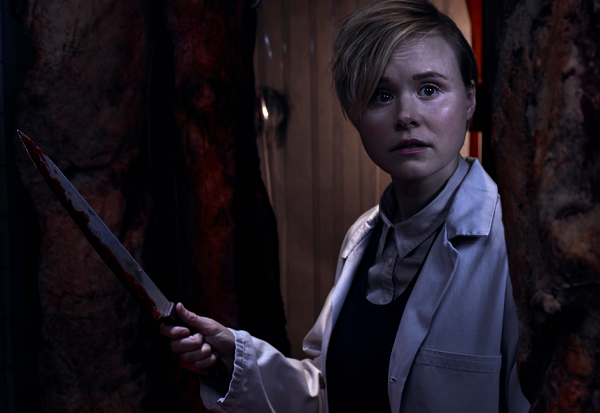 The creators of American Horror Story have never shied away from depicting blood and violence. However, in light of the recent shooting in Las Vegas that killed nearly 60 people and injured hundreds more, Ryan Murphy and the producers of the FX series have decided to vigorously edit a Season 7 scene that depicted a mass shooting.
In a statement, FX networks said the team behind American Horror Story: Cult "have chosen to make substantial edits to the opening scene of [Tuesday] night's episode" because of the recent "occurrence of gun violence that has sadly become all too common in our country."
The Season 7 finale was slated to open with a scene portraying a mass shooting, which the network said was filmed months before shooter Stephen Paddock gunned down spectators at Las Vegas's Route 91 Harvest Festival on September 1. Paddock, who fired rounds from where he was staying on the Mandalay Bay hotel's 32nd floor, was found dead in the hotel room from a self-inflicted gunshot wound.
"This opening, which was filmed two months ago and which portrays an occurrence of gun violence that has sadly become all too common in our country, contains a sequence that some viewers might find traumatic. Only the edited version of the episode will air on the FX linear channel, while the unedited version of the episode will be available on the VOD platform of your cable, satellite or telco provider, as well as on the FX Networks non-linear platforms, FXNOW and FX+," the network said.
While the anthology series has a long-standing reputation for playing up events throughout American history, Season 7's theme may have the most timely references of the franchise, tapping on the current political landscape and voters' feelings following the outcome of the 2016 presidential election. The season, which focuses on a cult of murderous clowns, takes place immediately following President Donald Trump's victory, which seemingly brought on the rise of the cult.
In interviews ahead of the AHS Season 7 premiere, Murphy said the season included a number of moments and leaders that would make Americans feel particularly uncomfortable.
"Our feeling is that everybody lost their shit after the election—Republican, Democrat—and everybody's still losing their shit, and nobody's really figured out from either side where to put those feelings," he said. "There is no real discussion. Everybody's still at each other's throats; you're either on one side or you're on the other. The season really is not about Trump, it's not about Clinton. It's about somebody who has the wherewithal to put their finger up in the wind and see that that's what's happening, and is using that to rise up and form power, and using people's vulnerabilities about how they're afraid and don't know where to turn, and they feel like the world is on fire."