'American Horror Story' Season 10: Everything We Know About the Next Season of 'AHS'
FX's American Horror Story is over for another year, with the "1984" finale airing on November 13. Season 10, however, has already been confirmed, with creator Ryan Murphy teasing a literally out-of-this-world theme for the upcoming season. Sarah Paulson could also return to the show after taking a season-long break from AHS.
What will the American Horror Story Season 10 be about?
When asked by TVGuide what Season 10 would be about, showrunner Ryan Murphy said: "There will be probably a big one in [Season 9,] Episode 8." Numerous publications have pointed to a conversation in that episode between Donna (played by Angelica Ross), Brooke (Emma Roberts) and a true-crime journalist they meet, who said, "Back in the '70s, all anyone cared about was Bigfoot, aliens, the Loch Ness Monster—all that Leonard Nimoy In Search Of shit."
In Search Of was a TV series that ran through the 1970s and 1980s that saw the Spock actor on the hunt for supernatural creatures, as well as extraterrestrial life. This could mean that Season 10 will follow a group of monster hunters, or perhaps could see aliens added to the AHS world alongside the ghosts, witches and demons who have populated the last nine seasons.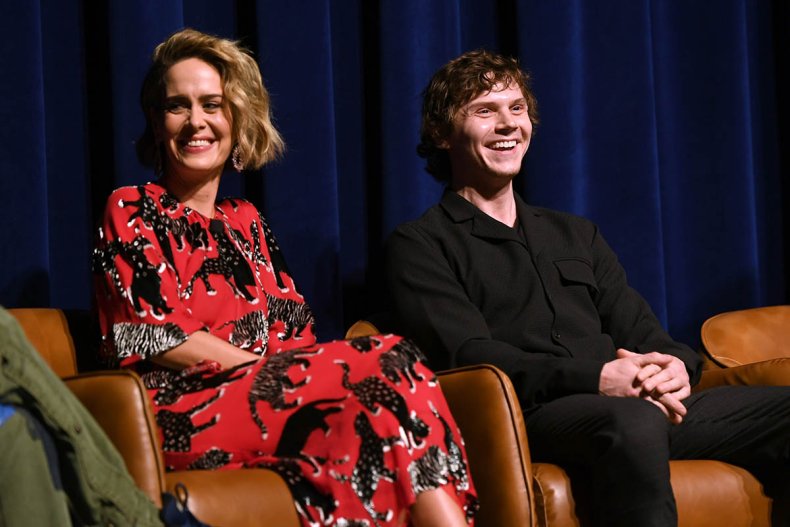 What we will not see, however, are the witches from "Coven" and "Apocalypse," despite some articles saying that it has been hinted they will return. Murphy did tell Entertainment Tonight "the witches will be back," but he then clarified, "not next season."
Will Sarah Paulson and Evan Peters return to the cast of American Horror Story Season 10?
It seems as if either both of the former AHS cast members will return, or neither of them will. Sarah Paulson, who appeared in the first eight seasons and is soon to star in Murphy's Ratched and American Crime Story: Impeachment, told TV Guide: "I would like to do something with Evan [Peters]...I miss Evan and I miss acting with Evan. So I'd love to have that experience again...If he'll come back, I'm back."
Peters, who also starred in all AHS seasons from "Murder House" to "Apocalypse" has been less forthcoming about whether he will return to the series. He was non-committal in a Digital Spy interview, saying, "Yeah, absolutely, never say never. I just... Yeah, we'll see what happens."
For 1984, the cast was announced a few months before the season aired, so we may not know whether the pair will be back until summer 2020.
When will American Horror Story Season 10 air on FX?
FX has not confirmed a release date for AHS 10 yet, but judging by when the previous five seasons have aired, it is likely to arrive in September 2020, around the same time that 1984 is expected to appear on Netflix.
American Horror Story Season 10 is coming soon to FX.