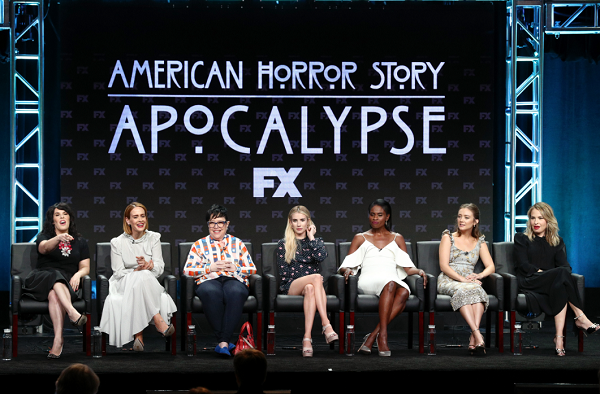 American Horror Story Season 8 will bring the blood, bugs and apparently a baby if the FX limited series' first teaser video is any indication. The network gave fans their first glimpse of all to come in the new season, titled Apocalypse, with a short 45-second video on Monday.
The teaser doesn't reveal too many details about the new season, but the video does include a little demon baby—a possible hint at Cody Fern's anti-Christ character. There are also some images referencing the crossover storylines of AHS: Murder House and AHS: Coven, particularly a quick shot of a man and woman wearing masks similar to AHS Season 1's Rubber Man and plenty of Wiccan symbolism.
Show cast and executive producer Alexis Martin Woodall spilled a few beans about the upcoming season on Friday, according to E! Online, including details on longtime cast member Sarah Paulson's directed-episode guest starring Jessica Lange.
Martin Woodall announced Lange's return to the FX franchise for the first time since Season 4's Freak Show said the actor is expected to reprise her Murder House role as Constance Langdon. Langdon is the grandmother of Michael Langdon, Fern's character, who is expected to bring the apocalypse and destruction of the Earth.
In addition to directing an episode, Paulson will star as three different characters in Season 8, including her Coven character, supreme witch Cordelia Goode, Murder House character Billie Dean Howard and a new, unknown character named Venable.
Billie Lourd, Emma Roberts, Adina Porter, Kathy Bates, Leslie Grossman are expected to appear on the new season. Coven cast members Tassia Farmiga, Gabourey Sidibe, Lily Rabe, Frances Conroy and Stevie Nicks are slated to guest star on Apocalypse as well.
Martin Woodall also noted the new season of AHS will pick up already deep into the world's end. "I'm going to say that the story begins with the end of the world, and then our world begins," she said. "It starts in the real world. It's very tangible, and it's a familiar panic. Is that cagey enough?"
AHS: Apocalypse premieres on FX on September 12.