'American Horror Story' Season 8 Should Be Directed by Vince Staples, According to Vince Staples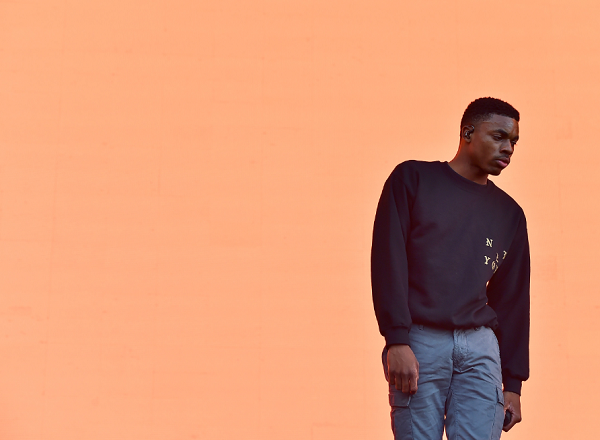 American Horror Story: Cult is nearing its Season 7 finale, but rapper Vince Staples already has some ideas of how the FX series should return next year—starting by letting him direct the show.
The 24-year-old California native, a fan of Ryan Murphy's long-running horror anthology, took to Twitter on Wednesday to share his idea for the next season of AHS, which would have a distinctly more urban tone than the last seven seasons of the series.
"FX should let me direct the next season of AHS I got this idea about a blackout in the projects," Staples wrote, dubbing the season, "African American Horror Story."
The "Big Fish Theory" rapper's fans, at least, seemed to be interested in watching an AHS season located in the hood, suggesting the network film a Staples-directed season in the rapper's hometown of Long Beach.
AHS has been shot in a number U.S. states. However, none of the seasons have been centrally located in a largely minority neighborhood.
Although Season 1's Murder House took place in Los Angeles, the haunted mansion was in a well-to-do neighborhood surrounded by white people. Similarly, Season 5's Hotel was located in downtown LA but featured mostly white characters. Season 3's Coven, which took place in New Orleans, did spotlight some urban areas heavily populated by people of color—for instance, Voodoo Queen Marie Laveau's (Angela Bassett) hair salon was located in the French Quarter. But the majority of the show's' settings have been in small-town, white neighborhoods.
Staples' pitch seems to be in line with plenty of past AHS themes, too. While showrunners have often played up past and current events on the show, if FX and Murphy were to consider Staples's idea, they could just dramatize the blackout of 2003.
Although an AHS based on that particular blackout wouldn't necessarily take place on the West Coast—the blackout affected areas of New York City, Canada and as far west as Michigan—it could be interesting to see Staples' take on all the things that could have gone even more wrong.
The rapper already has some experience behind the camera. In 2016, he released his first short film, Prima Donna, which he wrote, produced and starred in.
AHS has already been renewed for Seasons 8 and 9.