'American Horror Story: Apocalypse' Spoilers: 6 Questions We Have After These Characters Died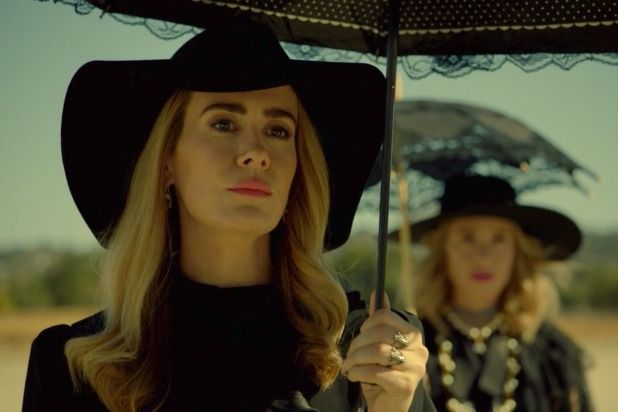 The plot continues to thicken in American Horror Story: Apocalypse, with multiple characters from various seasons being brought back. It also showed the death of two warlocks and Kathy Bates's Ms. Mead. They were burned at the stake by John Henry (Cheyenne Jackson) in a way that conjured images of Christ being crucified. The episode also left viewers with a handful of questions.
1. Will we see Papa Legba, the Gatekeeper of the Spirit World, again?
Papa Legba (Lance Reddick) made his debut in Season 3's Coven, along with Voodoo Queen Marie Laveau (Adina Porter). Cordelia (Sarah Paulson) seeks the help of Marie when she wants Papa Legba to help her defeat Michael Langdon (Cody Fern). Papa Legba is more than willing to oblige but on one condition: He wants the souls of all her witches. Cordelia offers hers instead, but Papa Legba laughs in her face and says the deal is off. Papa Legba doesn't give second chances, but will he return to help bring Michael down?
2. How did Mallory become Coco's assistant?
Viewers are finally getting to see the extent of Mallory's (Billie Lourd) powers and Coco (Leslie Grossman) struggling to find her gift. Based on the first episode of the season, we know that Mallory eventually wound up as Coco's assistant. It's unclear how this happened, considering they were both students when the apocalypse began.
3. What happened to the witches who we haven't seen after the apocalypse?
The only witches we've seen post-apocalypse are Cordelia, Myrtle (Francis Conroy) and Madison (Emma Roberts) in the apocalypse, alongside with Coco and Mallory. Zoe (Taissa Farmiga), Misty (Lily Rabe) and Queenie (Gabourey Sidibe) are missing. Does that mean Michael killed them?
4. What's Coco's real power?
It still seems like there's more to Coco than we know. For now, the only thing she can do is tell if there is gluten in food and how many calories a particular item contains.
5. Who is the next Supreme?
With Michael being the Anti-Christ, it almost seems obvious that Mallory is the next Supreme. She was able to bring John Henry back from the dead so he could torch Ms. Mead and the two brothers who betrayed him.
But Mallory winds up as Coco's assistant and is still taking care of her during the apocalypse, which makes it seem like she might be inferior in some way.
6. Why did Cordelia bring Myrtle back to life?
Myrtle died during Coven, but in a quick flashback, we get to see that Cordelia brought her back to life during a blood ritual. Cordelia says she revived Myrtle because she needed her guidance for the dark times to come but considering Myrtle is a powerful witch, it's possible Cordelia needed her for something else. What is it? And—and
American Horror Story: Apocalypse airs Wednesdays at 10 p.m. on FX.