Former American Hostage Sues Qatari Bank For Allegedly Supporting His Al-Qaeda Captors, Says Royals Were 'Neck Deep in This'
Matthew Schrier, an American who was held hostage by jihadists in Syria for several months in 2013, began last month what he calls the "final fight" in putting his painful experience behind him by seeking to bring those he believes accountable to justice.
But rather than going after the al-Qaeda militants who held him captive and threatened his life, the photojournalist is targeting a multinational bank he says facilitated the extremists' operations.
More than six years after escaping through a small basement window in a makeshift detention room in Syria, Schrier filed a lawsuit in January against Qatar Islamic Bank (QIB) claiming al-Qaeda-aligned militants were supported by donations and charities channeled through the bank, the emirate's largest in compliance with sharia law.
He is seeking punitive damages following injuries sustained while held hostage by Jabhat al-Nusra—the Syrian affiliate of al-Qaeda now operating under the name Hayat Tahrir al-Sham—and Ahrar al-Sham. The complaint alleges that terrorist organizations benefited from the bank's failure to properly vet its clients.
"It's not just about money," Schrier told Newsweek from Florida, where he now lives. "It's about putting this entire saga of my life behind me and never talking about it again."
Schrier's lawsuit could deeply embarrass the monarchy which for years has sought to foster closer ties with Washington. And while Schrier's legal action, filed in the United States District Court for the Southern District of Florida, centers on two organizations with suspected and known ties to Syrian jihadists, he expressed frustration in the ruling Al Thani royal family who sit on the bank's board of directors and includes the bank's chairman.
"That's absurd," Schrier said, arguing that the Qatari royals are "neck deep in this." The complaint does not directly condemn the royal family nor the Qatari government.
One of the organizations mentioned in the lawsuit, Qatar Charity, has long worked with the United Nations and has been celebrated for its regional accomplishments.
Leaked cables from 2009 show that the U.S. government was also concerned about the organization because of "its suspect activities abroad and reported links with extremists," plus its "intent and willingness to provide financial support to terrorist organizations willing to attack U.S. persons or interests."
QIB told Newsweek in an email it is "aware of the lawsuit in Florida and denies the allegations." The bank said it "takes pride in its position as a leading, innovative, and global Islamic bank adhering to the highest international banking and regulatory standards, including those combating the financing of terrorism."
The statement said the institution "has engaged counsel to defend the allegations and resolve the case as quickly as possible."
Neither the Qatari government nor the Qatari embassy in the U.S. responded to Newsweek's requests for comment on the lawsuit. The country's ministry of foreign affairs directed questions to its embassy in Washington. Newsweek also contacted the State Department and the U.S. embassy in Qatar for comment on Schrier's accusations against the parties mentioned, but they did not reply to requests for comment.
This story will be updated with comments from the contacted parties.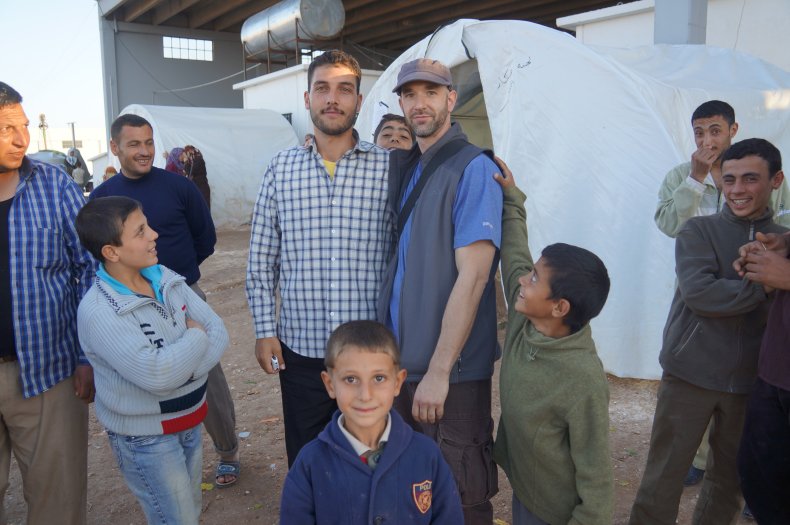 Schrier first traveled to Syria in November 2012 as a freelance photojournalist to document the country's civil war and travelled to Aleppo to see the fighting up close in December 2012.
Schrier spent more than two weeks chronicling urban warfare before three masked and armed men took the American hostage, beginning a 211-day ordeal which the court filing says took Schrier to "a place beyond depression."
Schrier was regularly beaten by his captors, starved, refused access to toilets or sanitation for days, threatened with summary execution in what he alleges was an attempt to persuade the Qatari and American governments to pay for his ransom while simultaneously intimidating journalists covering the conflict. It is a service the Qatari government has provided for other hostages.
His time in detention was spent with al-Nusra fighters, though for 46 days he was transferred to Ahrar al-Sham custody. A member of Ahrar al-Sham told Schrier the group was holding him "in trust for" al-Nusra, according to Schrier's court filing.
The two groups—both designated terrorist organizations in the U.S.—were then allies in a time when Jihadist groups in Syria benefited from the support of the wealthy Gulf states.
Whether providing arms and funding directly or turning a blind eye to private donations, the Gulf monarchies have played a key role. In 2014, Department of the Treasury Under Secretary David Cohen identified Qatar as a particularly "permissive jurisdiction" for terrorist fundraising.
Schrier's complaint cited evidence and testimony given before a subcommittee of the House Committee on Financial Services in 2003, claiming that Qatar Charity "served a critical role in the Arab-Afghan terrorist infrastructure" by laundering and moving money belonging to Osama bin Laden and his allies.
Schrier was held captive with a variety of prisoners, whether regime soldiers, militiamen or simply people who had been arrested by the jihadists. Of 18 fellow captives Schrier became close friends with, only five others survived. Several Westerners have died or disappeared in Syria since 2011 (at least six still remain missing), whether executed by jihadists or disappeared.
If he wins the case, Schrier said he hopes the money will go toward helping those who survived, the families of those who did not, and the rebels who eventually helped him escape into Turkey.
"There will always be that sorrow," he said. "Thirteen friends, that's a lot of people. But there would be a rewarding feeling at being able to help their families ... I'll be able to take care of everyone."
This article has been updated to clarify comments made by Matthew Schrier.