Who Is In The 'American Idol' 2022 Top 5?
American Idol Season 20 is just one week from crowning its winner.
On Sunday's episode (May 8), the talented Top 5 were revealed, taking them one step closer to securing that life-changing record deal.
Sadly, two acts were also sent home from American Idol, and this far into the competition, it is hard to predict who will be next to bow out.
So, who is in The American Idol 2022 Top 5?
Newsweek has everything you need to know.
Who Is In The American Idol 2022 Top 5?
After weeks of auditions, an intense Hollywood period, an emotional weekend at Disney's Aulani Resort, and much, much more, American Idol has whittled down its contestants to the Top 5.
The acts who secured a spot in the American Idol Top 5 were:
Leah Marlene
HunterGirl
Nicolina
Fritz Hager
Noah Thompson
On Sunday's show, the Top 8 were given the chance to sing for America's votes, not once, but twice.
Contestants Christian Guardino, Fritz Hager, HunterGirl, Jay, Leah Marlene, Nicolina, and Noah Thompson performed viral TikTok hits for the first round, and Round 2 saw them perform moving Mother's Day tributes.
Things were a little different on Sunday's live show as Hager and Thompson were missing from the studio after being diagnosed with COVID-19.
Instead, Hager's rehearsal footage was used and Thompson was able to sing live from his hotel room.
Despite the circumstances, it was the American public at home who had the final say on which two acts would be going home and which five would sail through to the next round.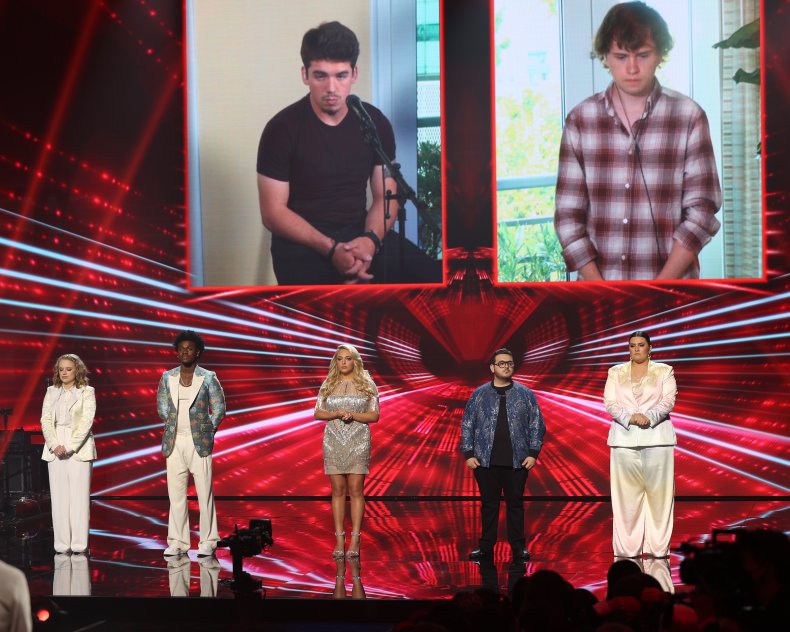 Leah Marlene impressed the audiences at home with her performance of BORNS' "Electric Love." She followed up with a moving performance of "Sanctuary" from the TV show Nashville she used to watch with her mom.
Country superstar and platinum ticket winner HunterGirl sailed through to the next round with her performance of Tate McRae's "You Broke Me First," followed by Lauren Alaina's "Like My Mother Does."
Nicolina showed off her range on Sunday's show, performing two entirely different tracks.
Her TiKTok choice was Heart's "Alone" and for her Mother's Day song, Nicolina performed "Light in theHallway" by Pentatonix, securing her spot in the Top 5.
Luck was on Fritz Hager's side on Sunday. Unfortunately, diagnosed with COVID-19, Hager's rehearsal footage was played for America's votes, and thankfully, it was enough to get him through to the Top 5.
He performed two original songs to get himself one step closer to the final.
Luck too was also on Noah Thompson's side. Thompson, who also has COVID-19, had to perform live from his hotel room as there was no pre-recorded rehearsal footage and thankfully, it went as smoothly as it possibly could have.
He sang Sunday Best's "Painted Blue," followed by Fleetwood Mac's "Landslide," dedicated to his grandmother.
Despite the excitement surrounding the Top 5, sadly two acts still were sent home from American Idol on Sunday night.
Unfortunately, for platinum ticket winner Jay, his time on American Idol came to an end after jaw-dropping performances of Whitney Houston's "I Have Nothing" and Boyz II Men's "A Song For Mama."
Christian Guardino was the second contestant to miss out on a Top 5 Spot. Sadly, his performance of Justin Bieber's "Lonely" and Smoke Norful's "Dear, God" was not enough to win America's votes.
American Idol continues Sundays at 8 p.m. ET on ABC.