'American Idol' All-Star Duets: Jason Mraz, Elle King, Bret Young & More Join Contestants To Find Out Who Makes It To The Top 14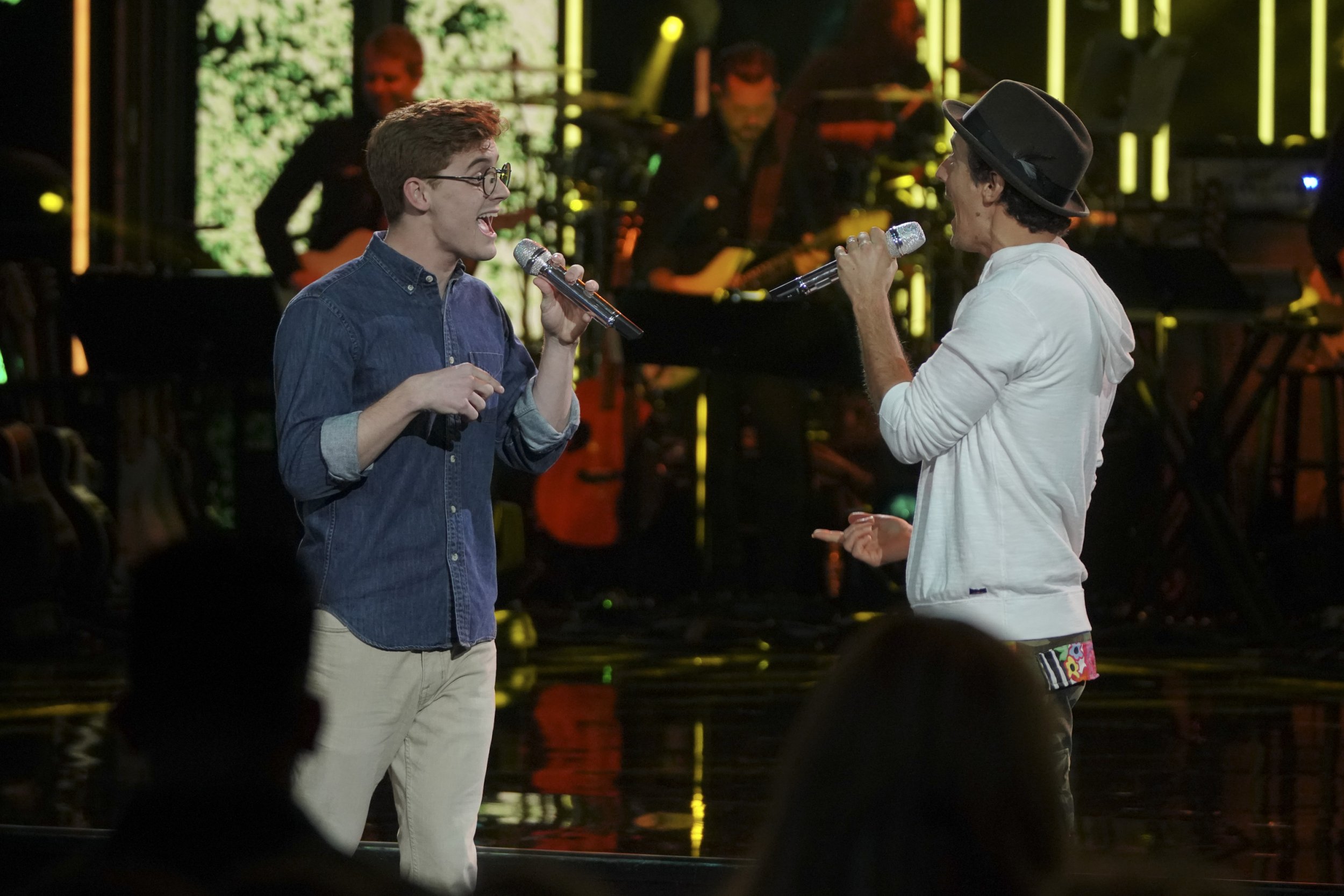 American Idol returns Sunday night with the much-anticipated All-Star Duet round. Find out which contestant can rise to the occasion to perform with top musicians when American Idol airs Sunday night at 8 p.m. ET on ABC.
The Top 20 was decided last week and now the remaining contestants have the opportunity to sing alongside musicians already making their mark in the industry. The All-Star Duets section of the competition will air on two separate nights, 10 performances each.
Find out who is performing during Sunday's episode below:
Walker Burroughs
Kate Barnette
Riley Thompson
Uché
Madison Vandenburg
Shawn Robinson
Ashley Hess
Bumbly
Laci Kaye Booth
Laine Hardy
Newsweek subscription offers >
Walker Burroughs/Jason Mraz
Performing Jason Mraz's "Have It All," the singer-songwriter told the American Idol contestant Walker Burroughs to "just be [himself]." Following their harmonized performance, the judges had nothing but positive things to say.
"That was a perfect performance," judge Lionel Richie said.
Newsweek subscription offers >
Kate Barnette/Pat Benatar, Neil Giraldo
American Idol contestant Kate Barnette turned into a full-blown rockstar while performing "Heart Breaker" alongside Pat Benatar and Neil Giraldo. Definitely challenging the young musician to get out of her comfort zone, Giraldo asked her to perform a guitar solo.
"She's only been playing the guitar for one year," Giraldo said in awe at the conclusion of their performance.
"I bet you learned a lot about yourself while performing next to Pat Benatar," judge Luke Bryan said.
Riley Thompson/Brett Young
At just 16 years old, Riley Thompson is the youngest of the competition and has never performed a duet prior to her performance with country star Brett Young. With that in mind, Young was completely dumbfounded to learn that she was "nailing" harmonies and even went so far as to compare the young singer to Dolly Parton.
Performing "Like I Loved You," the 16-year-old got a standing ovation by the three judges.
"Our jaws were all on the floor," judge Katy Perry said. "Where did that voice come from? ... I'm really impressed!
Uché/Shaggy
Arguably the voice that is the most identifiable, Uché moved onto the All-Star Duets and performed with Jamaican musician, Shaggy. Performing Shaggy's hit song "I Need Your Love," Uché owned the stage and made audience members roar in applause.
"It was such a vibe," Perry said. "You're just so much fun to watch."
"You bring natural energy of excitement and fun," Bryan added.
Madison Vandenburg/Pat Benatar, Neil Giraldo
The rock legends returned to the American Idol stage to join 17-year-old contestant, Madison Vandenburg. Performing "We Belong," the musicians showered the young singer with compliments.
"I think she could win," Giraldo hypothesized during rehearsals.
"You took it to the next level," Richie said at the conclusion of the performance.
Shawn Robinson/Elle King
Performing "Proud Mary" by Tina Turner, "Exs and Ohs" singer Elle King joined contestant Shawn Robinson.
From the beginning, it looked like Robinson wasn't on the same page as the seasoned musician. While Robinson did have a strong start to his performance, judges noticed that the singer came in too early toward the conclusion of the song.
"I did my best and now it's ultimately what the judges decide," Robinson said to the camera.
Ashley Hess/Jason Mraz
Jason Mraz returned to the American Idol stage to join forces with Nashville singer Ashley Hess. Performing his hit song "I'm Yours," the young musician hoped Mraz would be OK with how she "rearranged" it.
"I loved what you did with it," Mraz said during their rehearsal. "I've only known it my way ... I'm thrilled to hear it reinvented. I think you're going to crush it."
"I've heard this song so many times," Perry said. "I loved how you guys interpreted it."
"Your voice was pristine," Richie said.
Bumbly/Shaggy
Returning for his second performance of the night, Shaggy was joined by New York subway singer, Bumbly. The duo performed the Jamaican musician's hit song "Angel," and it was evident that Bumbly was truly allowing her personality to shine through while on stage.
"She's amazing," Shaggy said at the end of their performance. "She's got that Caribbean vibe going."
"I loved what you did," Richie added.
Laci Kaye Booth/Brett Young
Performing Young's heartbreaking song "Mercy," American Idol contestant Laci Kaye Booth made every audience member feel the raw emotion through her performance.
"Have mercy," Richie began. "That was an incredible performance."
"Every time you walk on stage, you sprinkle stardust," Perry added.
Laine Hardy/Elle King
It looks like the second time around is the charm for Laine Hardy. Performing "The Weight" by The Band next to King, Hardy gave off a true rockstar essence while on stage.
"You were like Elvis up there," King exclaimed at the end of their performance.
"You look like a rockstar, you sound like a rockstar," Perry said.
"Your voice is so recognizable," Bryan added. "No matter what happens tonight ... I'm excited to see what songs find you."
Who Was Eliminated?
Bumbly
Shawn Robinson
Kate Barnette
Tune in for the second night of All-Star Duets when American Idol airs Monday night at 8 p.m. ET.
'American Idol' All-Star Duets: Jason Mraz, Elle King, Bret Young & More Join Contestants To Find Out Who Makes It To The Top 14 | Culture