'American Idol' All-Star Duets, Night 2: Julia Michaels, Lukas Graham, LovelyTheBand & More Join Contestants to Find Out Who Makes It To The Top 14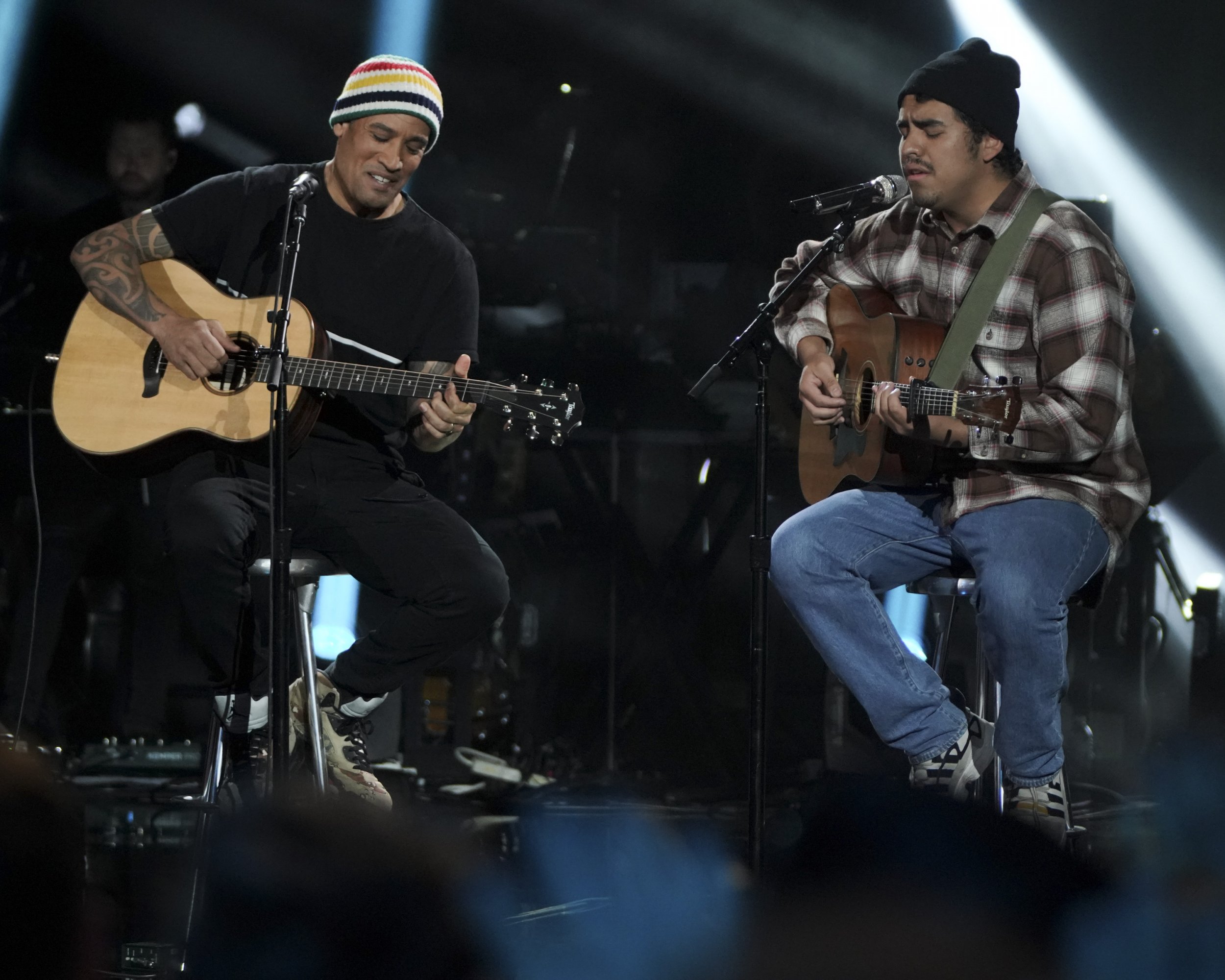 American Idol returns Monday night with the much-anticipated All-Star Duet round. Find out which contestant can rise to the occasion to perform with top musicians and who will move onto the next round when American Idol airs Monday night at 8 p.m. ET on ABC.
Sunday's episode was the first round of All-Star Duets, where audiences said goodbye to three contestants. The first seven to make it through to the Top 14 are:
Walker Burroughs
Riley Thompson
Uché
Madison Vandenburg
Ashley Hess
Laci Kaye Booth
Laine Hardy
Find out who is performing during Monday's episode below:
Alyssa Raghu
Eddie Island
Logan Johnson
Wade Cota
Ryan Hammond
Evelyn Cormier
Raquel Trinidad
Alejandro Aranda
Dimitrius Graham
Jeremiah Lloyd Harmon
Alyssa Raghu/Julia Michaels
Performing Julia Michaels's hit song "Issues," Alyssa Raghu came into the All-Star Duets with newfound confidence.
"You and Julia were feeding off of each other," judge Katy Perry. "I love it."
"Raghu, you brought the sauce," judge Lionel Richie said.
Eddie Island/Lukas Graham
A song that was streamed a billion times, Lukas Graham challenged Eddie Island to be a "serious" and "vulnerable" singer with the song "7 Years."
While both wearing Island's iconic Nashville Mayor buttons, the duo brought a "complimentary" performance.
"What started as a joke, is now no joke," Richie said.
Wade Cota/lovelytheband
American Idol contestant Wade Cota let loose on stage while performing "Broken" alongside lovelytheband.
"You have a voice to be reckoned with," Richie said. "I am so happy that we are at the stage in the competition that you're comfortable with you."
"Way to blossom right in front of us, bud," judge Luke Bryan said.
Ryan Hammond/Cynthia Erivo
Performing next to Broadway powerhouse Cynthia Erivo, Ryan Hammond showed he was a "true performer" with his rendition of "Hold on I'm Coming" by Sam and Dave.
"I felt the spirit," Perry exclaimed. "[Cynthia] is such a dynamite singer, but you held your own."
Evelyn Cormier/Chris Isaak
Evelyn Cormier's All-Star Duet came full-circle when she performed her audition song "Wicked Game" with none other than Chris Isaak, himself.
"There was an 'it' factor that you can't learn or buy," Perry said. "You got it."
Logan Johnson/Julia Michaels
Performing "What a Time" by Julia Michaels, Logan Johnson brought a solid performance during Night 2 of All-Star Duets.
"As your first duet, you did a great, great job," Richie said.
Raquel Trinidad/lovelytheband
Not only has Raquel Trinidad not performed a duet before, but she had never heard the song she was slated to perform. Joined by lovelytheband, she was able to show off her vocal range and sing "Tiny Dancer" by Elton John.
"Whatever you still have hiding in your sleeves, bring it out," Perry said.
"Your voice is very recognizable," Bryan said. "You showed a fifth dimension."
Alejandro Aranda/Ben Harper
Arguably the most favorited American Idol contestant was joined by his hometown artist, Ben Harper. Singing Harper's song "There Will Be a Light," the Pomona-native brought the judges to their feet.
"That was a magical moment," Richie said. "No matter where you land, you will have a career."
"You embody authenticity," Perry said.
Dimitrius Graham/Lukas Graham
Two Grahams are definitely better than one when it came to Dimitrius Graham and Lukas Graham's performance of "Love Someone."
"That was the best sounding duet I've heard today," Perry said. "He's the male Beyonce, honestly."
"You're one of the best singers I've ever heard," Bryan added.
Jeremiah Lloyd Harmon/Cynthia Erivo
Performing Cyndi Lauper's "Time After Time," Jeremiah Lloyd Harmon joined forces with Cynthia Erivo and delivered quite a performance.
"You're very timeless," Perry said. "It was a spiritual moment for me."
"That was glorious," Richie said. "We just witnessed a masterful performance."
Who Was Eliminated?
Ryan Hammond
Raquel Trinidad
Logan Johnson
American Idol will return for the "America's Vote" segment of the competition Sunday at 8 p.m. ET on ABC.
'American Idol' All-Star Duets, Night 2: Julia Michaels, Lukas Graham, LovelyTheBand & More Join Contestants to Find Out Who Makes It To The Top 14 | Culture