Will Caleb Kennedy Be Replaced on 'American Idol' After Dropping Out?
American Idol will be one contestant down when it returns on May 16, after Caleb Kennedy announced on social media that he was leaving Season 19. This makes Kennedy the second contestant on the ABC this year to withdraw from the competition, following Wyatt Pike earlier in the year.
May 16 is set to be the semi-final of Idol 2021, and was meant to see the top five perform two songs. This has left fans wondering whether the show will replace him with one of the recently eliminated contestants like comeback twist winner Arthur Gunn or Hunter Metts.
Will American Idol replace Caleb Kennedy?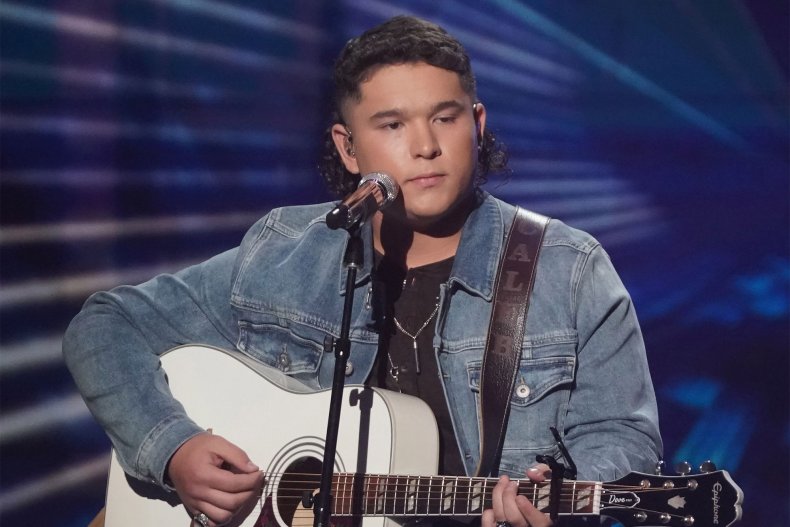 Though Kennedy made it to the top five of this year's show, he will not be replaced in May 16's semi-finals of the ABC show. Earlier in the season, Pike was also not replaced when he had to drop out for personal reasons.
The show instead will simply move straight into a top four featuring Casey Bishop, Chayce Beckham, Grace Kinstler and Willie Spence.
On the May 16 edition of the show, each of these will sing their winner's song, which will drop onto music sites on Friday. They will also sing a track by their personal musical heroes.
The show was set to have a double elimination that would reduce the top five down to a final three. Now, there will be a single elimination on Sunday night.
Caleb Kennedy recorded a self-penned single titled "Raised on Dirt" that he was set to perform on Sunday. It is not known at this time whether his song will still be released along with the songs from the other top seven artists who did not make it to the final five, Metts and Gunn.
Newsweek has reached out to ABC for clarification on this, and will update this article when we get a response.
Why has Caleb Kennedy left American Idol?
Kennedy's social media post begins to explain why the contestant was forced to leave the show. On Instagram, the singer said: "Hey y'all, this is gonna be a bit of a surprise but I am no longer gonna be on American Idol.
"There was a video that surfaced on the internet and it displayed actions that were not meant to be taken in that way. I was younger and did not think about the actions, but that's not an excuse. I wanna say sorry to all my fans and everyone who I have let down. I'll be taking a little time off social media to better myself, but saying that, I know this has hurt and disappointed a lot of people and made people lose respect for me. I'm so sorry! I pray that I can one day regain your trust in who I am and have your respect! Thank you for supporting me."
This apology came after Idol fans began sharing on social media of a Snapchat video from Kennedy's past that saw him sitting next to someone wearing a pointed hood of the type worn by the Ku Klux Klan.
His mother Anita Guy has disputed that the person in the video is wearing a KKK hood. "I hate this has happened and how Caleb is being portrayed by people online,"Guy told MSN. "This video was taken after Caleb had watched the movie The Strangers: Prey at Night and they were imitating those characters. It had nothing to do with the Ku Klux Klan, but I know that's how it looks. Caleb doesn't have a racist bone in his body. He loves everyone and has friends of all races."
The 2018 movie The Strangers: Prey at Night does feature attackers who wear white sack masks over their heads. However, these masks have flat tops that follow the curve of the attacker's head rather than the pointed top of the mask seen in the video. The film, however, did come out when the singer was 12 years old.
American Idol
Season 19 airs Sundays at 8 p.m. ET / 7 p.m. CT on ABC.