'American Idol' Episode 6 Spoilers & Recap: Who Survives Hollywood Week?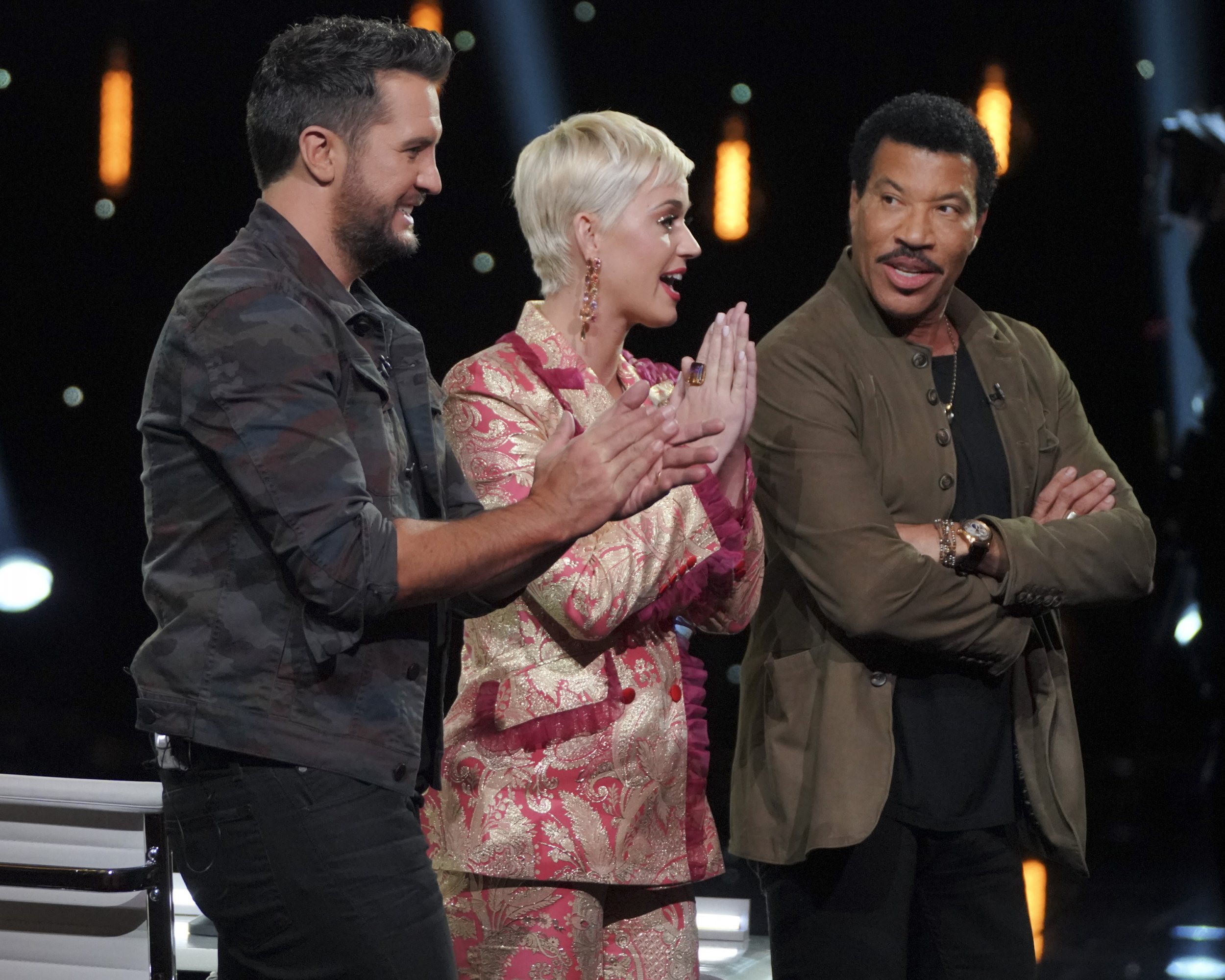 American Idol returns Sunday night for what audiences have been waiting weeks for — Hollywood week. Find out who moves forward in the competition when American Idol airs Sunday night at 8 p.m. ET on ABC.
Since the show's Season 2 premiere, the panel of judges has handed out numerous golden tickets, felt goosebumps and cried plenty of tears to narrow down the contestants to the best in the country.
Out of the 100,000 hopeful auditioners, only 175 receive the magical golden ticket to Hollywood. From there, 98 will move on to the group round, 69 to the solo round and then we are left with the 40 contestants at the conclusion of Hollywood week.
For a full recap of last week's episode, click here.
From the looks of this week's episode, emotions will run high and one person gets down on one knee. In a sneak peek of Sunday's episode, American Idol may attract some Bachelor fans with a sweet proposal to potato chip-loving contestant Johanna.
Solo Rounds:
Laci Kaye Booth
Audiences first met Laci Kaye Booth during Denver auditions where judge Katy Perry called her voice "a diamond in the rough." To kick off Hollywood Week, Booth performed a country rendition of "Natural Woman."
Alejandro Aranda
Pomona street performer, Alejandro Aranda brought the world to its knees after he performed his original "Out Loud." This time around, Aranda performed Justin Bieber's hit "Sorry" and had the crowd on its feet once again.
Courtney Penry (Eliminated)
Previously identified by her crush on host Ryan Seacrest in 2011, Courtney Penry hoped to have a second chance at becoming the next Idol winner. Performing Kelly Clarkson's "Whole Lotta Woman," Penry forgot most of the lyrics and did not move forward in the competition.
Madison Vandenberg
When audiences first saw Madison Vandenburg, judges thought she could be the next Kelly Clarkson. Now at Hollywood Week, Vandenberg performed "Already Gone," which made Perry literally run out of the room.
Margie Mays
Making her American Idol debut during Los Angeles auditions, judges were amazed by not only Margie Mays' singing voice, but her insane amount of energy. The young performer sang "Lay Me Down" by Sam Smith and rocked the judge's worlds once again.
Tyler Mitchell
He didn't get much screen time during Sunday's episode but Tyler Mitchell made it through to the next round. Audiences first met Mitchell during his audition where he performed Vince Gill's "Whenever You Come Around."
Logan Johnson
Before knowing he was going to make it into the next round, Logan Johnson had another reason to celebrate–achieving 10 months of sobriety. The young musician hopes to inspire others through his music and it looks like he may have another chance to do that after performing "Sensible Heart."
Eddie Island
Making his Idol debut during the Los Angeles audition, the unofficial Mayor of Nashville Eddie Island came into Hollywood Week battling a cold. The show must go on, and the 25-year-old truly brought his A-game with his rendition of "I'll Follow You Into The Dark" by Death Cab For Cutie.
Shawn Robinson
The 22-year-old Georgia-native didn't allow Perry's cold to distract him from performing "A Change Is Gonna Come" by Sam Cooke. Getting a standing ovation from his family and judge Lionel Richie, Shawn Robinson moved forward in the competition.
Colby Swift
First sharing his powerful story of becoming a man during his childhood years at the audition round, country singer Colby Swift impressed judges once again "Before the Next Teardrop Falls" by Freddy Fender.
Ashton Gill (Eliminated), Laine Hardy
Walking into the auditions as a duo and leaving as two separate contestants, Ashton Gill and Laine Hardy enter Hollywood Week with two separate auditions. While Hardy was awarded his second opportunity in becoming the next Idol, Gill wasn't as lucky and was sent home.
Jade Flores
With dreams of becoming the first Latina country singer, Jade Flores brought the same upbeat personality to Hollywood Week with her performance of "Unchained Melody" by The Righteous Brothers.
Myra Tran
Growing up in Vietnam, high school student Myra Tran showed off her powerful vocal once again during Hollywood Week with her rendition of "Chandelier" by Sia.
Jeremiah Lloyd Harmon
Coming from humble beginnings, working as a janitor Jeremiah Lloyd Harmon fist won the hearts of the judges after performing his original song "Almost Heaven." This time around, Harmon sang "Beautiful" by Carole King and made it through to the next round.
Walker Burroughs, Nate Walker
Sitting at the keyboard, college student Walker Burroughs performed "Whereabouts" by Stevie Wonder and received a standing ovation from both the judges and his fellow contestants.
Making his Idol debut during the New York auditions, Nate Walker performed "I Believe In You And Me" by Whitney Houston and also got a huge standing ovation from all those in attendance.
Now identified as the Walker Team, both singers made it through to the next round.
Nick Townsend, Lauren Engle (Eliminated)
Both contestants brought powerful stories into the audition round, one of a family heavily affected by suicide and another of becoming a widow. While Townsend performed "Life of the Party" by Shawn Mendes and made it through to the next round, Engle wasn't as lucky and was sent home after singing "Jesus, Take The Wheel" by Carrie Underwood.
Wade Cota, Dimitrius Graham
A favorite from the audition round, Wade Cota came into Hollywood Week with a rendition of "Litost" by X Ambassadors.
Dimitrius Graham, on the other hand, didn't get much screen time during the auditions, but truly made a name for himself during Sunday's episode. Asking for the judges to allow him to FaceTime his mother, who couldn't be there in person, during his audition, Perry was brought to tears with his rendition of "The Wind Beneath My Wings" by Bette Midler.
Group Rounds:
"Diversity" (Juan Pablo, Myra Tran, Jade Flores & Moriah Fromica)
Kicking off the group rounds for the night, team "Diversity" definitely butted heads during the rehearsal. Their performance of "Stronger" by Kelly Clarkson hits some bumps in the road, every member made it through except aspiring Latina country singer Jade Flores.
"Diamond Dixies" (Katie Belle, Laine Hardy, Colby Swift and Laci Kaye Booth)
Featuring a majority of country singers, team "Diamond Dixies" mixed things up by performing pop single "Grenade" by Bruno Mars. Every member of the team made it through except for Colby Swift.
Though he didn't make it through, Swift left American Idol with judge Luke Bryan's boots.
"Victorious Secret" (Wade Cota, Grayson Little, Kason Lester, Payton Taylor and unidentified singer)
Performing "California Dreamin,'" Wade Cota was having issues remembering lyrics of the iconic lyrics of the hit by The Mamas and the Papas. Despite writing the lyrics on his arm, Cota still struggled through the performance but made it through to the next round.
Every member of "Victorious Secret" made it through except for Grayson Little.
"Unexpected Vibe" (Shayy, Dimitrius Graham, Assata Renay and William Oliver Jr.)
Arguably the best group performance of the night, the team members of "Unexpected Vibe" not only came around Shayy to help her learn something she couldn't see, but they also created masks to mimic how Shayy viewed the world.
Every member except William Oliver Jr. made it through to the next round of the competition.
Sunday's episode concluded on an emotional high note after soulful singer Nate Walker needed to be rushed to the hospital after falling ill. Will his team be able to perform as a trio? Find out what happens to Walker's team "Ain't Going Home" and others when American Idol returns Monday night at 8 p.m. ET on ABC.