'American Idol' Top 5 Elton John Night: Who Will Be Eliminated? How to Make Your Vote Count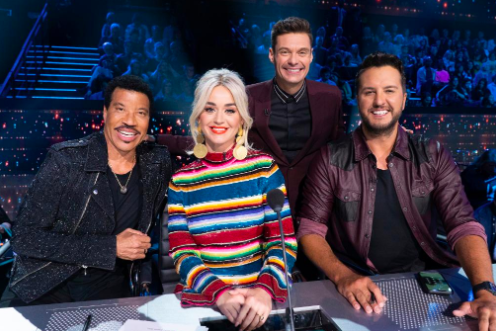 American Idol returns Sunday night just in time to take off with the Rocket Man. This season's remaining five contestants will compete for America's vote while performing renditions of classic Elton John songs. Find out which contestant will be put through when American Idol airs Sunday night at 8 p.m. ET on ABC.
Viewers are able to vote for their favorite contestant at the start of the show through American Idol online voting portal or through the app.
Find Sunday's setlist below:
Alejandro Aranda – "Sorry Seems to be the Hardest Word"
Laci Kaye Booth – "Saturday Night's Alright for Fighting"
Laine Hardy – "Something About The Way You Look Tonight"
Madison Vandenburg – "Your Song"
Wade Cota – "Rocket Man"
As audiences gear up for another night of tense competition, some can't seem to shake last week's surprising elimination of church janitor Jeremiah Lloyd Harmon.
"I wish my favorite song 'Tiny Dancer' was there. And do you know who would of rocked it?? Jeremiah," Twitter user @QueenLisaLu. "Oh wait he's not there because the judges blew it last week and he's gone."
"Would have been a perfect week for Jeremiah... since Elton John himself commented about his performance last time he sang it," @Everyday_Alina added.
"Still angers me how he went out sad last week and that they are having an Elton John theme this week it doesn't get any worse than that," Twitter user @ItMeErnie20 concluded.
Despite his powerful vocals and emotional backstory, Harmon saw himself in the bottom two last week with fellow contestant Laci Kaye Booth. Judges decided to use their one save of the season on Booth, which sent the beloved contestant packing.
"Thank you @americanidol it has been a pleasure. Sending my love out to all of the #teamjer fans for your continued support. I'm so excited for what the future holds," Harmon wrote in a Facebook post.
During Sunday's episode, American Idol tweeted off of their official account that app users are required to download the "most recent" version of the app to cast votes.
How to Vote for Alejandro
How to Vote for Laine
How to Vote for Madison
How to Vote for Wade
How to Vote for Laci
Who is Moving onto the Finale?
Laine Hardy
Madison Vandenburg
Alejandro Aranda