Jimmy Hill, American Killed in Ukraine, 'Gunned Down' in Bread Line: Family
Jimmy Hill, an American born in Minnesota, was killed in Ukraine while waiting in line for bread, his family wrote in a Facebook post on Thursday.
Anton Gerashchenko, the adviser to the Minister of Internal Affairs of Ukraine, confirmed on Telegram that Hill, 67, was killed in Chernihiv Wednesday. The city, about 80 miles from Kyiv, has been suffering "heavy artillery" attacks from Russian forces and Ukrainian police wrote on Facebook that several United States citizens have died there.
Cheryl Hill Gordon, Hill's sister, posted about her brother's death on Facebook. "He was waiting in a bread line with several other people when they were gunned down by Russian military snipers," Gordon wrote. "His body was found in the street by the local police."
According to Gordon, Hill was staying in Ukraine with a friend, mentioned as Ira, who was "severely ill," and had been stranded in a hospital with her when the war began on February 24.
Hill had been posting regularly on his Facebook page, updating friends and family of his situation. His last post was uploaded on Tuesday: "Intense bombing!still alive. Limited food. Room very cold.ira in intensive care."
Karin Mosley, a friend of Hill's, told Idaho Falls news station KIFI Local News 8 on Tuesday that she had "no reason to believe he's safe, at all. And if he survives the bombing, how long can they go without what they need as far as food and water and heat?"
Hill said on Facebook that bombing in Chernihiv had been heavy since the start of the invasion, noting on March 1 that "Nobody in Chernihiv is safe."
A statement from Hill's other sister, Katya Hill, was posted to Gordon's Facebook page on March 12. She said that while communication was sparse, she managed to get in touch with their brother sometime last week.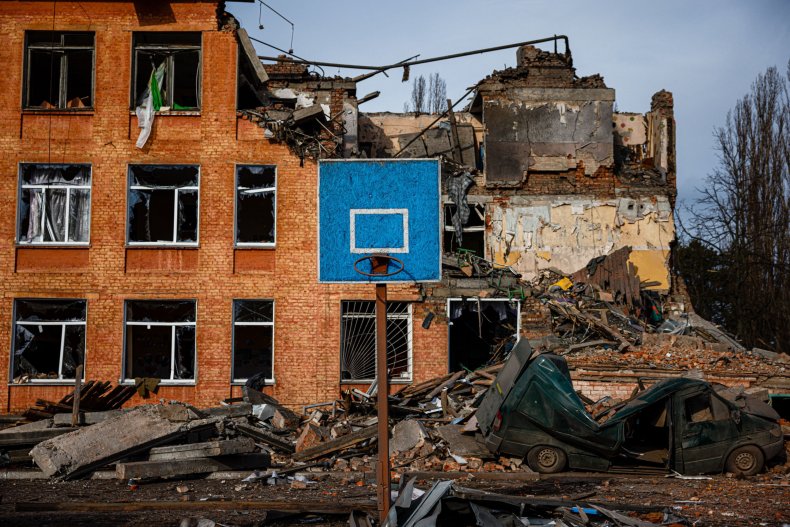 "After 14 days of bombing, the city is without electricity and gas, internet outages preventing communication, and food and water shortages. Patients in critical and severe conditions in the hospital have been without heat in very cold weather. People standing in lines for food have been killed by missiles," Katya wrote.
On Wednesday, the U.S. Embassy in Kyiv reported that 10 people standing in line for bread in Chernihiv were killed by Russian forces. It is unclear if Hill was killed in this attack.
"Such horrific attacks must stop. We are considering all available options to ensure accountability for any atrocity crimes in Ukraine," the embassy tweeted.
Oleksiy Arestovych, a Ukrainian presidential advisor, told Radio Svoboda, the Russian service of the U.S.-funded Radio Free Europe, "In Kyiv, Chernihiv, Sumy, Kharkiv—they [the Russian forces] are now primarily on the defensive, trying to hold on to areas that they've taken."
Chernihiv has been under heavy fire in the last several weeks, as Russian forces have invaded the northeastern side of the city while attempting to encircle Kyiv. Airstrikes that reportedly began on February 25 have reduced parts of the city to rubble, including some residential areas.
Viacheslav Chaus, a Ukrainian government official, told Reuters that 53 civilians had been killed in Chernihiv on Wednesday alone, and the total casualties in the city could not be verified.
Newsweek reached out to Gordon for comment.