Around 30 percent of children in the U.S. don't get enough sleep, according to scientists warning of a "public health crisis."
U.S. research found only 63.6 percent of six- to 12-year-olds and 68.1 percent of those aged between 13 and 17 were getting enough sleep on a weeknight. The American Academy of Pediatrics recommends six- to 12-year-olds get at least nine hours on an average weeknight, while 13- to 17-year-olds should aim for at least eight.
The team looked at answers from 49,050 parents of young people aged between six and 17 years old, who took part in the 2016-2017 National Survey of Children's Health. The parents detailed how much their child slept.
The survey also measured what are known as flourishing markers, such as whether the child was curious about new things; if they did all their homework; cared about doing well at school; were committed to finishing tasks; and stayed calm and in control while faced with a challenge.
The under-12s who didn't have enough sleep were less likely to be curious about learning, care about school, do their homework and finish tasks. Those in the older category had similar problems, but were also less likely to stay calm when encountering a challenge.
The authors wrote: "Chronic sleep loss amongst youth is a major public health crisis globally and is associated with a multitude of physical and mental health issues."
They went on to state: "This study demonstrates that insufficient sleep is associated with decreased childhood flourishing, which could have a critical role on the physical and mental health, school performance and well-being of children."
The study is due to be presented at the American Academy of Pediatrics 2019 National Conference and Exhibition, and has therefore not been peer-reviewed.
Dr. Hoi See Tsao, a paediatrician at Massachusetts General Hospital who co-authored the study, told Newsweek: "This research reinforces the importance of increasing efforts to maximize sleep sufficiency for children including addressing digital media usage, bedtime routines and school duration and start times.
"In addition, it can guide future recommendations to school districts and families regarding the importance of sleep, give directions for future targeted public health interventions to increase sleep sufficiency, and thereby enhance the broader effort to optimize childhood flourishing and development."
She suggested parents can help children get sufficient sleep by establishing regular bedtime routines, having all screens off at least 30 minutes before bedtime, and avoiding having any screens such as computers or televisions in children's bedrooms.
Lisa Henderson, a senior lecturer in the department of psychology at the U.K's University of York, who wasn't involved in the study, told Newsweek there is a lot of existing data showing a link between sleep and a child's academic outcomes, as well as supporting neural mechanisms of learning and memory retention.
"However, this data adds a new twist, namely that sleep deprivation may also impact on attitude to learning. An alarming number of children (even pre-adolescents) are not getting enough sleep," she said.
Henderson, an expert on how sleep can affect memory consolidation in children, argued the study was limited because the age ranges of each group assessed were "very broad" and it relied on parents being accurate.
"There are dramatic changes in sleep architecture and also school behaviors that take place from 6 to 12 years, and from 13 to 17 years. So, collapsing across these ranges may be masking important developmental changes in the nature of the relationship under investigation," she said.
The take-home message for parents, she suggested, is to "take note of how much sleep your child is getting and take active steps to maximize their sleep duration."
"Sleep is crucial for pretty much everything. It should be considered as vital as exercise and diet. Schools and parents should be looking to support and encourage healthy sleep habits in children," Henderson said.
Chen Song, of the Cardiff University Brain Research Imaging Centre, also not involved in the study, told Newsweek: "Adolescence is a sensitive period of brain remodeling and cognitive development but it is unknown whether chronic disruptive of sleep at this age will have long-term impacts on brain and behavior."
"This study tested a large sample of participants, and reported a striking impact of chronic sleep restriction during adolescence on flourishing," Song said.
This article has been updated with comment from Dr. Hoi See Tsao, and Chen Song.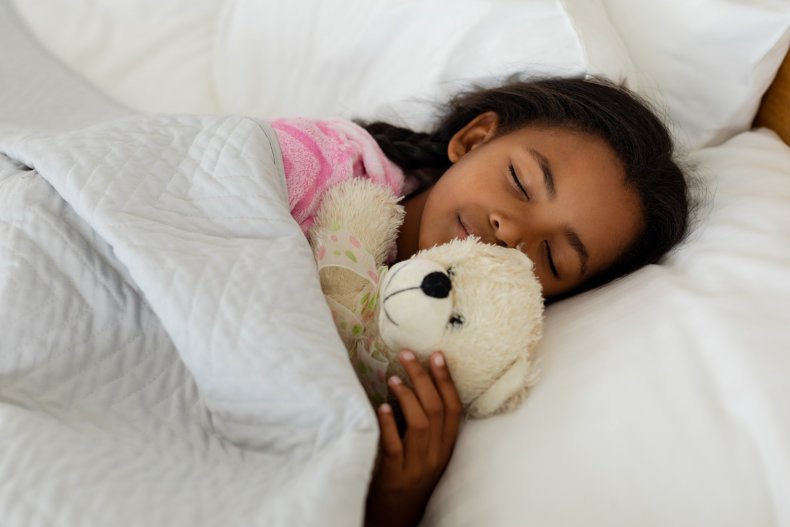 Uncommon Knowledge
Newsweek is committed to challenging conventional wisdom and finding connections in the search for common ground.
Newsweek is committed to challenging conventional wisdom and finding connections in the search for common ground.
About the writer
Kashmira Gander is Deputy Science Editor at Newsweek. Her interests include health, gender, LGBTQIA+ issues, human rights, subcultures, music, and lifestyle. Her work has also been published in the The Independent, The Independent on Sunday, The i Newspaper, the London Evening Standard and International Business Times UK.