American Man Who Snuck Into Germany Posing As a Cleaner to Visit Girlfriend Amid Pandemic Has Been Deported
A 20-year-old Pennsylvania man was reportedly deported from Germany after attempting to enter the country under false pretenses to visit his girlfriend amid the COVID-19 pandemic.
German Federal Police say that the young American was attempting to visit his German girlfriend by attempting to pose as an airport cleaner when he was caught on Sunday, according to ABC News.
The vast majority of U.S. travelers are not currently allowed to enter the country due to the coronavirus, with entry only available for those who are residents of Germany or have German nationals as immediate family members.
Regardless of the restrictions, the unnamed man is said to have taken a United Airlines flight from Washington, D.C. to Frankfurt Airport. Once he arrived at the airport, he quickly donned a neon yellow vest and attempted to blend in among the workers.
However, his plan quickly hit a roadblock when his repeated efforts to empty trash cans outside a security area were denied. One officer became especially suspicious after noticing that the man could not speak German and was not displaying airport identification.
Police were alerted and the man was detained. German authorities say that he admitted to concocting an ill-conceived plan to mingle with airport workers and eventually leave the airport posing as one of them, despite not speaking any German and apparently being unaware of the routines of Frankfurt airport workers.
Even if he had been successful in making it past the security checkpoint by convincing workers that he was one of them, he would have still been in the airport's transit area and found himself faced with another checkpoint before being able to leave the airport.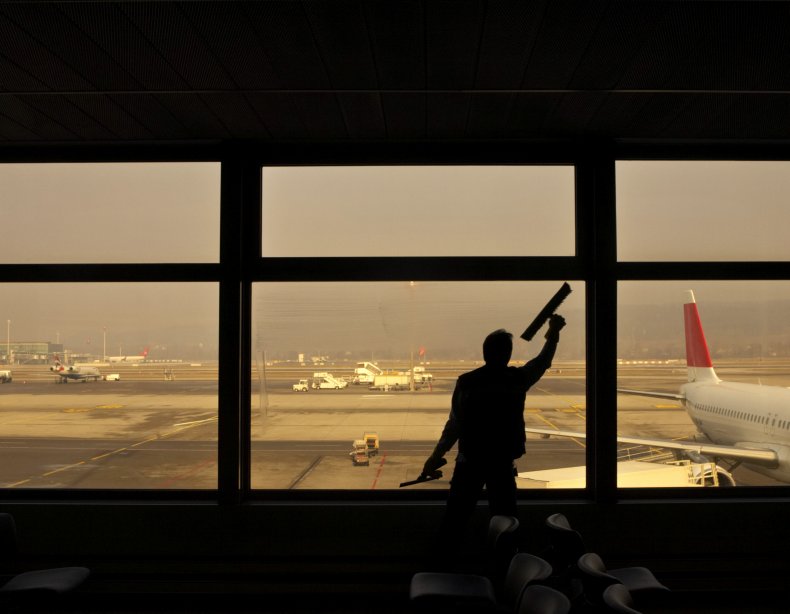 The improbable scheme was said to have been hatched because the man was desperate to visit his girlfriend, whom he had met while she was studying in the U.S. as an exchange student. The man refused to tell authorities specific details that would allow them to identify his girlfriend.
"The boy wanted to protect her so he did not reveal her name," a German police spokesman told ABC.
The man stayed overnight in the airport's transit area and was deported on a flight back to the U.S. the following day.
Newsweek reached out the German Federal Police for comment. This article will be updated with any response.
Germany has maintained strict restrictions on travel during the pandemic but on Wednesday announced plans to allow for some summer travel within Europe. Restriction-free travel with neighboring countries is targeted to be in place by June 15, along with removing a 14-day quarantine period for travelers from the European Union.
However, Americans and others from outside Europe that are hoping to vacation in Germany are unlikely to be allowed in any time soon.