American Meteor Society Reports Four Fireball Sightings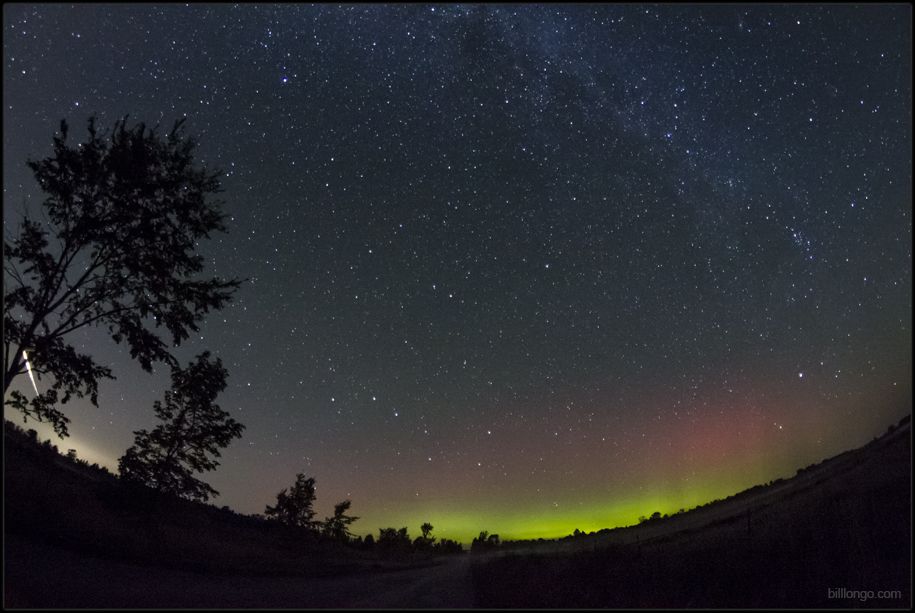 On Tuesday night, Dora Trippett and her fellow driver Shannon Balser stood outside the CityBus depot in Lafayette, Indiana, when something overhead caught their attention.
What looked like a vibrant reddish orange ball was floating in the sky, Trippett tells Newsweek, like a Chinese lantern. But they soon realized it was moving too quickly, heading west and eventually disappearing over Wabash River, which separates Lafayette from West Lafayette, Balser tells Newsweek.
Trippett and Balser witnessed one of four fireballs the American Meteor Society (AMS) reported within hours of each other on Tuesday night and early Wednesday morning. Fireballs are rarely sighted with such frequency, Mike Hankey, AMS operations manager, tells Newsweek.
"Basically a fireball is a bright meteor that is brighter than the planet Venus," Hankey explains. Observers will see "a really bright light in the sky that starts kind of small [and] moves slowly and gets progressively brighter and brighter." Fireballs can be as bright as the sun and appear larger than a full moon, Hankey says.
When the elements that make up the meteoroid vaporize, they often appear to observers in different colors, according to the AMS website: "For example, sodium produces a bright yellow color, nickel shows as green, and magnesium as blue-white."
A fireball might look like it's "on fire with a long tail and smoke coming off of it," Hankey says, joking that observers might be thrown off by what they see. One type of fireball, called a bolide, "explodes in a bright terminal flash at its end, often with visible fragmentation," according to the AMS website.
Though thousands of fireballs enter the Earth's atmosphere each day, sightings are relatively rare, Hankey tells Newsweek. The majority occur over water or sparsely populated areas and those that take place during the day can be difficult to see.
"Most of them burn up, vaporize in the atmosphere and don't make it to the surface" of the Earth, Hankey says, though some, like the Chelyabinsk meteor fireball that hit Russia in 2013, have hit the ground and caused major damage and injuries.
Fireballs can be seen from roughly 300 miles, Hankey says. From Kirkfield, Ontario, Bill Longo, a systems administrator and member of the Royal Astronomical Society of Canada, saw the same fireball Trippett and Balser observed. He was able to capture an image of it in the edge of his camera's frame as it was breaking up, he tells Newsweek.
The AMS asks anyone who sees a fireball to submit a report via its website. The form prompts observers to record the time and location of their sighting as well as the direction of the fireball's trajectory.
"From that data, we can triangulate the paths of the fireball," Hankey says, and identify an event as being unique. Hankey, who designed and built the reporting system, classifies events by the number of witnesses who submitted reports.
An event with 37 reports, like the one seen over Alabama, Arkansas, Illinois, Kentucky, Missouri, Mississippi, Pennsylvania and Tennessee on Tuesday is considered "significant," while a fireball with 54 reports like the one seen in the wee hours Wednesday over Florida, Georgia and South Carolina is classified as "large." Events with 105 reports like the one seen over Connecticut, Massachusetts, Maryland, New Jersey, New York and Pennsylvania and with 436 reports like the one seen over Illinois, Indiana, Kentucky, Mississippi, New York, Ohio, Ontario, Pennsylvania and Wisconsin, both Tuesday, are considered "huge."
To have all four occur in one night is odd, says Hankey, considering there were only 22 significant events, nine large, and six huge events recorded in all of 2012.
As for Trippett, she wasn't sure what to think—other than to joke that it was a UFO—until another fellow driver sent her a news report about the fireballs on Facebook the next day.
"I had never seen anything like it before," Trippett tells Newsweek. "It was mesmerizing."