American newspapers are asking President Joe Biden for help in evacuating journalists from Kabul after the Taliban's sudden takeover of Afghanistan this weekend.
The publisher of The Washington Post emailed Biden's national security adviser, Jake Sullivan, with an "urgent request on behalf of the New York Times, Wall Street Journal and Washington Post" for the administration's help in getting "204 journalists, support staff and families" to safety.
Kabul's international airport was a scene of chaos and desperation early Monday as thousands of Afghans flooded the tarmac in an effort to flee the country with the remaining diplomatic personnel evacuating on U.S. military planes.
The Post Publisher Fred Ryan asked Sullivan to move journalists who are "in danger" from the civilian side of the airport "to the military side where they can be safe as they await evacuation flights."
"They are currently in danger and need the US government to get them to safety," Ryan wrote.
In a subsequent letter, Ryan, The New York Times' Publisher A.G. Sulzberger and The Wall Street Journal's Publisher Almar Latour called on the president to send "an unequivocal signal that the government will stand behind the free press."
"For the past twenty years, brave Afghan colleagues have worked tirelessly to help The New York Times, The Washington Post and The Wall Street Journal share news and information from their region with the global public," the publishers wrote to Biden. "Now, those colleagues and their families are trapped in Kabul, their lives in peril."
They called on the Biden administration to provide facilitated and protected access for journalists to the U.S.-controlled airport, safe passage through a protected gate to the airport and facilitated air movement out of Afghanistan.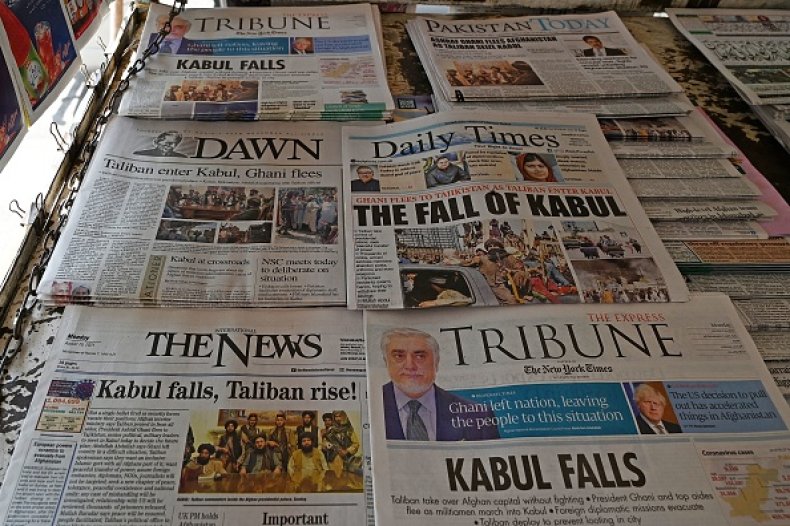 Journalists from global news outlets are struggling to continue reporting from Kabul now that Afghan President Ashraf Ghani has fled and the presidential palace has fallen to the Taliban. But for local journalists, the task is expected to be much more difficult.
CNN's chief international correspondent Clarissa Ward, who is currently in Kabul, said that Afghan journalists, particularly female journalists, are "absolutely petrified" and that newsrooms feel "a sense of real concern that things could get chaotic on the streets."
"They've been doing bold and incredible reporting for many years, and now there's a very real fear that they might face retaliations for that or that certainly they won't be able to do their work anymore," Ward said on Sunday.
She added that Western journalists do not appear to be targeted by the Taliban at this time, but Ryan's email suggests that the situation in Afghanistan may change quickly for reporters.
According to Reporters Without Borders (RSF), at least three female Afghan journalists have been murdered this year.
Last month, RSF secretary-general Christophe Deloire warned that the withdrawal of U.S. troops would cause "an information vacuum and that the space for journalism will dwindle or disappear entirely."
Facing mounting pressure to address the scramble in Kabul, Biden cut his trip in Camp David short and returned to the White House, where he is to speak about the situation in Afghanistan later in the afternoon.
Newsweek reached out to the White House for further comment but did not hear back before publication.
Update 4:36 p.m. This story was updated with information from another letter penned to Biden by Ryan, Sulzberger and Latour.