Which 'American Ninja Warrior' Season 14 Contestants Made the Semi-Finals?
A new group of budding athletes are set to try their hand at completing the American Ninja Warrior obstacle course.
Now in its fourteenth season, the competition show has entered the qualifying rounds with the first episode airing on Monday, June 6.
From record-breaking runs to past contestants making their big comeback, here is everything you need to know about who made it through the first round of the NBC show's qualifiers.
Which 'American Ninja Warrior' Season 14 Contestants Made the Semi-Finals?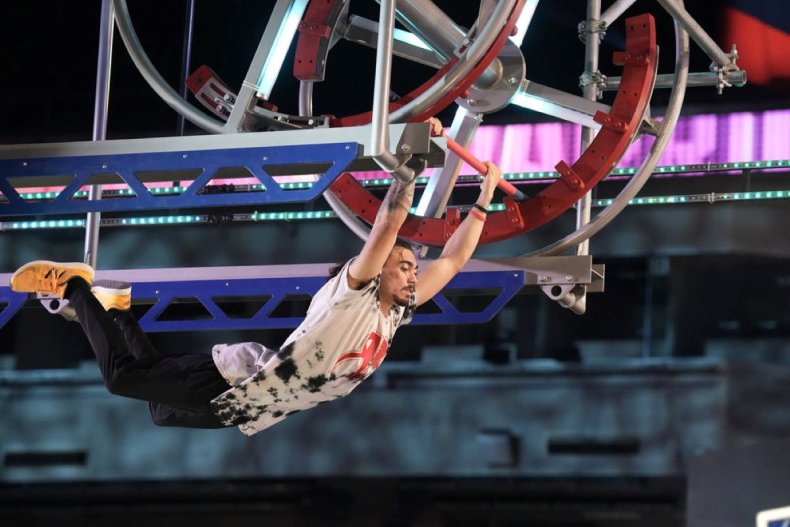 Of the many contestants to try their best to complete the course and make it up the wall to the buzzer, only 13 were successful.
The first winner of the episode was 17-year-old Christopher Harding Jones, who completed the run in honor of his late father.
Several of the contestants to make it through have appeared on American Ninja Warrior in the past, including James "The Beast" McGrath who succeeded after being forced to take a break from competing on the show due to a shoulder injury.
After making it through the course and hitting the buzzer, McGrath then proposed to his girlfriend, and fellow competitor, Allyssa Beird.
Brett Sims has appeared on the show 11 times in the past, and he succeeded in reaching the buzzer once again.
Casey Rothschild, who became the youngest woman to hit a buzzer on the show in Season 10 aged 20, also made it through to the semi-finals for the second time.
History was made in the first round of qualifiers, though, when Rothschild's record was beaten by 15-year-old Jordan Carr.
The fastest run of the night went to R.J. Roman who completed the course in an impressive 1 minute and 51 seconds.
Roman, McGrath, Brett Hernandez Strong, and Bob Reese all scaled the Mega Wall to get to the buzzer, tying the record for the show.
Here Is the Full List of Contestants Who Completed the Course and Made It to the Semi-Finals:
R.J. Roman
Vinnie Castranova
Cal Plohoros
Josiah Singleton
Brett Sims
Christopher Harding Jones
Brett Hernandez Strong
Gary Hines
Jordan Carr
Ethan Bartnicki
Bob Reese
Casey Rothschild
James McGrath
While they did not finish their respective runs at the wall, 17 other contestants did earn a spot in the semi-finals.
The contestants who have successfully advanced to the semi-finals are:
Kevin Carbone
Ronald Washington
Lorin Ball
Enzo Deferrari Wilson
Vance Walker
Julius Ferguson
DeShawn Harris
Karen Potts
Jason Kotzin
Lilah Nathison
Flip Rodriguez
Eric Middleton
Kyle McCreight
Brad Giles
Jay Flores
Josh Wagg
Parish Cardenas
American Ninja Warrior will have a total of five qualifying rounds and then four semi-final rounds before the show's National Finals.
American Ninja Warrior Season 14 airs Mondays on NBC at 9 p.m. ET.