American Pastors, Where Are You? | Opinion
This past Sunday, I attended a worship service at Grace Community Church in Los Angeles. I had to. Their lead pastor, John MacArthur, is the only one I know of who has stood up in court against Los Angeles County's COVID-19 lockdown orders. The county has sued MacArthur repeatedly and lost. In a supremely vindictive act, L.A. is threatening to retaliate by evicting the church from its parking lot. Nonetheless, judges have ruled that MacArthur is free to conduct worship services indoors, as the First Amendment guarantees him the right to do.
I had no idea how desperately I needed church. The minute the organ played its first chords, I felt a rush of unspeakable relief. But I felt sorrow, too. Because I couldn't help wondering: How is it possible that only MacArthur is fighting this fight? Where have the pastors of God's Church been, all this time?
Even walking up to the sanctuary was electrifying. I haven't brushed shoulders with a large crowd in months, and that, too, brought me near tears. Then MacArthur, who had not until that point said much in his sermons about coronavirus, began by announcing the CDC's latest revelation that only 6 percent of COVID-related deaths on record are directly attributable to the disease alone. In his blunt way, he concluded: "There is no pandemic." The congregation erupted in cheers.
The Christian faith is not a purely cerebral faith. It cannot be practiced merely through right belief—though, of course, orthodoxy is a central part of it. It cannot even, as I have painfully discovered these last few months, be practiced digitally over Zoom. We are called to "taste and see," to chew on the bread which is Christ's flesh and to shake hands with our neighbor, who is God's image. Before Jesus died, he commanded us to gather and eat together; after he was resurrected, he appeared bodily again and again. He did not persuade doubters with abstract reflections or argumentation. Rather, he said, "Put your finger here and look at my hands! Put your hand into my side. Stop doubting and have faith!" (John 20:27).
And so these months of lockdown, punishingly drawn out long after the science proved or even suggested their necessity, have been a terrible deprivation for Christians. It is not simply that our constitutional rights are being heedlessly abridged—though they are. It is that we are being bound and gagged, commanded not to do what we must in order to keep the light of the Church burning.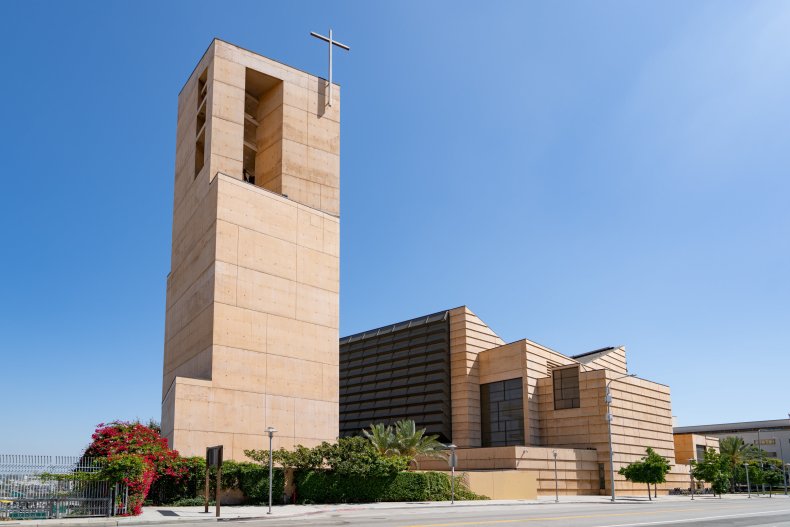 It is particularly galling to be forbidden from singing while rioters chant ferociously in the street with little or no consequence. But it is all an affront, all of it: Every hypocritical day that the lockdowns go by is another day that the people of God are deprived of their spiritual food. "The hungry sheep look up," as John Milton wrote, "and are not fed."
MacArthur, in interviews and articles of his own, has told the story of how his resistance to state lockdown grew steadily as the weeks wore on. It was his congregants themselves who initiated it—who came pleading to resume gatherings. In response, MacArthur has fought for his flock's rights. That, in my estimation, is true leadership.
By opening back up, the pastors and congregants of Grace Community are doing what they must—not only as patriotic Americans, but as Christians. They are living out their belief that the true threat to humanity is not a virus, but the eternal agony of separation from God. "Do not be afraid of those who kill the body but cannot kill the soul," said Jesus to his apostles. "Rather, be afraid of the One who can destroy both soul and body in hell" (Matthew 10). With the true courage of their convictions, the people of Grace are acting as if their Lord meant what he said.
I cannot fathom why more pastors have not done the same. True, some passages in the Bible instruct Christians to "submit...for the Lord's sake to every human institution" (1 Peter 2:13). But note the qualifier, "for the Lord's sake"—it is ultimately to God, and to him alone, that we must submit. That is why the earliest Christians earned themselves a reputation for civil disobedience: In ancient Thessallonica, it was said of them, "They are all defying Caesar's decrees, saying that there is another king, one called Jesus" (Acts 17:7).
As Americans, we are guaranteed by our Constitution the freedom to meet and worship as we choose. As Christians, we are bound to a law higher even than that 18th-century parchment—we are bound to serve another king, one called Jesus. I dearly hope more American pastors will rise to this extraordinary occasion, and defy the unjust decrees of our modern-day Caesars.
Spencer Klavan is host of the Young Heretics podcast and assistant editor of the Claremont Review of Books and The American Mind. He can be reached on Twitter at @SpencerKlavan.
The views expressed in this article are the writer's own.