American Prisoner Attempts Suicide in North Korean Gulag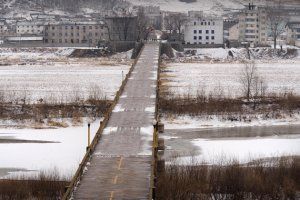 An American detained for crossing into North Korea has tried to commit suicide while imprisoned in a brutal labor camp. He is the second American captured in recent months —and there may be other U.S. citizens in the country.
Aijalon Mahli Gomes, 30, of Boston, was teaching English in South Korea. He reportedly crossed the border into the North from China in January. In April he was sentenced to eight years' hard labor. Recently, he tried to take his own life, according to North Korean reports. Swedish diplomats, acting on behalf of the U.S.—which has no diplomatic relations with North Korea—are aware of his condition.
North Korea's prisons are, according to human-rights agencies, among the most brutal in the world. A report by the Committee for Human Rights in North Korea in 2003 said as many as 200,000 people who had displeased the regime were held in enormous labor camps. Many died of starvation while mining, cutting timber, or farming from 4:30 a.m. to 7 or 8 at night. They were beaten or forced to beat each other, sometimes to death. Kim Jong-il's regime values genetic purity, said the report. Women who had escaped the country, and who were repatriated while pregnant—either voluntarily, or through raids into China—were often jailed. When they gave birth, their babies were killed in front of them. The report, based on interviews with defectors, cites many inmates asking guards to end their lives.
Gomes, reportedly a devout Christian, is not the first American to see the inside of the camps this year. On Christmas Day last year Robert Park, 28, of Los Angeles, walked up to the frozen Tumen River which marks the Chinese border with North Korea. As he crossed the ice into the Hermit Kingdom Park shouted, "I am an American citizen. I am bringing God's love. God loves you."
Park had told Reuters that he planned to cross the border to highlight the plight of those held in North Korea's concentration camps. "Until the concentration camps are liberated," he said, "I do not want to come out. If I have to die with them, I will. (For) these innocent men, women, and children, as Christians, we need to take the cross for them."
Shortly after he crossed the border, North Korea issued a less romantic statement. "A U.S. citizen illegally entered the country across the North Korea-China border and has been detained. The person is currently undergoing questioning by a related agency."
He was imprisoned for six weeks. KCNA, the state media arm, said he told them in an interview that "I trespassed on the border due to my wrong understanding of the DPRK caused by the false propaganda made by the West to tarnish its image," and that he had "never seen such kind and generous people" as his captors.
After his release and return to America, Park was reportedly so panicked and stressed that he had trouble breathing. On Feb. 27 this year his friends and family took him to hospital. He was institutionalized, apparently with posttraumatic stress, resulting from severe sexual abuse he was subjected to in jail. The South Korean newspaper The Chosun Ilbo, reported that "North Korean security agents specialize in torture techniques using needles, water, and electric shocks, but recently, sexual abuse is said to have become the preferred interrogation tool."
Two weeks ago North Korea said it had no intention of releasing Gomes as it had Park. The only question that remained, it said, was "what harsher punishment" to give him. Information from inside North Korea is hard to come by, and unreliable—mainly because any foreign journalists who try to get into the country are detained. But reports suggest that Gomes may not be the only American currently in North Korea. In December 1953, 900 American troops were still prisoners of the North after the Korean War. In June of 1996, according to The New York Times, a Defense department intelligence analyst testified that as many as 15 of those were still being held prisoner. Defectors have also said they have seen Americans in the country.
Their fate, as with so much in North Korea, is unclear, though there are clues. A Czech defense official, Jan Sejna, had access to information about medical experiments in North Korea, according to The New York Times. Sejna defected to the U.S. in 1968, and testified that experiments had been carried out on some of the Americans in order to "develop comprehensive interrogation techniques, involving medical, psychological, and drug-induced behavior modification." Sejna said that they had subsequently been executed.
If they are alive, they have not been heard from in more than 50 years.