American Prisoner in Egypt Begs for Trump's Intervention Five Years Into 20-Year Sentence
An American citizen who has been imprisoned for five years in Egypt has sent a letter to President Donald Trump and Vice President Mike Pence begging them to intervene to secure his release.
Mustafa Kassem, 53, was convicted in 2013 along with about 700 others in a mass trial. He is accused of allegedly trying to overthrow the government of Egyptian President Abdel Fattah al-Sissi, ABC News reported. According to Kassem's lawyer, the American, who worked as a New York cabdriver, was visiting his wife and children in Egypt. He was planning to return to the U.S. the following day, but had gone out to run errands when he was detained in a massive sweep by security forces.
Now Kassem faces 15 more years in prison on top of those he has already served. Despite being diabetic, he has launched a hunger strike in a desperate bid to garner international attention as well as that of the White House.
"Dear President Trump: As an American beginning the hunger strike that could leave my two young children without a father and make my wife a widow, I pray that you secure my freedom from an Egyptian prison," Kassem wrote in a letter obtained by ABC News.
Although his lawyer had warned him about the risks of continuing his hunger strike, Kassem said he is determined to do whatever it takes to secure his release.
"I want my children to know that I fought tooth and nail for my freedom. I want them to know America is great because our government will fight tooth and nail for its citizens," Kassem wrote in a separate letter addressed to Pence.
Due to his U.S. passport, Egyptian security officers accused Kassem of being an American spy. He was also beaten repeatedly after being taken into custody. While in prison, he has been denied regular medical care, including access to the insulin he needs to treat his diabetes, his lawyer told the news outlet.
The U.S. State Department said the country is "deeply concerned about his conviction and his sentencing.... His case has been raised repeatedly with the Egyptian Government," according to spokeswoman Heather Nauert.
In April 2017, the Trump administration managed to secure the release of another American citizen detained in Egypt. Aya Hijazi, a 30-year-old NGO worker, had been held in prison for three years after she and her husband, Egyptian national Mohamed Hassanein, were arrested in 2014 on false charges of child abuse and trafficking.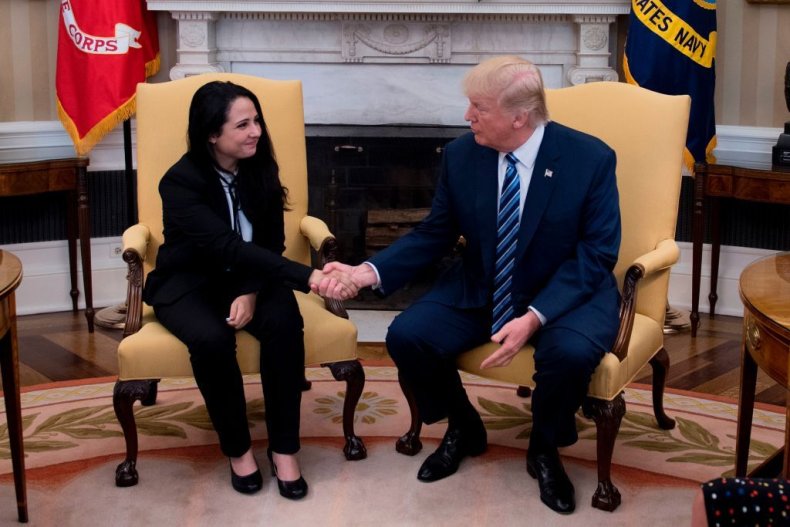 Human rights groups called their arrests—which were followed by a series of verdict postponements and adjudications—as "bizarre," with Human Rights Watch branding the case against Hijazi and her colleagues from the Belady Foundation for Street Children "a travesty of justice."
After Hijazi returned to the U.S., Trump met with her at the White House. "We are very happy to have Aya back home.… It's a great honor to have her in the Oval Office," Trump said, according to the BBC.
Trump has maintained a positive relationship with Sissi, praising the strongman leader's "fantastic job," but the U.S. leader has generally ignored human rights abuses in the country. Analysts suggested that Trump's flattery helped secure the release of Hijazi.