U.S. Resident May Be One of a Million People Imprisoned in China's Secretive Detention Camps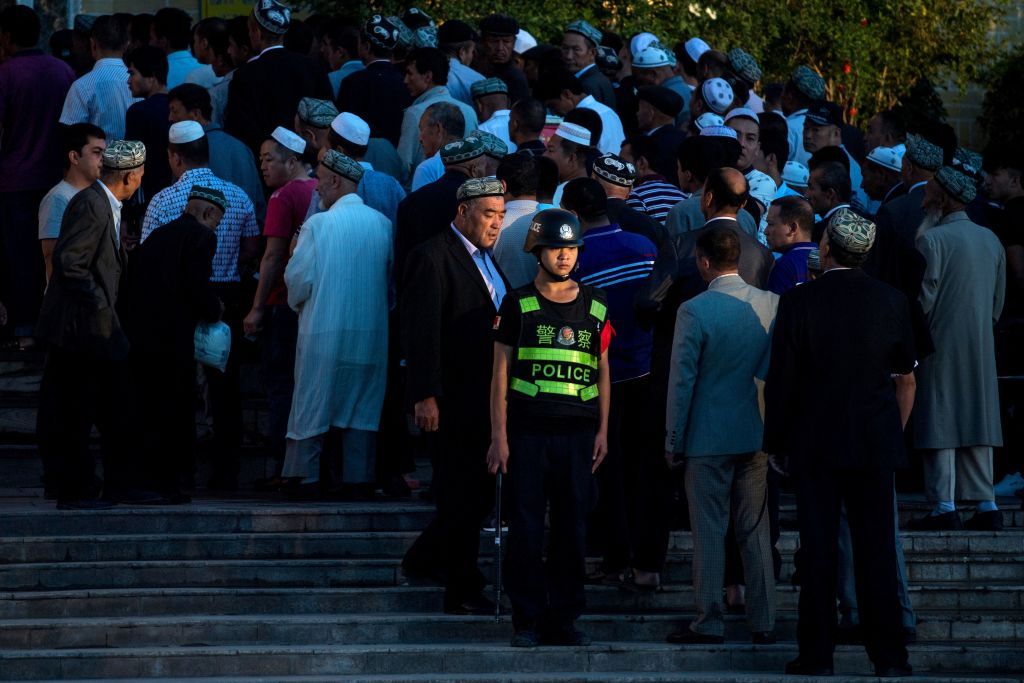 In China's northwest region of Xinjiang, an expansive network of detention camps are estimated to be holding 1.5 million individuals—and now a U.S. resident may be among them.
On Thursday, U.S. Ambassador-at-Large for International Religious Freedom Sam Brownback told a press conference that he had received an unconfirmed report of a 75-year-old U.S. resident who has a "number of chronic illnesses" being detained during travels back to China.
"This gentleman that I just was reading the email about has legal status in the United States. Now, he's not a U.S. citizen, but he had legal status being here, traveled back to Xinjiang after being here with his son in California," Sam Brownback said. "And then has not been heard from since."
This was followed by a CNN report that State Department sources had indicated "a few" U.S. residents—citizens or permanent residents—are currently held in Xinjiang camps.
Since 2017, China has radically cracked down on the Uighur population in Xinjiang in the name of combatting extremism among the ethnic Muslim minority population. However, the campaign has largely been seen as a way for Beijing to control and even stamp out diverse religions and cultures. Uighurs, most of whom have had their passports confiscated, are punished for "crimes" as benign as growing a beard, observing Ramadan or speaking with loved ones overseas.
Xinjiang has quickly become a police state with ministations installed every few hundred yards, facial recognition technology limiting residents' movements and a growing network of political "re-education camps," which China emphatically denied for months, and then embraced by trying to rebrand them as "vocational training" centers.
If confirmed, Brownback's account is one of the first reports of a U.S. resident being detained in Xinjiang. However, it would not be the first time residents and citizens from other countries have been sent to China's internment camps.
Australian officials confirmed last year that three Australians had previously been detained, and that the government only found out once the individuals left Xinjiang. More than a dozen permanent residents are still suspected of being held in the camps and one Australia student, who was reportedly lured back by secret police after posting content online critical of the Chinese government, has not yet returned to university.
And this week a Buzzfeed investigation found six nationals, including two small children, from Turkey—one of the few Muslim-majority countries to condemn China's crackdown—have gone missing in Xinjiang. One Turkish man, who is an ethnic Uighur, spoke of being interrogated, sleep deprived and abused for 38 days before being deported without charge.
A U.S. State Department official told Newsweek, "The United States remains deeply concerned by China's highly repressive campaign against Uighurs, ethnic Kazakhs and other members of Muslim minority groups in Xinjiang, which includes mass detentions in internment camps; pervasive, high-tech arbitrary surveillance; compulsory stays by Chinese officials in Uighur homes; controls on expressions of cultural and religious identities; and coercion of individuals to return to China from abroad."
The official also said China does not recognize dual nationality and that "U.S.-Chinese citizens and U.S. citizens of Chinese heritage may be subject to additional scrutiny and harassment" while in the country.
Adrian Zenz, an expert on China's minority policies, explained that Beijing holds a different perspective on ethnicity, race and citizenship.
"It considers those who are ethnic Chinese or from a "Chinese" minority (including Uighurs) to be their citizens, and hence like their "property," even if they changed citizenship, or even if they never had Chinese citizenship," Zenz said.
The researcher, who has pored over government budgets, contract documents, job ads, satellite imagery and witness accounts from Xinjiang, estimates there are up to 1.5 million who have been or are currently in re-education or internment facilities.
Accurate numbers, and stories from those detained, have been particularly hard to come by. Local authorities not only punished anyone who was in contact with media but have also threatened and detained relatives of overseas Uighurs who have spoken out. Yet this tactic seemed to lose its power last month when hundreds of Uighurs around the world began posting photos and stories of their missing loved ones online under #MeTooUyghur in an attempt to pressure China to share updates about their relatives' location and wellbeing.
And while Zenz told Newsweek he has not really heard of U.S. residents being caught up in Xinjiang, it could be that party leaders have become more emboldened than ever.
"The re-education campaign meets deeper government needs of total ideological control over this restive region. For this end, the state is willing to meet with significant international pushback and criticism over its actions. Also, China increasingly sees itself as a powerful nation that can do whatever it wants to within its own boundaries (and, in some ways, beyond)," Zenz said.
On Wednesday, Secretary of State Mike Pompeo met with a small number of Uighur Muslims whose family members have been detained in Xinjiang or who themselves were abused in the camps.
Update: This article has been updated to reflect the area of expertise of independent researcher Adrian Zenz.