U.S. Sanctions on Russia Won't Be Lifted Until Crimea Is Returned to Ukraine: Rex Tillerson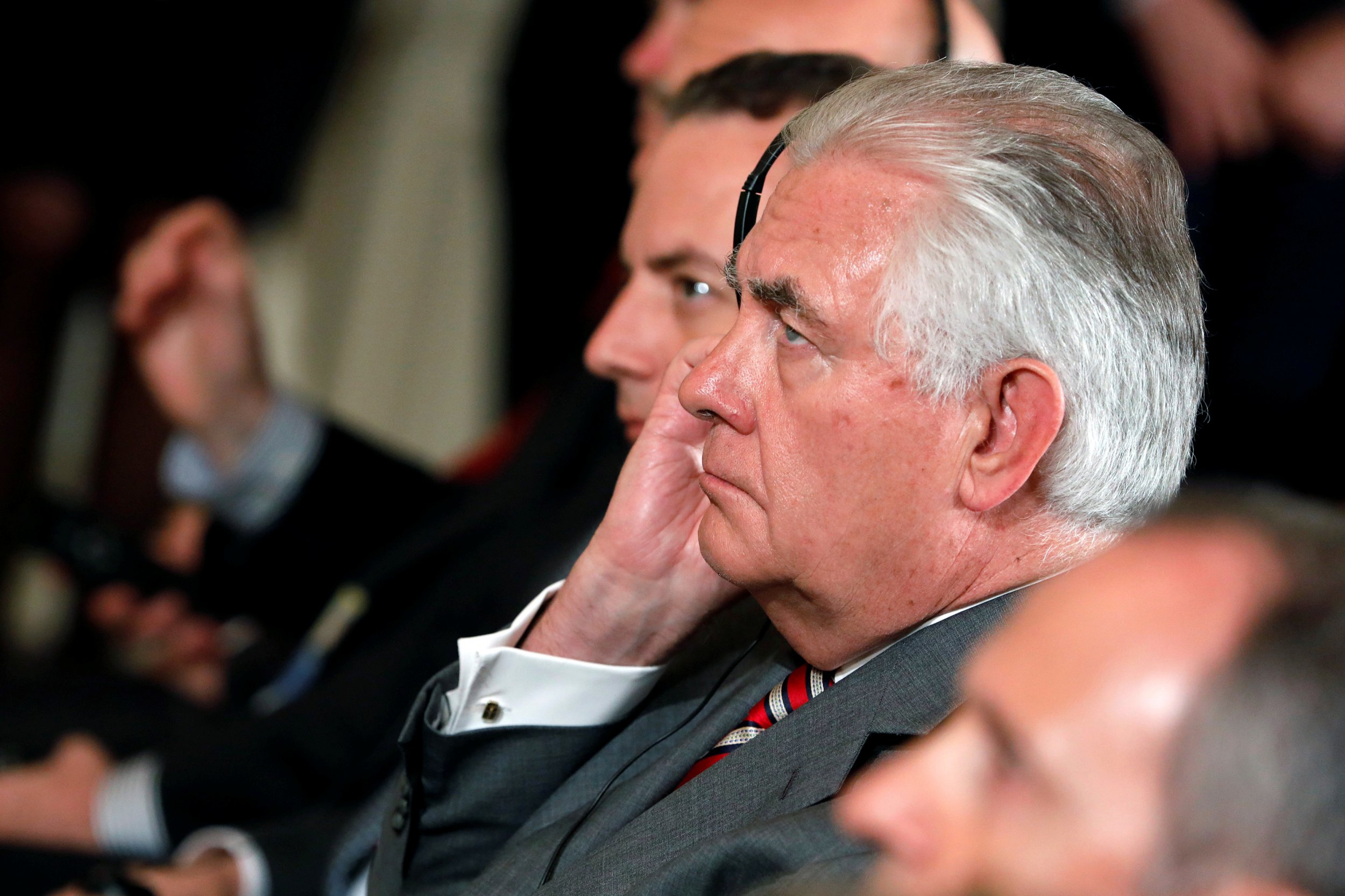 The United States will not lift sanctions on Russia until President Vladimir Putin hands Crimea back to Ukraine, Secretary of State Rex Tillerson said late Sunday.
During a phone call with Ukrainian President Petro Poroshenko, Tillerson said the sanctions—which have crippled Russia's economy and pushed down the value of the ruble—will " remain in place until Russia returns control of the Crimean peninsula to Ukraine."
He also said that Moscow must honor the ceasefire in eastern Ukraine that was outlined in the Minsk agreements, according to a State Department official.
U.S. President Donald Trump's position on whether he will lift the sanctions on Russia has been unclear since his election last year. The U.S. imposed sanctions on a wide swath of Russian businesses and wealthy individuals following Russia's annexation of the Crimean region by force in 2014.
During the 2016 election campaign Trump said that as president he would be looking at lifting the sanctions and consider whether to recognize Crimea as a part of Russia. But in February White House press secretary Sean Spicer said Trump was expecting Putin to hand Crimea back.
Read more: Russia's Jehovah's witnesses ban shows 'paranoia' of Vladimir Putin's government
Trump has also voiced admiration for Putin's leadership and called him "very smart!" on Twitter in late December. The Russian leader drew Trump's praise after choosing not to respond to further sanctions imposed by Barack Obama after U.S. intelligence agencies concluded that Russia influenced the 2016 presidential election.
A back-channel plan to lift the sanctions formulated by Trump's former national security adviser, Michael Flynn, and the president's personal lawyer Michael D. Cohen also emerged in February. Even Tillerson has opposed sanctions, calling them imprecise and ineffective.
But the message from the State Department appeared clear Monday following the death of an American medic working with the Organization for Security and Co-operation in Europe (OSCE). The OSCE is monitoring the Minsk ceasefire and Sunday the armored patrol vehicle that the unidentified medic was driving hit a landmine in Russian-backed east Ukraine.
After a meeting with the EU's foreign minister on Monday, Russian Foreign Minister Sergei Lavrov said that the starting point for any discussions will only come when both sides commit to the "full implementation of the Minsk" agreements. This ceasefire, brokered in 2014 and reaffirmed in 2015, has failed to stop the fighting in eastern Ukraine.
In February, Maria Zakharova, a spokeswoman for the Russian Foreign Ministry, said that "Crimea is territory belonging to the Russian Federation" and that "we don't give back our own territory."
After visiting Russia on April 12 and meeting Putin and Lavrov, Tillerson said relations between the two countries are at a "low point."
"We may be at an all-time low" in relations, Trump said at a news conference the same day, adding "we'll see what happens."