'American Spring' Trends on Arabic Twitter as D.C. Compared to 2011 Revolts
The storming of the U.S. Capitol by pro-Trump supporters led to the #AmericanSpring Twitter hashtag trending across the Middle East, referencing popular uprisings in 2011 which upended decades-old dictatorships and came to be known as the Arab Spring.
The president's backers attacked the very center of American democracy on Wednesday, with tear gas and bullets fired as they ransacked the halls, offices and chambers of Congress, resulting in violent clashes with police.
The rioting drew comparisons with anti-establishment movements from Tunisia to Syria a decade ago that in some cases led to increased democracy and more freedoms.
In Saudi Arabia and Egypt, tens of thousands of people tweeted using the Arabic #AmericanSpring. Twitter's trending list confirmed the hashtag was trending in both countries.
"It is happening to them now," wrote one user amid a slew of images and videos spreading across social media of Trump supporters charging through the Capitol.
Another tweeted: "Finally, America was plagued by the creative chaos in which it was calling for the destruction of Arab countries. Their goods were returned to them!!"
Several journalists who covered the Middle East a decade ago also suggested the AmericanSpring hashtag to describe the insurrection.
"Ten years after the 'Arab Spring', as a foreign correspondent, I feel it's incumbent upon all of us who covered the Middle East in 2011, to call this the American Spring," wrote one.
"Look, I think it's time for Iraq and a Coalition of the Willing® to liberate the US and bring some peace and stability to the region," said another.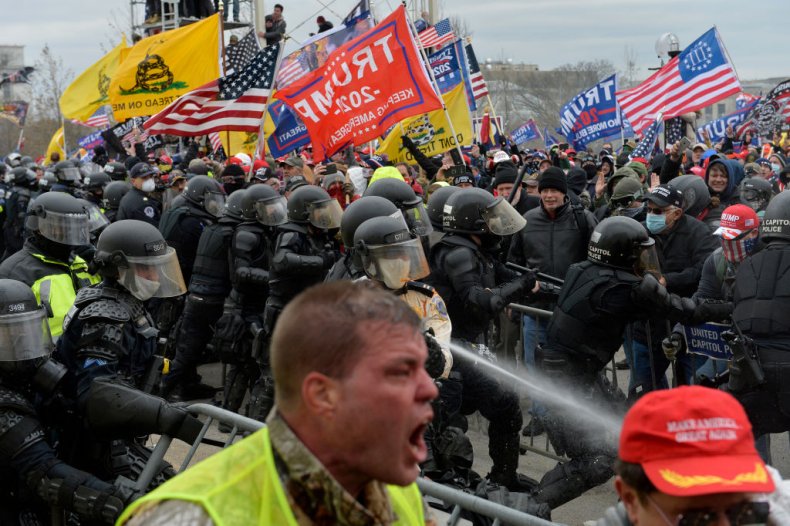 Others likened the events in Washington, D.C. to unrest in the Middle East years earlier.
One account shared a photo said to be of a man taking an elaborately gilded chair during the fall of Saddam Hussein in 2003, next to an image of a Trump protester carrying a lectern.
The tweet was captioned: "A picture from Iraq, the fall of Baghdad, 2003. The other is America 2021."
Anger was also aimed at those who claimed the riot was something that should only happen in other parts of the world.
After Republican Senator Marco Rubio described the rioting as "3rd world style anti-American anarchy," one person replied: "Few things are as tiring as American exceptionalism dismissing all the parts about itself it hates as 'third-world' and 'not-American.'"
The BBC's New York correspondent Nick Bryant added: "'Trump's Legacy' - incalculable damage done to this country's already battered global prestige. American exceptionalism now a negative construct."