The American Spy Traded in the U.S.-Cuba Diplomatic Breakthrough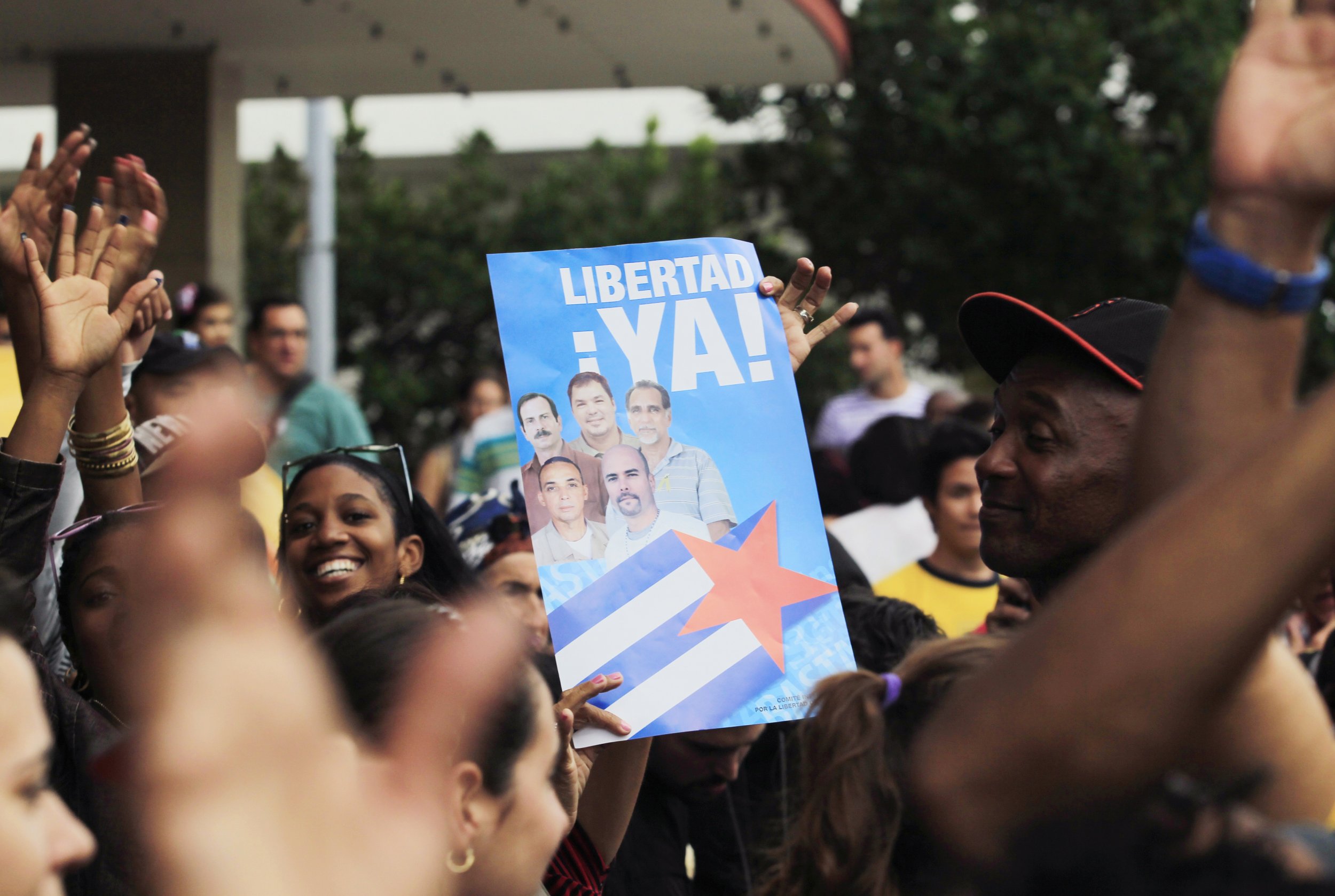 The unidentified United States spy being swapped as part of a diplomatic breakthrough between the U.S. and Cuba is almost certainly a former cryptographer in Cuba's Directorate of Intelligence who worked secretly for the CIA until he was arrested on espionage charges in the mid-1990s, according to a former U.S. intelligence officer and other sources.
Rolando "Roly" Sarraff Trujillo was "an expert on cryptography for the Cuban Ministry of Interior who was arrested in 1995 and sentenced to 25 years in jail," said Chris Simmons, a former Defense Intelligence Agency specialist on Cuba.
"I know of all the Cubans on the list of people in jail and he is the only one who fits the description" of the unnamed asset in question, Simmons added. "I am 99.9 percent sure that Roly is the guy."
The agent, U.S. officials said, was exchanged for the remaining three members of the so-called "Cuban Five," a group of operatives arrested in Florida on espionage charges in 1998. Another element of the agreement, which ended the decades-long feud between the U.S. and Cuba, was Havana's decision to free Alan Gross, a U.S. Agency for International Development contractor imprisoned on the island since 2009 on charges of trying to subvert the state.
In a speech on Wednesday, Cuban President Raul Castro said that a spy of "Cuban origin" was being released. But neither Cuba nor the U.S. would identify the operative in question or comment on Sarraff Trujillo.
DNI spokesman Brian P. Hale said in a prepared statement that the asset being released spent 20 years in a Cuban prison for his work for the U.S. Many of the details of his cooperation are classified, but Hale said he was "instrumental in the identification and disruption of several Cuban intelligence operatives in the United States and ultimately led to a series of successful federal espionage prosecutions."
Indeed, according to Hale, the spy "provided the information that led to the identification and conviction of Defense Intelligence Agency senior analyst Ana Belen Montes; former Department of State official Walter Kendall Myers and his spouse Gwendolyn Myers; and members of the Red Avispa network, or 'Wasp Network,' in Florida, which included members of the so-called Cuban Five."
On Wednesday, the Miami Herald's Spanish-language edition also reported that its sources believe that Sarraff Trujillo was the spy. "Just as a matter of elimination," it's Sarraff Trujillo, Simmons said.
A lieutenant colonel in the U.S. Army Reserve who also worked in counterterrorism operations in the Balkans and Iraq, Simmons runs a website called Cuba Confidential. On May 27, 2012, he wrote on his site that in 1994 Sarraff Trujillo was persuaded by a DGI colleague, José Cohen Valdés, to steal information that he could use to facilitate his defection to the U.S. Sarraff Trujillo, according to Simmons, gave him the info to pass along to Langley. "Cohen planned to bring Sarraf Trujillo and another individual with him in a mass defection," Simmons wrote.
Apparently, the plan didn't work out. As Simmons explains on his blog:
"Sarraff Trujillo started passing files [and] Cohen began indiscreetly spending the considerable cash the CIA paid for Sarraff Trujillo's treasure trove of intelligence. In short order, the two men came under surveillance. Cohen reportedly noted the surveillance and had his brother-in-law signal the CIA station in Havana for an emergency extraction. Cuban counterintelligence videotaped his brother-in-law's assistance, for which he was subsequently jailed. Cohen and the second individual successfully escaped, despite the extensive counterintelligence coverage. Sarraff Trujillo was arrested and sent to prison."
Simmons told Newsweek that the Cuban spy did such damage to Havana's intelligence apparatus that "the only thing that saved him from execution was the fact that both his parents were retired senior intelligence officers."
Paul McKenna, the court-appointed lawyer for Gerardo Hernandez, one of the Cuban Five who is being released in the deal, said he had "no idea" who the U.S. spy was.
"If I'd known they had a person like that," McKenna told Newsweek in a telephone interview from his office in Coral Gables, Fla., "we would have pressed for an exchange a long time ago."
Before Gross was arrested, McKenna said he constantly asked Cuban officials on trips to the island whether they had someone who they could swap for Hernandez and they said no. "They would just shrug it off," he said. When he pressed for a possibility of a trade of Gross for his client, he said, one Cuban official told him, "Leave the political to us."
Following the ages-old rules of espionage, it's entirely possible that Sarraff Trujillo was under orders never to reveal his connection to U.S. intelligence. McKenna said when he visited his his client in jail, he "gave us only name, rank and serial number" for a number of years before his superiors in Cuba cleared him to admit he was a spy.
The so-called "Cuban Five" were indicted on 25 different counts related to espionage. After a plane piloted by anti-Castro exiles was shot down as it flew into Cuban airspace, the government added an additional murder indictment to charges against Hernández.
"I'm very happy for my client," McKenna said. "He's going home to his wife after 14 years."
As for Simmons, he said that any deal that got Sarraff Trujillo out of prison "was worth it."