An American Tale— Creating a 'Hamilton' Documentary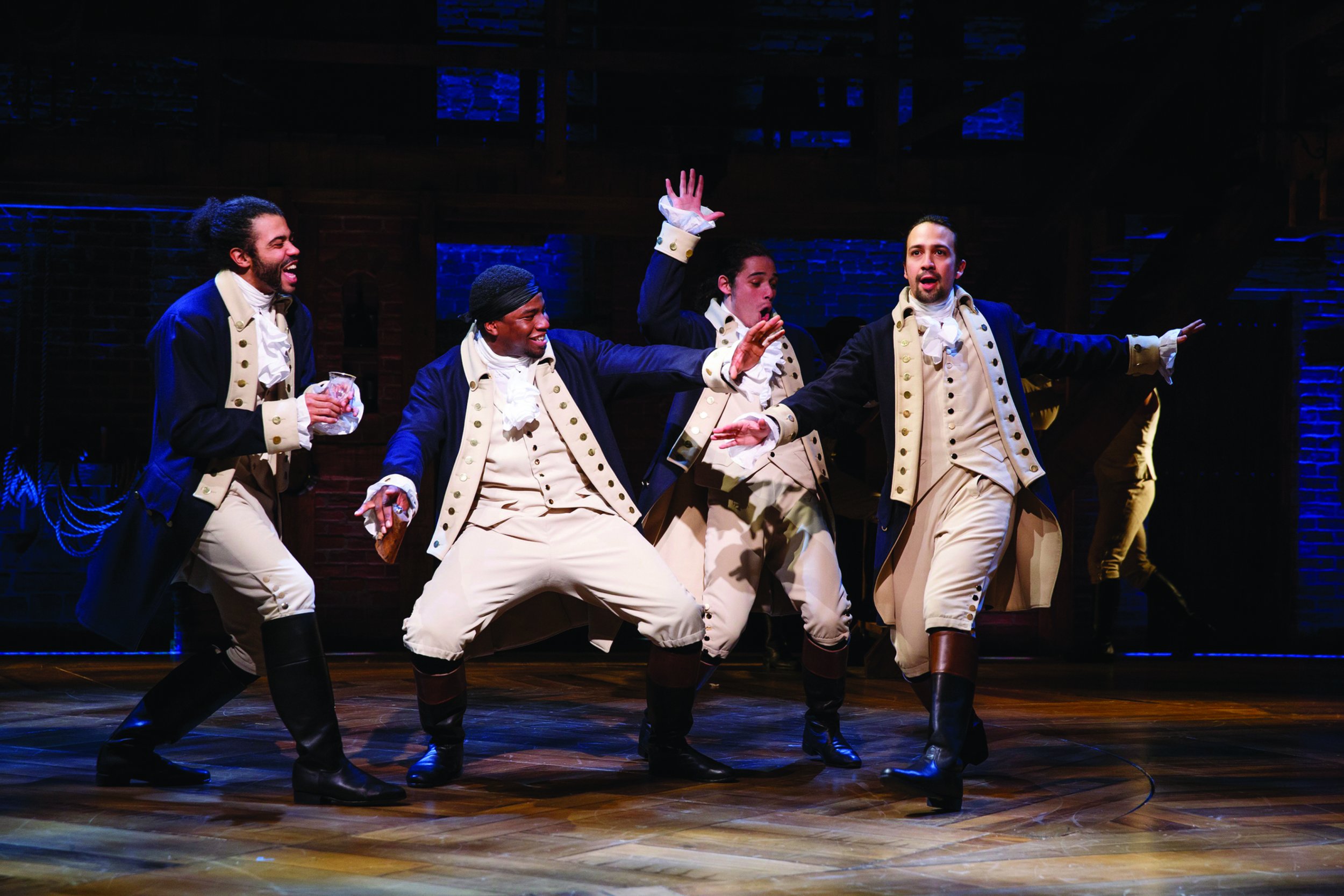 This article, written by Senior Editor Tim Baker, and other articles about the Broadway phenomenon are featured in Newsweek's Special Edition Hamilton.
On October 21, PBS will give America one of the rarest gifts we could possibly ask for: front row seats to Hamilton.
Hamilton's America covers both Alexander Hamilton's young nation and a modern country in love with the musical based on his life. The world has been listening to the album nonstop for a year, but thanks to PBS, fans will finally get an up-close glimpse at the phenomenon in all its grandeur, as well as the process by which it came together. In addition to being the inevitable product of a once-in-a-lifetime cultural phenomenon, the doc is also the culmination of a years-long parallel journey involving Lin-Manuel Miranda and public broadcasting.
David Horn, executive producer on PBS's Hamilton's America, has known Miranda for more than a decade. Well, sort of. "He was an intern at Channel 13 when I was there in the education department. He was very young, and I have to admit I don't remember him," Horn chuckles. "I was really introduced to Miranda when Radical Media approached me a few years ago and they knew Hamilton would transfer to Broadway very early on. I kind of backed into Hamilton, even though I saw it early on at The Public. I came in fresh to see the show and like everyone else was completely blown away." Horn soon became dedicated to bringing Hamilton's revolutionary message to a wider audience.
But he didn't assume just because the play was popular that the work of telling its story would be easy. "One of the hardest things to do is to illustrate the creative process," he says. "It can very easily not work well. But you can see Lin's incredible interest in history by how he took such a long and complicated story and figured out how to make songs that motivate the plot and bring drama to characterizations." Fleshing out this creative process, for Horn and the PBS team, meant forging a bond between history and entertainment much like the one Miranda forged in writing the play. Hamilton's America deftly weaves interviews with historians and former presidents with footage of the cast and creative team exploring Miranda's work as well as the people and locations upon which it is based.
"If you see this piece, you're amazed," Carr continues. "But what I'm happy about with the film is that it doesn't take away from that experience, it enhances it. You can appreciate the characterizations more and have a better understanding of the history." The documentary is part history lesson and part primer on the creative process. By establishing the reality each character lived through using expert commentary, the documentary helps deconstruct several songs on the original Broadway cast recording, giving fans new inroads into the sheer depth of the musical.
It's this kind of spoonful-of-sugar education that has made both Hamilton and the PBS documentary successes. Before Hamilton's adventures in love and politics, there is the superb five-minute opening rap, an incognito history lesson if ever there was one. Similarly, before each moment in the play is introduced in the documentary, viewers are treated to another kind of history lesson—Miranda fleshing out the piece, sometimes even singing it a capella before the full production fades in. These kinds of origin stories make Hamilton's America the perfect companion piece to the musical, and these interludes are made possible because PBS and Radical Media had a secret ace in the hole.
Filmmaker Alex Horwitz, who went to Wesleyan with Miranda, had the unique opportunity to document the making of Hamilton from the very beginning. Like most everyone who heard Miranda's original music, the director of Hamilton's America knew immediately that the musical would be something entirely new to the great tradition of American theater. "From very early on I loved what he was doing and never had any doubts about how it would work. I knew it was something I wanted to follow either professionally or just as a friend." He began shooting around three years ago—he is eager to point out that he was "asking for permission to shoot much earlier than that"—allowing him to cover the two years leading up to Hamilton's Broadway opening night.
This proximity allowed Horwitz to see the evolution of the musical in a way few observers could have. "I had the wonderful advantage of having heard Lin sing demos of all the songs, even ones that weren't his character's, before he was up and running with producers. I remember hearing a version of 'Wait for It' that Lin sent and thinking 'Well, that's nice' and not really thinking more about it. Then I heard Leslie Odom Jr. singing it for the fi rst time, and it struck me as possibly the best song ever written," says Horwitz. "The song itself didn't change much, but I saw new life in these characters as they were portrayed onstage. I think that's a testament to Lin's ability as a writer."
Because Horwitz and Miranda are old college pals, when Hamilton's America delves into more personal moments, Miranda seems to feel more at home before Horwitz's camera than he does onstage. Pacing in his unfi nished Washington Heights apartment, Miranda has the same tiredbut-alert, soft-but-hungry eyes as his Hamilton, and Horwitz is there to capture every minute. It's a textbook example of life mirroring art. "The song 'Dear Theodosia' went through a very interesting change because people always assume Lin the actor is singing to his infant son, who was born right around the time the show went into rehearsals," says Horwitz. "That's not the case. It was written about his dog, because when he wrote the song he didn't have a son. So originally, to get weepy enough to perform the song, he would think about his dog."
For executive producer and CEO of Radical Media Jon Kamen, the partnership with Miranda and Hamilton was a natural fit, and Horwitz's proximity to the star was simply a bonus. "I was in one of the earliest workshops with all of our jaws on the floor, still trying to grasp how Lin was managing to condense Ron Chernow's biography and fit all these wonderful facts into the story," he says. "It was Lin's obsession with the character that fascinated me, as well as an interest on Lin's part to do something new and different. We agreed right away that we would make a fi lm, but it was only a gentlemen's agreement because the play hadn't even gone into workshops yet. Lin's comfort level with having Alex around was such that we knew we'd get something. We weren't sure what the journey would be, but all of a sudden The Public was on board and we were on our way to Broadway." A
fter the film's debut, it's sure to be the hope of everyone involved, from producers to fans, to follow it up with a fully filmed version of the stage show, but Kamen says they're still about five years away from breaching the subject, so we'll all have to wait a bit longer for the full show. Until then, the remarkable Hamilton's America is a gift, showcasing the musical and its subject in incredible detail while simultaneously leaving us with the desire to see even more.
This article was excerpted from Newsweek's Special Edition Hamilton, by Senior Editor Tim Baker. For a backstage pass to the Broadway musical sweeping the nation, pick up a copy today.