American Tourists Banned in Bahamas After Latest U.S. Coronavirus Numbers
It's been almost three weeks since the islands of the Bahamas reopened its borders to international visitors. On Sunday, the island nation shut off visitors from the United States because of COVID-19.
In a national address on Sunday, Bahamas Prime Minister Hubert Minnis said that all airports and seaports—to and from the neighboring U.S.—will be shut off as of Wednesday. Americans on the islands will be permitted to leave after Wednesday under special accommodations.
"Regrettably, the situation here at home has already deteriorated since we began the reopening of our domestic economy," said Minnis, who is also the acting health minister until further notice. "It has deteriorated at an exponential rate since we reopened our international borders."
Visitors from Canada, the United Kingdom and European Union will be permitted to stay in the islands as long as tey can provide proof they tested negative for coronavirus at least 10 days before their arrival.
The Bahamas reported 15 new cases of coronavirus on Sunday, bringing its overall total to 153 positive cases, according to the Bahamas Ministry of Health. The isolated island nation
The Bahamas has reported 49 new positive cases since it fully reopened on July 1.
"Our current situation demands decisive action, if we are to avoid being overrun and defeated by this virus," Minnis said in a Miami Herald report. "We cannot allow our hospitals to be overrun. Many priorities must be balanced, be they health, social and economic."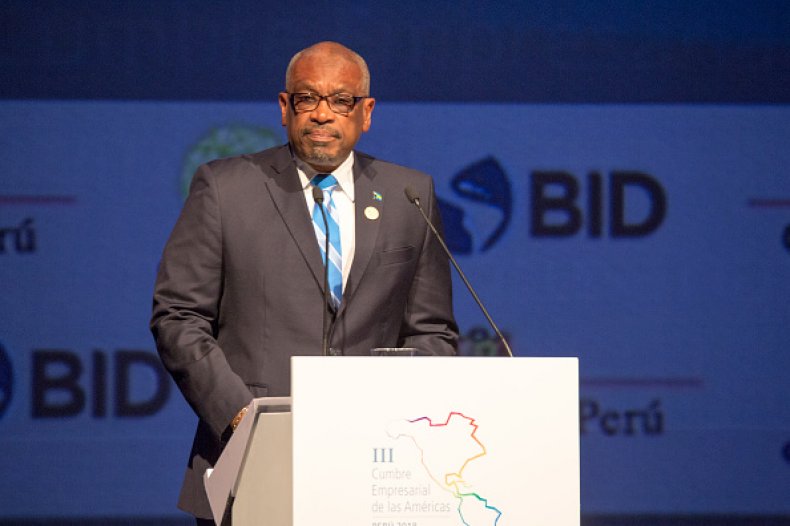 The United States leads the world in both positive cases of COVID-19 (3.89 million) and subsequent deaths (143,000). Meanwhile, Florida has become the world's newest hotspot for both. Florida is a day's boat ride, or quick flight, to the Bahamas.
Minnis said typical wedding and sports events are canceled in the islands.
"All congregant activities and gatherings, inclusive of religious services, weddings and funerals and sporting activities will not be allowed, effective Monday," Minnis said.
This comes as new tropical waves are forming in the warm waters and the tourism is expected to spike. Grand Bahama will close its borders, along with both incoming and outgoing sea vessels and flights.
"If efforts to decrease the number of cases are unsuccessful, other restrictive measures may be recommended, including a lockdown beginning Friday the 24th of July," Minnis said.
It's been almost one year since Hurricane Dorian destroyed parts of the Bahamas. The storm not only hit the islands as a powerful Category 5 storm, it meandered over the islands, drenching it with rain, before moving north and east into the Atlantic.
Humanitarian relief was sent to the Bahamas not only from governments, but also from a fleet of tourism and fishing boats from Florida.