Super Bowl champ, NFL Hall of Famer and the ultimate American Underdog, Kurt Warner brings part of his life story to the big screen this Christmas.
Zachary Levi plays Warner in the sports biopic, alongside Anna Paquin and Dennis Quaid. Turned into a movie by brothers Jon and Andrew Erwin, American Underdog is out in theaters now.
Warner's journey from NFL reject to two-time Super Bowl MVP took some interesting stops along the way, including a job at a grocery store and a stint in the now-defunct Arena Football League.
Often the events of the movie sound too unlikely to be true but Kurt and his wife Brenda Warner assure Newsweek that everything we see onscreen really happened. Their movie counterparts Levi and Paquin, as well as directors the Erwin brothers, also spoke to Newsweek to separate American Underdog's fact from fiction.
Kurt Warner's makeshift football jersey
The opening scenes of American Underdog show a young football-loving Kurt Warner playing in his backyard. He doesn't have his name officially printed across the back of his jersey, instead he uses duct tape to spell out "WARNER" across the back.
According to the directors, every small detail, right down to the duct tape, was confirmed to be true by Warner himself. Andrew Erwin said: "That was Kurt saying this is exactly how it happened." Jon Erwin continued, "The cool thing about it is those moments came from Kurt and Brenda" who were both on set during the making of the movie.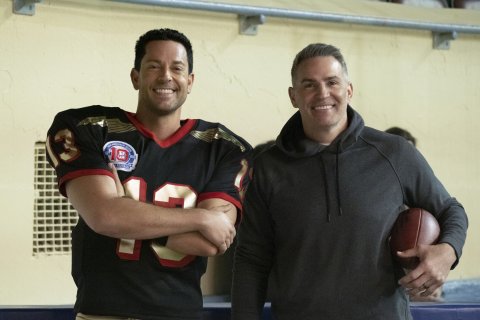 Benched during college football
Warner's dream of playing professional football looked unlikely even during his college football days when he was forced to wait for his big opportunity. He only became a regular starter during his final year at the University of Northern Iowa, where he eventually threw 17 touchdown passes in 12 games for the UNI Panthers, gaining a total of 2,747 yards.
The coach who finally takes a chance on Warner, Terry Allen, is played by Levi's former Chuck co-star Adam Baldwin.
Meeting Brenda Warner while line-dancing
During college, Kurt met his future wife Brenda while line-dancing in Iowa. Kurt assures Newsweek this really happened, so not only did Levi need to convincingly play football, he needed to dance too.
"In the movie, there were definitely times in that sequence where Zach looked a little bit awkward," Warner admitted, "but without a doubt that hit the nail on the head, because there was no doubt that when I was in awkward situations trying to be cool, I wasn't cool."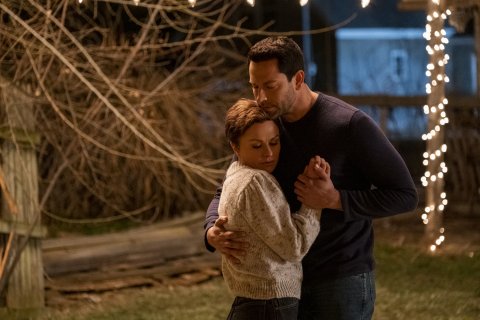 Rejected from the Green Day Packers
Just like in American Underdog, Warner went undrafted after he left college, but he was given a second chance by the Green Bay Packers. In the movie he's brutally cut after being told he's not ready for the opportunity by his coach.
In real life, Warner was in fact cut before the season started, but he was already facing an uphill battle by the time he arrived at the Packers. Brett Favre, Mark Brunell and Heisman Trophy winner Ty Detmer were all competing for the starting quarterback slot.
Working in a grocery store
Unbelievably, Kurt Warner did work in a grocery store after he was rejected from the Green Bay Packers, and before he managed to realize his dream of playing in the NFL.
He may not have been throwing loaves of bread around the store as depicted in American Underdog, but Warner did have to take a $5.50 job at the Hy-Vee grocery store in Cedar Falls.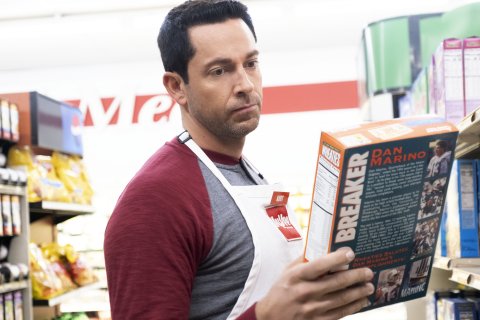 Recruited to the AFL
In American Underdog, Warner seems reluctant but he does eventually join the Arena Football League (AFL) as the starting quarterback for the Iowa Barnstormers.
Starting off slow, Warner spent three years with the team, being named in the AFL's First-team All-Arena in '96 and '97. His success for the Barnstormers led to his eventual recruitment back to the NFL.
Relationship with Brenda and her children
Brenda had two kids from a previous relationship, and Kurt married into the family on October 11, 1997. A core dynamic featured in American Underdog is between Kurt and Brenda's son Zack, who is blind. The Erwin brothers confirmed that many scenes we see between the two did happen in real life, including when Zack sang to Kurt on their wedding day.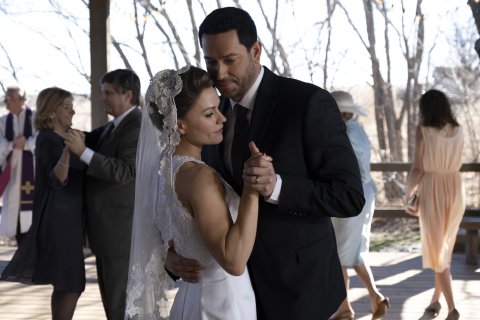 Brenda told Newsweek that watching the scenes play out brought back old memories. "In the scene where my son Zach meets Kurt, it just reminded me that love honestly changes everything." She continued, "My son being legally blind, he loves differently than I believe a sighted person [does]. He sees their heart and when he met Kurt, that love affair started."
Paquin, who plays Brenda, agrees that her character's role in Kurt's life story needed to be accurately portrayed. She told Newsweek: "I don't think you would be accurately telling Kurt's story, if you didn't acknowledge the degree to which Kurt himself credits Brenda with being the reason that he could do all of these things."
Joining the NFL
Kurt was eventually given a second chance by the St. Louis Rams. He once again had to earn his shot and spent his first season as the third-choice quarterback. It is not featured in the movie, but he also spent a brief period playing in NFL Europe for the Amsterdam Admirals.
Due to various fortuitous circumstances, he found himself as the starting quarterback the next season, and led the St. Louis Rams to Super Bowl victory on January 30, 2000.
Levi told Newsweek how he reminisced about watching that Super Bowl when he was young to prepare himself. He said: "I knew Kurt's story. I saw it in real time when I was a slightly younger man and when he was a slightly younger man.
"So you know, remembering where I was when I was watching him play that Super Bowl. And now transporting myself into his actual shoes and being him. And then between takes on the sidelines playing catch with Kurt Warner on set, like all of that was crazy weird," Levi surmised.
American Underdog is available to watch in movie theaters now.