American University Student Filmed Saying N-Word, Viral Video Not Surprising to Some Students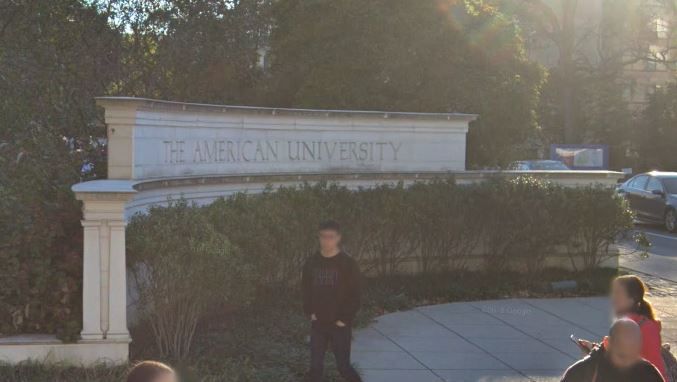 A viral video of a student using the N-word prompted a response from American University condemning all racist behavior. But some students have since come out and said the student's word choice wasn't surprising.
On Saturday night, American University student Tasneem Osman posted a video of fellow student Aise O'Neil on Twitter. In the video, someone asked O'Neill what he said, to which he responded, "n*****."
"I think it's okay to say any word," O'Neil added, when questioned as to why he thought it was okay to use the offensive term.
American University responded directly to the tweet, which tagged President Sylvia Burwell, and also published a statement on its website. On Sunday, the school explained that the racist term was used during a discussion about language and freedom of expression that took place in a residence hall lounge.
"It is vital that we recognize the historical context of the language we use," American University said. "A slur that has been used in the context of racism, bigotry, discrimination and violence does harm when it is used without understanding its context and painful impact on members of our community."
The Washington, D.C., university added that the school was working with the students involved and affected. Moving forward, the university said it will be guided by the Student Code of Conduct.
"These situations challenge our community and are painful," the university's message concluded. "We remain committed to building an inclusive community where every member feels valued and is treated with respect and dignity."
The American University Residence Hall Association also addressed the video, saying that even if it didn't take place in a residence hall, it would still be wrong and warrant a comment.
"There is no circumstance in which white people should say the N-word, and we condemn its use in the strongest terms," the association said. "But racism does not begin and end with [the] N-word, and our efforts to stop it can't either."
While the school condemned the use of racist language, some AU students posted on Twitter that the behavior in the video wasn't surprising to them. In the original posting, Osman said it was why she didn't feel welcome on campus.
Coura Fall retweeted Osman's tweet with the video and said she wasn't surprised by it. Fall criticized the school for "hyping up" the inclusive image on campus because it doesn't address "the blatant racism students of color deal with." Instead of what she called a façade, she said students of color deserve a culture change.
Ryan Marsan, who identified himself as an American University student on social media, posted on Twitter that there was a gap in how the university was perceived and reality. Marsan said people think of American University as a "liberal fantasyland," but claimed there were plenty of "dumb" and "racist" people similar to O'Neil on campus.
"No wonder students of color are looking elsewhere to study," Marsan wrote. "AU needs to take racial equity seriously, not just as a nice idea."
Valentina Fernández, American University student government president, encouraged every member of the community to "do better." She posted on Twitter that people should learn about the racist and dehumanizing purpose of the N-word and to not "accept this from those around you."
"We have such a long way to go until AU can pride itself in its 'inclusive excellence,'" Fernández said, referencing a plan that was implemented in January 2018.
Multiple professors spoke out about the video and Professor Ibram X. Kendi, who is the director of the Antiracist Research and Policy Center, wrote on Twitter that there should be zero tolerance for racism. He noted that anything less than a policy of zero tolerance is "tolerance for racism."
"We show our zero tolerance—or tolerance for racism—by how we respond. Bottom line: Who & what do we want to feel welcome on our campuses?" he wrote.
Professor and Director of Advocacy at the Antiracist Research and Policy Center, Christopher Petrella questioned what white people at the university were doing to make the campus "explicitly antiracist. To faculty, he asked what was being done in the classroom and in syllabuses. To the staff, the question was about actions taken in offices and centers and to students, he asked what could be done in dorms and dining halls.
O'Neil told The Eagle that when he first arrived at the university, he said the N-word in his dorm room because he was upset by "how censorial the campus environment was."
On Saturday, his neighbor, who allegedly heard him use the word when he first moved in, approached him with two of her friends to discuss his use of the word, according to O'Neil.
"I argued that there was nothing inherently wrong with the usage of my words," he told The Eagle. "I was dared to say the word on video. Believing that a refusal would in a sense be a betrayal of my principles I obliged."
He claimed that he didn't consider the word to be "inherently racist," but told Newsweek that his actions were "very misguided" and said he was "deeply sorry" for his actions.
This article has been updated to include the response from Aise O'Neil.