Why Netflix's 'American Vandal' is More Than a Penis Joke, According to Star Tyler Alvarez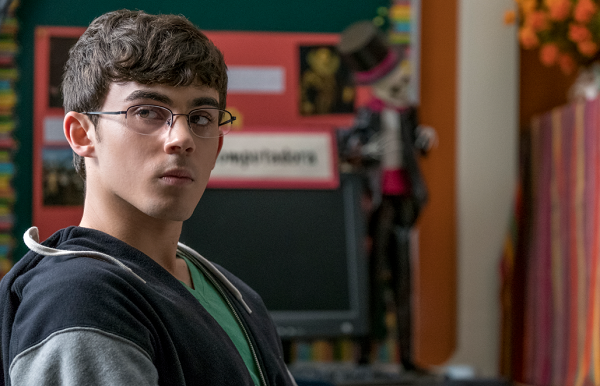 Imagine if Johnny Knoxville, Steve-O and Bam Margera, the ultimate tricksters of the Jackass series, were being blamed for a prank that they actually didn't do. Would you believe their denials? Given their history of vandalism, arson and physical abuse, it would be hard not to immediately peg the notorious pranksters as the culprits.
But perhaps, if they had someone like American Vandal's Peter Maldonado, played by Tyler Alvarez, on their side, then maybe they could build a case to prove their innocence. That's essentially what the new Netflix series aims to do.
Alvarez plays the lead investigator of a heinous act of vandalism at his high school, where 27 penises were spray-painted on cars in the faculty parking lot. The main suspect is Dylan Maxwell (Jimmy Tatro), a known prankster and avid penis-drawer. While it seems like Dylan is guilty, Peter's determination to uncover the truth leads him to discover a detail that could save his friend.
But the parody series, which hilariously mocks the style and format of Netflix's hit Making a Murderer, is a lot more than just a rip of a true crime documentary about "dicks on cars," which is repeatedly mentioned throughout the series. Describing the show as "compelling, raunchy and unique," Alvarez tells Newsweek that American Vandal is more of a commentary on the flaws of the criminal justice system.
"You see a bunch of foul images drawn on cars [in the trailer], but it's a lot deeper than that. It's a lot more than just a comedy. And there are a bunch of great messages that I hope people will take from it," Alvarez said.
American Vandal ultimately tells the story of an unlikely friendship fostered between two people who generally live in different worlds, but deeper themes emerge, like the pressure anyone can feel to keep up with their public image.
"Peter would spend hours and hours meeting with [Dylan], videotaping him and talking to him. And this is somebody who is completely out of Peter's circle, somebody that's a lot cooler than Peter. But this series shows that we're all really just alike. We really are," Alvarez said. "When you take away all those social barriers, anybody can be friends. I like how we showed that."
Most importantly though, the show is a good depiction of the damage caused when people make superficial judgments.
"Don't take things at face value," Alvarez said. "Make your own judgments. The justice system can sometimes be corrupt. We've seen it a billion times when people have been wrong about something."
Morality aside, the series also offers nonstop laughs.
As Peter, Alvarez narrates the show by taking cues from true crime documentaries and podcasts. And while some scenes may make you think you've figured out the true offender, as leads start to cross on Peter and his partner Sam's (Griffin Gluck) investigation board, it becomes harder to identify the true top suspect.
"There's a real true story under there, and I think that's what's gonna draw people in," Alvarez said. "Also, who doesn't love a good investigation?"