3 in 5 American Voters Fear Violence Over 2024 Presidential Election: Poll
A majority of American voters fear election-related violence at the next presidential election in 2024, recent polling suggests.
It comes after three former U.S. Army generals raised concerns about the risk of "civil war" over the White House vote, although some experts downplayed such warnings.
Three in five (62 percent) voters surveyed in the new YouGov poll for University of Massachusetts Amherst (UMass Amherst) expressed concern about violence in 2024.
It found 46 percent of Democrat respondents were "very concerned," while another 34 percent were "somewhat concerned." Only 13 percent were "not too concerned" and just 6 percent "not concerned at all."
Concern dipped among Republicans surveyed, with 16 percent "very concerned" and 25 percent "somewhat concerned." Another 34 percent were "not too concerned" and 25 percent "not concerned at all."
Independents were more evenly split, with 57 percent expressing they were either "very concerned" or "somewhat concerned" about potential violence.
The survey was conducted from December 14 to 20. It had a nationally representative sample of 1,000 respondents, and a margin of error of plus or minus 3.1 percentage points.
Raymond La Raja, professor of political science at UMass Amherst and associate director of the poll said: "The events at the U.S. Capitol on Jan 6 have a lingering sting on many voters.
"Three-in-five fear the possibility of election-related violence, with Democrats twice as likely to be concerned as Republicans."
Concerns of a potential insurrection in 2024 were expressed by former U.S. generals in a December op-ed for The Washington Post.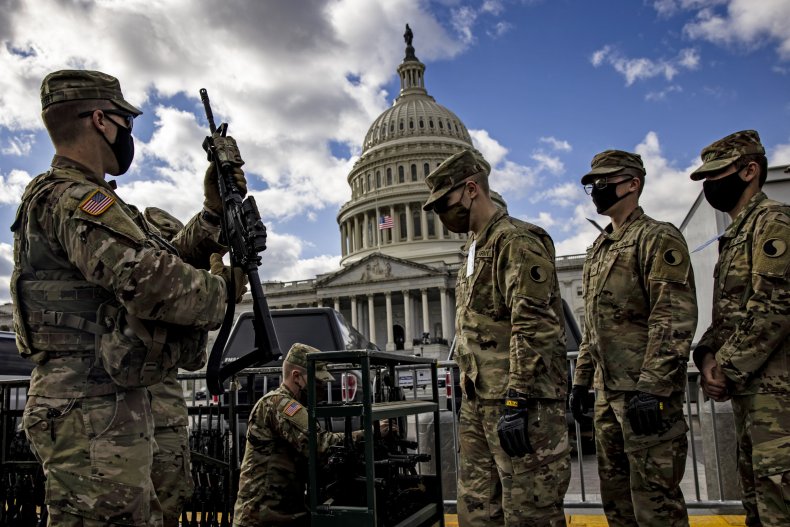 Retired Major Generals Paul D. Eaton and Antonio M. Taguba joined Brigadier General Steven M. Anderson called on lawmakers to act to prevent such scenes and "war-game" an attempted coup.
They warned of the potential for "total breakdown of the chain of command along partisan lines" and risked the rise of a "shadow government," which could be led by a losing candidate.
However, British-American historian Amanda Foreman downplayed concerns over a descent into a second civil war, in a column in the London-based The Sunday Times.
Foreman said: "There simply isn't a correlation between the factors dividing America then and now. In the run-up to the war in 1861, the North and South were already distinct entities in terms of ethnicity, customs and law."
She added: "Today there is a far greater plurality of voters spread out geographically. President Biden won Virginia and Georgia and almost picked up Texas in 2020, in 1860 there were ten Southern states where Abraham Lincoln didn't even appear on the ballot."
In the past year, Trump supporters have become animated over what they perceive to be a stolen election, with numerous sitting GOP lawmakers echoing his claims of widespread election fraud.
The UMass Amherst poll showed nearly eight out of 10 Republicans do not believe Biden was legitimately elected and have continued to push the baseless claim the 2020 election was, somehow, stolen.
Earlier this week, Biden challenged Trump's election fraud narrative during a speech marking the anniversary of the U.S. Capitol riot.
Biden said: "And here is the truth: The former president of the United States of America has created and spread a web of lies about the 2020 election.
"He's done so because he values power over principle, because he sees his own interests as more important than his country's interests and America's interests, and because his bruised ego matters more to him than our democracy or our Constitution."