Americans Overwhelmingly Support the Recent Backlash Against the Gun Industry: Poll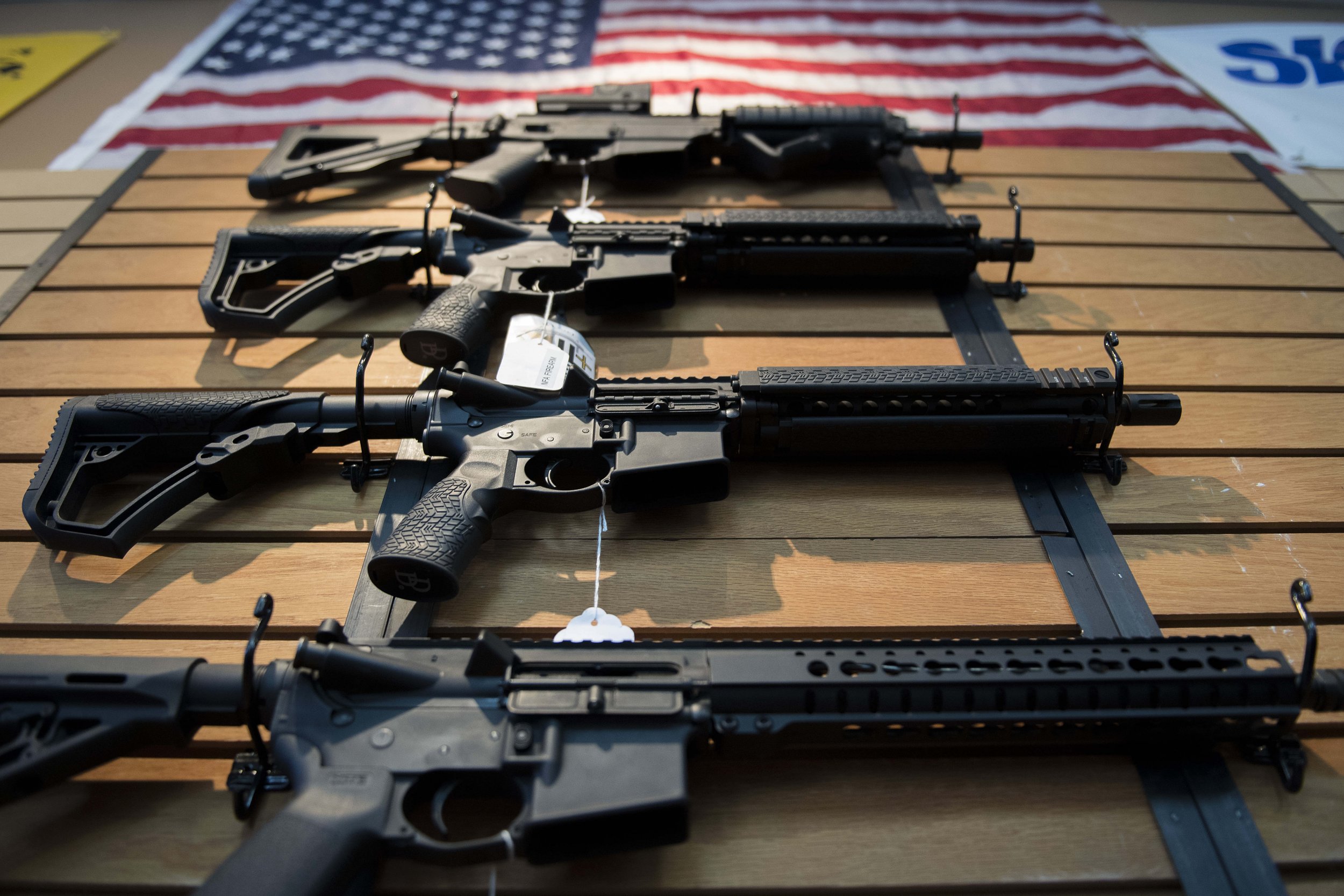 Most Americans support the recent backlash the gun industry has faced and would blame Republicans if Congress fails to pass stricter firearms regulations in the wake of the mass shooting in Parkland, Florida, a new poll found.
About eight out of 10 voters said it's a "good thing" that private companies such as Dick's Sporting Goods and Walmart have decided to stop selling firearms to people under 21, according to a Quinnipiac University Poll published on Tuesday. At least 65 percent of every demographic the university records supported the age restriction.
It may be a prudent business decision to bar sales of military-style weapons all together, the survey found. Thirty-three percent of respondents said they were more likely to shop at retailers like Dick's—one of the largest sporting stores in the country—that discontinue selling assault-style rifles. That's compared to just 12 percent who said they would be less likely to patronize a store that stopped selling such rifles.
Overall, 63 percent of Americans back stricter gun controls—though that's slightly less than the 66 percent of respondents who said so in a February 20 Quinnipiac poll. That poll was conducted in the days immediately after the Marjory Stoneman Douglas High School massacre, where a 19-year-old former student allegedly gunned down 17 people with his legally purchased AR-15 rifle.
The latest poll also found that six out of 10 voters believe the National Rifle Association has too much influence over Capitol Hill, while 7 percent said the gun rights group doesn't have enough sway.
A majority or plurality of respondents also said elected officials on both sides of the aisle fear the powerful non-profit group. Fifty-four percent said Republicans on the hill are afraid of the NRA, compared to 42 percent who said they weren't. Congressional Democrats also fear the organization, according to 49 percent of respondents versus 45 who said they don't.
"The outcry on guns continues and voters say it's on you, Republicans, to make the change," Quinnipiac University Poll Assistant Director Tim Malloy said in a statement.
RELATED: Here's Why the NRA Is So Powerful and Why Gun Control Advocates Have Reason for Hope
President Donald Trump fared better than both parties on the topic; 65 percent said he was not afraid of the NRA and 31 percent said he was. This poll was conducted days after Trump criticized senators and representatives for being frightened of the group in a meeting at the White House.
"Some of you people are petrified of the NRA. You can't be petrified," Trump chided. "They have great power over you people. They have less power over me."
Renewed calls for gun control reforms followed the tragedy in Parkland, with many of the teenage survivors emerging as the most vocal activists. If federal lawmakers are unable to pass new regulations—not one has been passed since the 2012 mass shooting at Sand Hook Elementary School in Newtown, Connecticut—57 percent of respondents said Republicans will be to blame. Only 18 percent said Democrats would be more responsible.
RELATED: Mitch McConnell Delays Gun Debate in Senate to Take on Bank Bill
Six out of 10 people, or 61 percent, said they would support a national ban on selling assault weapons, according to the poll. That finding was consistent with banning the sale of high-capacity magazines—clips that hold more than 10 rounds—which 63 percent of respondents supported while 34 percent opposed.
Voters were split 48-48 on banning the sale of semi-automatic rifles, the poll found.
The overwhelming majority of respondents, 89 percent compared to 8 percent, backed so-called "red flag laws." Red flag laws would allow law enforcement or family members to petition a judge to remove firearms from an individual who may pose a risk to themselves or others.
Ninety-one percent said they supported a regulation banning gun ownership by someone with a restraining order against them for stalking or domestic, sexual repeat violence. Six percent opposed such a statute.
Pollsters interviewed 1,122 voters from March 3 - 5. The poll has a margin of error of 3.5 percentage points.