American Voters Split on Whether to Trust Police to Protect Public Without Prejudice: Poll
Voters are split on whether or not the police can be trusted to protect the American public without prejudice, a new poll has found.
The latest survey from Emerson College revealed that 43 percent of registered voters felt police officers could be trusted to enforce the law without being racist or exhibiting other prejudices.
By comparison, 39 percent told pollsters that law enforcement officials could not be trusted to protect the country without prejudice. A further 19 percent said they were unsure whether or not to trust police on the matter.
Voters were similarly divided on whether protesting would lead to a reduction in police brutality, with a 36 percent plurality saying they were unsure as 35 percent said they had faith in protests reducing law enforcement violence.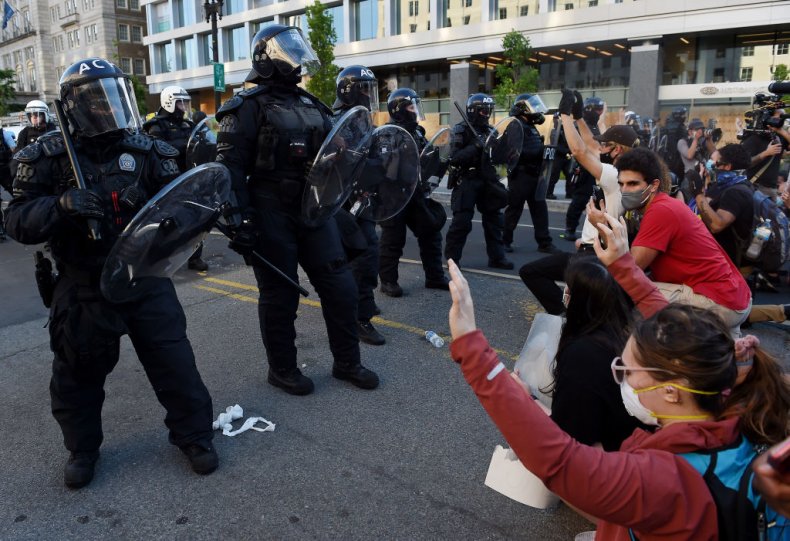 However, Americans were less split on approval of the ongoing protests against police brutality and the killing of George Floyd in Minneapolis Police custody last week.
Forty-six percent of voters said they approved of the nationwide demonstrations, while only 38 percent told pollsters they disapproved of the protests.
A further 16 percent said they were neutral on the protests, which have now been going on for more than a week.
But when asked what they thought of looting and property destruction, there was little neutrality to be found among American voters.
Seventy-six percent told Emerson pollsters that they disapproved of looting and destruction as a means of protests, while less than one-in-five (17 percent) approved. Only 8 percent were neutral on the matter.
In a statement released with the results, Emerson College Polling Director Spencer Kimball said: "While a majority of our society does not see current race relations as having improved since the Civil Rights era, a majority is also optimistic in believing that race relations will improve in the coming future."
According to the pollster's data, a plurality of 45 percent felt race relations were better today than during the Civil Rights era of the 1960s. However, a combined 55 percent felt the situation was either the same (30 percent) or worse than 60 years earlier.
Yet, there was some optimism looking to the future, with 54 percent of voters telling Emerson pollsters they believed that race relations would improve in time, compared to a quarter who felt the situation would get worse.
A little more than a quarter (26 percent) said they believed no change in race relations would come in the future.
Emerson College Polling surveyed 1,431 registered voters between June 2 and June 3 for its latest poll. The surveys' margin of error stands at 2.5 percentage points.