American voters are split on whether or not to believe Tara Reade's sexual assault allegation against former Vice President Joe Biden, according to new polling data.
The latest survey published by Monmouth University on Wednesday found that 37 percent of voters believed her allegation was "probably true" while 32 percent thought Reade's claim was "probably not true."
Almost the same number (31 percent) told pollsters they had "no opinion" on the validity of the allegation.
Eighty-six percent of all surveyed voters said they were aware that a sexual assault allegation had been brought against Biden by a former Senate staffer.
When voters were split along party lines, Monmouth found that Republicans were more likely to believe Reade's allegation, with 50 percent saying they believed it was probably true.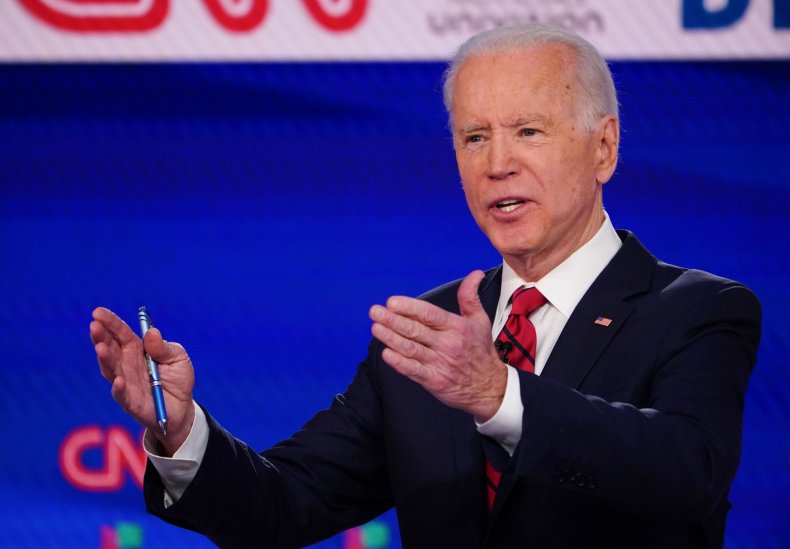 By comparison, Democratic voters were far less likely to believe the sexual assault claim. Fifty-five percent said her allegation was "probably not true" and only one-in-five believed her claim.
A plurality of Independents (43 percent) were more likely to believe the allegation was true, and a little over one-in-five (22 percent) felt it was probably untrue. Just over a third of the demographic had no opinion on Reade's claim.
Men were also found to be more likely to believe the former Senate staffer's allegation than women. Thirty-nine percent of male voters said they felt the claim was true, while 35 percent of women felt the same.
In a press release statement, Monmouth University Polling Institute Director Patrick Murray said: "We don't know what impact this allegation will have in the long run. For some voters who believe the charge, it is still not enough to override their desire to oust Trump."
According to its new survey data, almost a third of voters who said they believed Reade's allegation against Biden (32 percent) said they would still support him at the 2020 election.
But among those who have no opinion on the sexual assault claim, President Donald Trump has a two-point lead over the former vice president.
When all registered voters were asked who they would vote for if an election were held the same day, Biden lead Trump by nine points, with the backing of 50 percent of polled voters.
The Monmouth University Poll was conducted from April 30 to May 4 and surveyed 739 registered voters. Its margin of error stands at 3.6 percentage points.
Newsweek has contacted the Biden campaign and Tara Reade for comment.
The former Senate staffer has accused Biden of sexually assaulting her while she worked in his office in 1993. She has specifically claimed that he pushed her up against a wall and penetrated her with his fingers.
Reade has filed a police report on the incident with the Washington Metropolitan Police Department. Lynda LaCasse, a former neighbor of Reade, told CNN that she remembered the former Senate staffer recounting the alleged incident in the mid-1990s.
Resurfaced footage from a 1993 broadcast of Larry King Live also featured an unknown woman, allegedly Reade's mother, asking panelists for advice on how to support her daughter after she faced misconduct from a politician.
Former Vice President Biden and his campaign have repeatedly denied the allegation put forward by Reade.
"I recognize my responsibility to be a voice, an advocate, and a leader for the change in culture that has begun but is nowhere near finished," Biden said in a statement released last Friday. "So I want to address allegations by a former staffer that I engaged in misconduct 27 years ago. They aren't true. This never happened."
He also said the allegations brought against him were "not true" in an interview with MSNBC's Morning Joe last week.