American Wealth Grew Under Jerome Powell, So Why Does Elizabeth Warren Still Oppose Him?
Tomorrow, the United States Senate Banking Committee will meet to discuss moving forward with the renomination of Federal Reserve Chair Jerome Powell, who President Joe Biden elected to nominate for a second term for the "decisive action" he took to "cushion the impact of the pandemic and get America's economy back on track," the White House said.
During Powell's tenure as chair, he oversaw a Federal Reserve that encouraged banks to lend during the pandemic, provided lending to corporations, and supported loan offerings to medium size businesses, among other actions.
Bouncing back from a recession triggered in March by economic shutdowns, the U.S. economy grew over the course of 2021, and the year ended with Americans seeing an increase in their wealth as the country built an extra $2.7 trillion in savings. Biden attributed this success to both his policies and "the decisive action that the Federal Reserve has taken under Chair Powell."
Despite the president's endorsement and acknowledgment of Powell's success, Democratic Senator Elizabeth Warren of Massachusetts has called him a "dangerous man" and stated in late November that she would vote against his nomination. Ahead of the Banking Committee hearing, which Warren is a member of, she voiced her concerns in a letter addressed to Powell.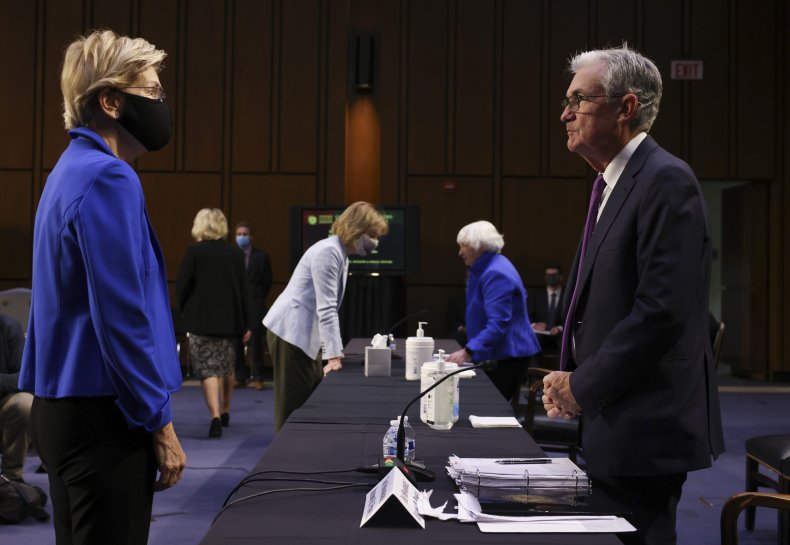 In her letter, Warren criticized Powell for his "continued refusal" to release information tied to the stock trading scandal of 2020 that saw Dallas Fed President Robert Kaplan and Boston Fed President Eric Rosengren exit their roles after they were caught actively trading stocks as they assisted the Fed with new monetary policies amid the pandemic's economic crisis.
Warren requested twice that the Federal Reserve "release all available information about the trades" made by its officials and allegedly did not receive a response. She submitted her request again following a Thursday report by The New York Times that said trading within the Fed "went further than first disclosed" as Richard H. Clarida, the departing vice-chair of the Federal Reserve, did not fully disclose the transactions he made in early 2020.
"As new details about the trading scandal are uncovered, your continued refusal to release this information severely compounds concerns about the Fed's lack of transparency and your commitment to fully and honestly addressing the Fed's broken ethics culture," Warren wrote in her letter to Powell. "[A] timely release of this requested information is also critical so that Congress and the public can evaluate the full extent of trading in individual stocks by Fed officials."
While the Federal Reserve announced a series of reforms in October set to curb the purchasing of "individual securities, restrict active trading, and increase the timeliness of reporting and public disclosure by Federal Reserve policymakers and senior staff," Warren said the additional information she requested is needed to determine whether Powell's new rules are "sufficient to prevent future financial conflicts of interest."
Warren asked that Powell provide the full version of an email sent by Fed ethics officers obtained by The Times asking officials to "avoid unnecessary trading." She also requested that Powell disclose all trades made by Fed governors, a staff briefing on the ethics rule changes announced in October, and more information regarding errors made in Clarida's financial disclosures.
Newsweek contacted Powell's office for comment regarding Warren's request and was told by a spokesperson that it had received the letter but could not comment any further.
Update 1/10/22, 5:13 p.m. ET: This article has been updated with a response from Jerome Powell's office.