An American woman who remains trapped in Afghanistan has told of her fears after the last U.S. plane left the country.
The woman, a former interpreter for the U.S. military, spoke to CNN's Chris Cuomo from Kabul on Monday night.
Identified only as Sara (which is not her real name), she told of her failed attempts to flee the country after the Taliban's takeover.
Now that the last U.S. troops have withdrawn, she said she's lost hope she will be able to leave.
"I just found out that they left, and I was just silent for a little while," Sara told Cuomo. "And I just went, walked around the rooms, and I saw the young kids are sleeping and they have no clue what happened this morning, that the last flight is gone and we're left behind."
She added: "It's heartbreaking to see that with all that's going on, no one heard us, that we are in danger and we need to be safe.
"I just don't even know what to say to you. Whoever was trying to help me and support me, even they did not tell me that... this is the last flight. So I still had hope that we would leave. If not all of them, at least some kids and some mothers who had disabled kids. I had hope for them."
Sara said she and the 37 Afghans staying in her home had tried to get to Kabul's airport in recent days.
"We were all on the streets going from gate to gate," she said.
As a last attempt, she went with six of the children and a man who she said pretended to be her husband to get through Taliban checkpoints.
Outside the airport, she said: "I started shouting, 'I'm an American, please open the gate I'm here to go home.'"
She said no one heard her and tear gas was deployed. "I was knocked out for like maybe 15 minutes," she said.
The U.S. State Department released a statement on Sunday, signed by around 100 countries along with NATO and the European Union, saying they had received "assurances" from the Taliban that people with travel documents would still be able to leave Afghanistan after the evacuation ends.
But Sara told Cuomo that she has little faith that travel out of the country will be allowed. "I don't believe in anybody anymore," she said. "I just can't believe no one told me that this was the last flight."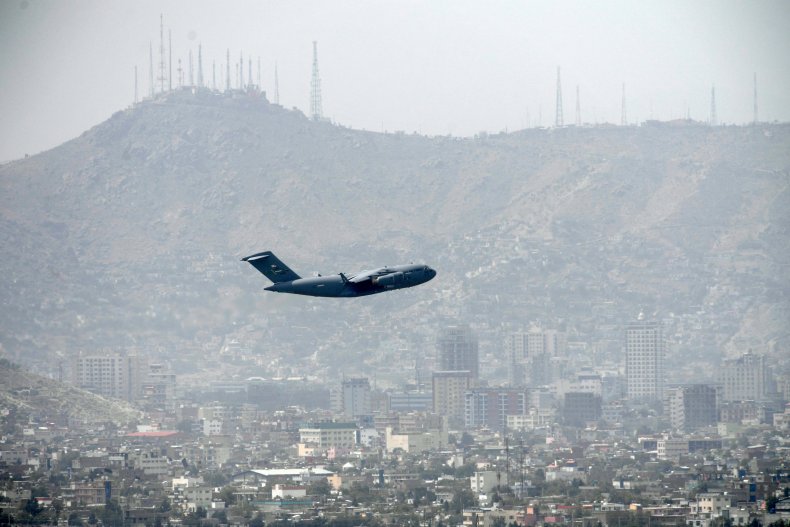 Her biggest fear, she added, is for her safety and the safety of the people in her home.
"Am I safe?" she said. "Now the question is my life. Am I safe? Are these people safe?"
She said that her past work with the U.S. military will make the people in her home more of a target.
"I don't even think they're safe because they are in my house," she said.
"I went to so many different missions with military, so many different missions in different provinces. I never had that heartbeat like I have it today, this morning, when they told me the Americans left. They left us to whom? To those people who were always wanting to kill us? And now, I am by myself here with 37 people.
"This is my fear, that if Americans could not help me when they were on the ground, how will they help me now when no one is here?"
The White House and the State Department have been contacted for comment.